To say that Bristol's dining scene is dominated by the cuisine of Mediterranean Europe would be something of an understatement. Indeed, if you're craving tapas, gyros, the food of Provence or of Portugal in what is regularly named the UK's culinary capital, then you're going to be spoiled for choice.
But it's in the city's Italian food that things truly excel, with River Cafe alumni, Neapolitan nonnas and Bristol food royalty all turning their hand to Italian restaurants here. The results are both varied and spectacular, but just like walking down the supermarket pasta aisle and being overawed by the sheer volume of brands on offer, so the paradox of choice can grip you when seeking the very finest Italian food in Bristol.
We're here to help with that. We've undertaken the unenviable task of eating across the city, all with the noble aim of separating the durum wheat from the chaff, the Tipo from the refined white, and the fior di latte from the imitation stuff, to give you these; the best Italian restaurants in Bristol.
Pasta Ripiena
Ideal for getting stuffed on stuffed pasta…
Bristol is so replete with semi-casual modern Italian eateries serving all manner of tagliatelle, cavatelli, rigatoni and the rest that you can sometimes feel a little 00'd out. So, before we've had our fill of pasta, let's have some filled pasta. At Pasta Ripiena, this is the speciality, the headliner, the be all and end all, and practice has certainly made perfect.
Here, the filled pasta is dialled up to eleven, the cute as a button tortellini filled with piquant ricotta and mint, and garnished with lamb ragu of all things (as well as a much-needed chimichurri to cut through), is a case in point – all massive, highly seasoned bounce and vigour.
Even bolder and brasher, the hat-shaped, salt cod-filled cappelletti served with clams brings all manner of briny oceanic notes, here gently tempered with fresh clips of sweet datterini tomatoes – delicious.
Part of the Bianchis restaurant group that boasts a second entry on our list (as well as, until recently, the much-loved Pasta Loco), the set lunch menu here is a steal, at just £25 for three courses. With bottles of house wine clocking in at just £22, this has got to be one of the best value meals in the city. Just do your best to ignore a piteous William Sitwell weeping in the corner…
Address: 33 St Stephen's St, Bristol BS1 1JX
Website: pastaripiena.co.uk
---
Sonny Stores
Ideal for restless, superlative Britalian food from a River Cafe alumnus…
Sonny Stores, a family-run restaurant in Bristol founded by husband and wife team Pegs Quinn (previously of the River Cafe) and Mary Glynn, was conceived as a lockdown delivery-only pizza service called The Lockdown Pizza Company. And what great pizzas they were…
Fortunately, as the drawbridge was lowered on lockdown across the UK, Quinn and Glynn didn't stop cooking. Instead, their ambitious gaze widened and Sonny Stores, a 'Britalian' restaurant with a restless soul, was born.
Though the building itself may be intimate, it houses a genuinely superlative dining experience, with dishes crafted by a talented team led by Quinn. The clam acqua pazza, a Neopolitan dish of clams swimming in a chilli and white wine heavy broth that translates as 'crazy water', is a menu mainstay and for good reason; it's a salty, spicy delight. Best of all, it arrives already soaking into a slice of toasted sourdough beneath it, all for the ultimate scarpetta.
On a recent visit, from the larger plates, a whole-grilled dover sole arrived with broad beans and artichokes done in the sott'olio style – semi preserved in good quality olive oil but still possessing plenty of bite and vitality. A dressing of anchovies chopped through with rosemary sees everything off in style. From the pastas, pappardelle with a pork in milk sauce is texturally on the money in so many ways.
Circling round to Sonny Store's origins (because time is a flat one, of course), the restaurant hasn't totally abandoned the whole pizza thing; and if there's a signature pizzetta on the menu, you'll be foolish not to order one. Whilst incredible just as they are, they also make the perfect dredging vehicle for all those olive oil slicked braising juices. Heaven!
Address: 47 Raleigh Rd, Southville, Bristol BS3 1QS
Website: sonnystores.com
---
Read: Where is the best pizza in Bristol?
---
Casa
Ideal for flavour bomb Italian dishes in glamorous surrounds…
''Go big or go home'' might be the mantra of the newly minted harbourside restaurant Casa if the name didn't, of course, translate to 'home'. Perhaps ''go big at home'' might be more fitting, as at Casa, no dish, ingredient, or even tune here isn't dialled up to 11.
Carrying on the lineage of one of Bristol's most cherished restaurant groups, Casa sits in the building that once housed Michelin-starred Casamia, from the same team. Led by chef Peter Sanchez-Iglesias, who also oversees operations at nextdoor Paco Tapas (also a holder of a star), Casa has some serious shoes to fill.
And fill them it does. This is a glamorous restaurant, make no mistake, but one that doesn't sacrifice on substance, flavour or soul in favour of style. In a city where many of the best Italian restaurants are single dish focused, the menu here is refreshingly broad, with whole grilled fish and various prime cuts rubbing shoulders with the exemplary antipasti, house cured meats and, of course, pasta.
Owing to the pedigree at the stoves here, prices at Casa are understandably premium, but that doesn't mean a good value meal is beyond reach; the restaurant has recently announced a new lunch menu or "Menu Del Giorno" offering three courses for just £30 per person.
We recently gave it a try and it was exceptional. The signature focaccia arrived turbo-charged in every possible way; salty, crispy and drenched in good quality olive oil. Alongside, a pretty-as-a-picture puck of finely diced caponata was properly agrodolce but perfectly balanced. No one is holding back here where flavour is concerned.
Whilst a daily pasta dish is always available on the set, a grilled fillet of Cornish mackerel felt just right on a hot August day. Arriving blistered and burnished from the charcoal grill and paired with new potatoes positively swimming in a thick emulsion of butter and chicken stock, it was a superb summer's dish. A perfectly crisp cannoli rounded things off.
Available both indoors and on the restaurant's waterfront terrace, the Menu Del Giorno is available from Wednesday to Saturday before 6:30pm.
Address: 8, The General, Lower Guinea St, Redcliffe, Bristol BS1 6FU
Website: casabristol.co.uk
---
Read: 6 of the best restaurants close to Brunel's SS Great Britain, Bristol
---
Taste Of Napoli
Ideal for humble Neapolitan street food dishes…
From the brassy to the gently bashful, Taste of Napoli is a family-run cafe that sits in prime position in the city centre's Arcade shopping development directly opposite Primark, ready to refuel shoppers with their excellent focaccia sandwiches, pizza slices and range of Neapolitan deep-fried street food snacks.
Pull up a seat in the snug surrounds or simply order to-go. Either way, don't miss out on the selection of authentic range of fritti. The crocchè – mash potato, cubes of ham, and mozzarella, bread crumbed and deep-fried – is a deeply satisfying thing.
Also excellent are the slabs of Roman-style pizza that adorn the counter. For just a fiver a square, they also represent excellent value. Our favourite? The bufalina with fresh cherry tomatoes and plenty of rocket; a restorative, digestible piece of work that's excellent as an early lunch accompanied by a stiff, steadying shot of espresso. They also do a range of vegan slices which are darn delicious.
And then, onwards, to brave the queues in Primark in search of a lime green Simpsons sweatshirt. Alternatively, you could take your lunch in nearby Castle Park, which is a lovely spot for a sit down.
Open from 10am to 6pm daily, except on Tuesdays, when Taste of Napoli is closed..
Address: 32 The Horsefair, Broadmead, Bristol BS1 3HZ
Website: tasteofnapoli.co.uk
---
Bianchis
Ideal for trying to Bristol's ultimate trattoria experience…
We're returning next to the warm, floury embrace of the Bianchis Group from several paragraphs previous, and to the Mothership at, you guessed it, Bianchis.
Sitting in the heart of bohemian Montpelier and named after the patriarch of the family Aldo Bianchi, this is a family affair, make no mistake, with grandsons Joe, Ben and Dom now steering the ship.
It's a ship forged on Aldo and Nonna Ellen's family recipes, and that sense of heritage is felt all over the menu, whether you're getting stuck in to a plate of rigatoni with a sumptuous sauce of chicken alla Romana, sweet with slow-cooked red peppers and rich with the bird's braising juices, or a dish of grilled parmesan polenta dressed with sun-dried tomato pesto.
It's felt in the dining room, too, a bright and buzzy space cacophonous with chatter and cheer that's anchored by dark wood furnishings and a rare modern day appearance from white paper tablecloths. It's a touch that feels deliberate; bringing that trattoria vibe to the 'burbs of Bristol succinctly.
Experience that dining room at its breeziest for Friday or Saturday lunch with a £34, four course set lunch menu, and feel like everything's alright with the world.
If a hankering for pizza inexplicably hits after that feast of largely Northern Italian classics, then just a mile down the road Pizza Bianchi is smashing things out of the park, too.
Address: 1-3 York Rd, Montpelier, Bristol BS6 5QB
Website: bianchisrestaurant.co.uk
---
Little Hollows Pasta
Ideal for daily-rolled fresh pasta in Redland…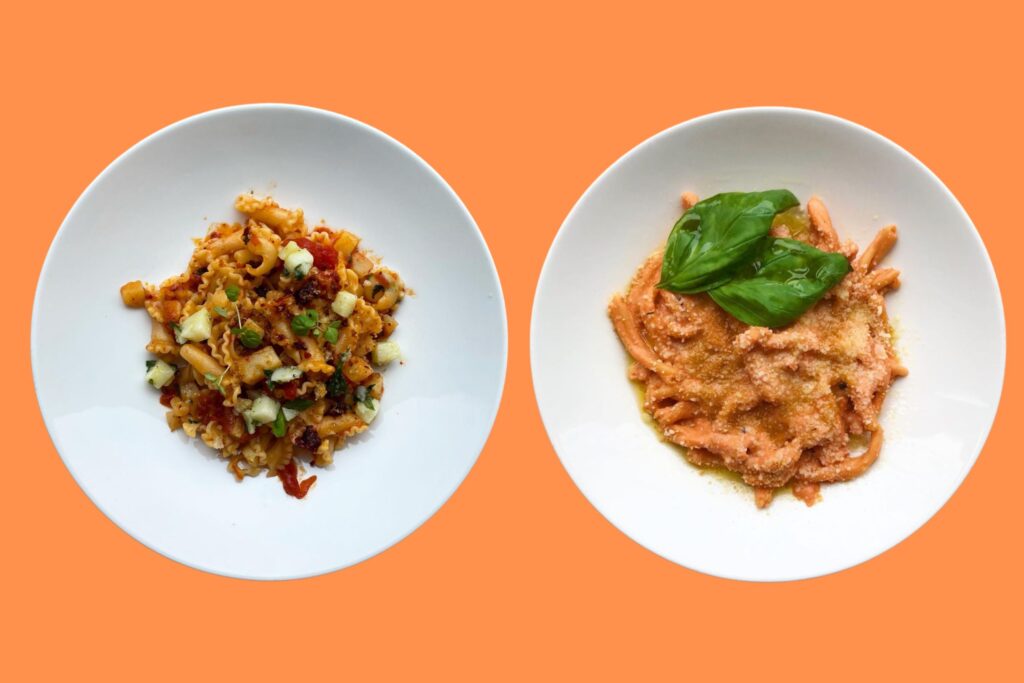 If you're singing from the same hymn book as IDEAL, then can we safely assume that you never get tired of pasta? Join us, then, for another round of the good stuff, over in Redland, at Little Hollows Pasta.
Here, the pasta is made fresh every morning before being hung invitingly in the window to dry, enticing those strolling along Chandos Road to circling back on themselves once those strands and coils are submerged in their boiling, salty-as-the-sea baths.
The menu, much like the restaurant itself, is a tight, compact affair, with pasta across the entirety of the mains. A handful of smaller, largely vegetable-led plates provide the lead-in, with the charred baby broccoli dressed in a caperberry tapenade particularly intoxicating on a previous visit.
But really, we're here for the pasta – we're always here for the pasta – and the freshly made stuff here is arguably the best in Bristol. From the ridiculously reasonable lunch menu (3 courses for just £24), we recently found the classic Roman dish of bucatini Amatriciana as good as we've had anywhere, including the Eternal City. High praise indeed, but deserved; the use of Tropea onions in the sauce bringing a suave sweetness that countered the reliably salty-sweet guanciale just beautifully. It's a plateful that will live long in the memory. At least until we get to the next restaurant on our list, that is…
Website: littlehollowspasta.co.uk
Address: 26 Chandos Rd, Redland, Bristol BS6 6PF
---
Marmo
Ideal for straightforward but sumptuous Italian wine bar vibes…
Next to Marmo, a restaurant that Observer food critic Jay Rayner called "an absolute corker". He was right; this vibey, oh-so Bristol modern Italian joint – part wine bar, part osteria – certainly hits the spot.
Behind the stoves and on the floor respectively are husband and wife team Cosmo and Lily Sterck, who met at Bristol University. They have serious stock in this type of paired back, produce-led place, Cosmo having worked at the superlative Brawn and Lily having run front of house at now Michelin-starred London restaurant Luca.
They've brought this pedigree to the high-ceilinged, airy but austere dining room of the former Guardian Assurance Building, where biodynamic wine is poured generously by the glass and stark, unvarnished plates of two or three ingredients belie the superb cooking that's gone on to get them there.
To nibble on (or wolf down, if you're us) alongside your house Negroni, the gnoccho fritto with salame rosa is pretty much obligatory. These simultaneously crisp yet pillowy pockets of lard enriched dough are deep fried in more lard before being draped with peppery, fatty slices of cured pork. They are as addictive as they sound and, judging by the tables around us when we dropped by last month, impossible to take off the menu. A plate of Cantabrian anchovies sits alongside those gnoccho just right.
Equally as naughty feeling, a tablet of slow braised and pressed pig's head that's been breadcrumbed and deep-fried is paired masterfully with plumb caponata, those sweet and sour notes cutting through the of the porcine chops adeptly. To temper all those fatty notes further, a glass of cloudy, funky Abruzzese skin contact, a blend of Trebbiano and Pergolone, brings an untamed vibe to the table.
Bring yourself back down to earth with Marmo's deep and brooding chocolate mousse, a few licks of sea salt across its surface an inspired touch, and totter out onto the heaving Baldwin Street feeling satiated and besotted.
Address: 31 Baldwin St, Bristol BS1 1RG
Website: marmo.restaurant
---
Don Giovanni's
Ideal for old school Italian vibes close to Temple Meads station…
Whilst the majority of our round-up of Bristol's best Italian restaurants is admittedly skewed to the slicker, more operations in town, there's still much to be said for the decidedly, deliberately old school kind of Italian restaurants that feel like something of a dying breed in the UK.
At Don Giovanni's, that sense of the gently dated is embraced full throttle, whether it's in the candles gently melting wax over their wine bottle holders, the blue and white checked table cloths and neon, cursive signage, or the swoops and swooshes of reduced balsamic vinegar that adorn plenty of the dishes here.
The restaurant excels most when it the dishes are at their most rustic, the 'housewife's' canneloni casalina and the Sicilian polpette arguably the highlights here, the latter a family recipe. Complete your meal with a carafe of the eminently drinkable, highly reasonable house red and a tiramisu, and luxuriate in a little Adriano Celentano as you round off your meal. Heaven.
Address: Victoria House, Temple Gate, Redcliffe, Bristol BS1 6PW
Website: dongiovannisbristol.co.uk
---
Read: The best seafood restaurants in Bristol
---
Sandy Park Deli
Ideal for simple lunchtime sarnies…
Tucked out of the way in the suburbs of Brislington, Sandy Park Deli is pretty much the dictionary definition of 'hidden gem'. This family run deli which specialises in Italian imported meats and cheeses sits at the heart of the community, known as well here for supporting other local businesses by stocking their artisan products as it is for the deli's formidable espresso, with premium coffee shipped in from Sicily on the regular.
The focaccia sandwiches are ace, too, straightforward but perfectly poised as only the Italians can pull off. The salami, taleggio and honey number has become something of a mainstay in the IDEAL office, and long may it continue!
Website: deliatsandypark.co.uk
---
COR
Ideal for Mediterranean tapas with plenty of Italian flourishes…
Whilst not strictly 'Italian' (hey, where is in this little corner of south west England?), we had to mention the newly opened COR before we departed in a carb coma. That's because this lively Mediterranean tapas bar from the team who brought us Spanish seafood joint Gambas is already gaining huge plaudits in the city. We can't wait to give it a try! Check back here for an update when we do.
Address: 81 North St, Bedminster, Bristol BS3 1ES
Website: correstaurant.com
But first, a well-earned, much-needed lie down for days…