For a city of its size and cultural capital, Southampton's restaurant scene feels criminally underrated.
Sure, this might be the city where Jane Austen celebrated her 18th birthday and wrote Sense and Sensibility. And yes, it is the place where both the iconic Spitfire and the Titanic had their maiden voyages (the former more successful than the latter, of course), but ask most Sotonian about their culinary heritage, and it's Clarence Birdseye, the founding father of fish fingers, that might first come to mind.
You can probably guess where this one is going; as locals and proud Saints, we hope we're not taking the partisan position when we say that Southampton's restaurant scene is thriving, with national acclaim and awards recognition surely around the corner.
If you're in the city and wondering where to eat, then here are the very best restaurants in Southampton.
Lakaz Maman, Bedford Place
Bedford Place is one of our favourite neighbourhoods in Southampton, with some great independent pubs (you may well have seen us sinking a few in the Black Phoenix), bars and restaurants in the area doing all the good things right.
The best place to eat in Bedford Place? In our humble opinion, it's got to be Lakaz Maman, the brainchild of Masterchef 2012 winner Shelina Permalloo. Meaning 'Mum's House' in Mauritian Creole, and run by an all-female management team, this really is a warm and welcoming place to dine, with a cosy dining room and hearty, home-style Creole dishes bringing lots of love (and flavour) to the table.
Though you could fashion a whole meal from the starters section (do not miss the gato pima – a deep-fried mix of split yellow peas and chilli – aswell as the chargrilled octopus tentacle with pineapple salsa), you'd be foolish to overlook Permalloo's signature curries. Rich with coconut milk and fragrant with a spice mix that's redolent of cardamom, the braised mutton is our favourite; the grassy, gamey meat the perfect counterpoint to the light luxury of the coconut sauce.
A full halal menu with plenty of vegan options too, this is one to enjoy as a big group; if you can fit them all in, that is!
Address: 22 Bedford Pl, Southampton SO15 2DB, United Kingdom
Website: lakazmaman.com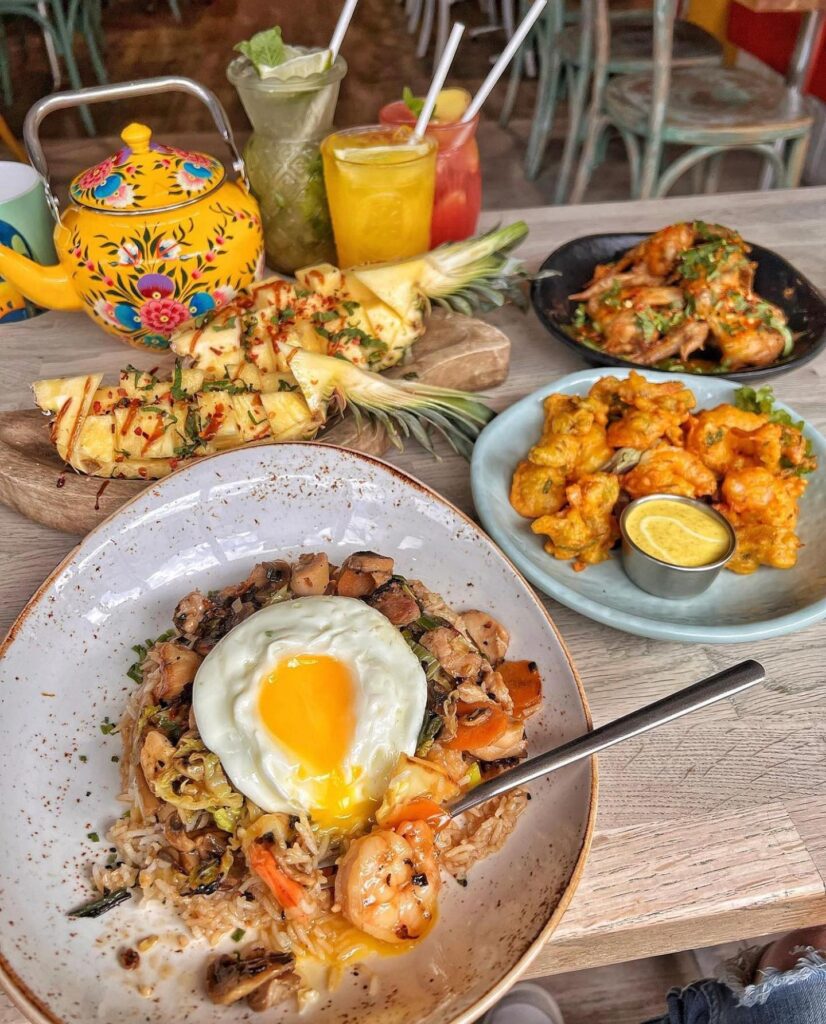 ---
The Jetty, Ocean Village
From your mum's kitchen to a place with Michelin-starred aspirations, The Jetty manages to straddle fun and fine dining with grace, and is our favourite high-end restaurant in Southampton, hands down.
It's a seafood-forward menu here, brought to life not only by veteran chef Alex Aitken, but also by the light and airy dining room, which boasts panoramic views across swanky Ocean Village Marina, and a terrace that always seems to be bathed in Solent sunshine and on the receiving end of the most gentle of sea breezes.
Phew, we could sit out here all day, but the kitchen's pass-spanning display of freshly caught local fish laying proudly over ice has enticed us back inside. Though there's a tasting menu available for £80 per person, we prefer to run roughshod over the a la carte offering – mainly because that's where the funky, umami-heavy crab croquettes are found.
After that, for the ultimate seafood experience it has to be – and always is – the mixed fish grill, which sees the catch of the day grilled on the bone, served alongside a handful of tiger prawns, a marinière featuring clams, cockles and mussels, and, of course, some aioli, here positively humming with roasted garlic. For £35, it's an absolute steal.
The restaurant is open everyday for lunch and dinner, closing a little earlier on Sundays.
Address: Southampton Harbour Hotel, 5 Maritime Walk, Southampton SO14 3TL
Website: harbourhotels.co.uk
---
Blue Jasmine, Ocean Village
Another fantastic restaurant in Southampton's Ocean Village is Blue Jasmine, a place doing contemporary takes on South East Asian cuisine with real flair and imagination.
Though we're usually a little cautious of 'refined' takes on regional cooking (isn't it refined enough already?), there's so much to love about the food at Blue Jasmine, with some seriously show-stopping dishes bringing some much needed spice and vitality to this corner of the quayside.
The kitchen here is led by former Hakkasan executive sous chef Daren Liew, who fuses memories of growing up in this father's restaurant in Malaysia with some of Hampshire's finest produce.
The results are spectacular, whether that's in the Hampshire rib eye beef served bathed in a Sha Ca green peppercorn sauce (an interpretation of a Malaysian satay sauce) or local asparagus stir-fried in chef's homemade XO.
The undeniable headlining act here, though, is the chargrilled seabass, dressed with a 1400-year aged Chinese vinegar and toasted miso dressing, all finished with truffle because, well, why not?
You'll certainly pay for the privilege, with that seabass dish clocking in at just shy of £40 and no bottle on the globetrotting winelist available for under £30, but for a special occasion kind of place, with all the theatre and flourish that suggests, Blue Jasmine can't be beaten.
A top insider tip shared with us by Sub Cool FM, who provide air conditioning in Southampton; if you are keen to sample Blue Jasmine's innovative takes on South East Asian food on something of a relative budget, then your best bet might be the Sunday Wu Cha (afternoon tea) experience. Here, between midday and 5pm, a set menu of dinky, delicious bites, accompanied by a glass of champagne and plenty of tea, costs just £38.
Address: Unit 3-4, Alexandra Wharf, Maritime Walk, Ocean Way, Southampton SO14 3QS
Website: bluejasmine.co.uk
---
The Pig In The Wall, City Centre
If you've ever dined at New Forest destination restaurant The Pig, who proudly source 80% of their ingredients from within a 25 mile radius, then you'll already be well aware of the quality of the cooking at this restaurant group, which now numbers 8 in total.
One of those is found tucked away in the mediaeval walls of Southampton. ''The smallest of the litter'' (their words, not ours), The Pig In The Wall more than makes up for its apparent Napoleon complex with big, bold flavours, even if this is more self-proclaimed 'deli-dining' than the usual finer side of things that we've come to expect from Hutson and co.
Hell, they even call it "supper" rather than dinner, and the place closes at 8pm, but in those slightly reduced hours you'll find plenty to enjoy on the Pig In The Wall's dinner (sorry, supper) table. Go for the comforting cottage pie with a side of garden kale, followed by an apple crumble which has caught in all the right places. Pouring cream is mandatory.
Or, for something lighter, the deli bits are beautifully composed; the Hampshire pork pie, in particular, is a thing of majesty. With glasses of perfectly drinkable plonk available for under a fiver – the easy drinking La Vigneau at £4.75 is a particular steal – this rendition of The Pig is a great way to try the restaurant group's famed hospitality without having to leave the city or open your wallet too wide. Result!
Address: 8 Western Esplanade, Southampton SO14 2AZ, United Kingdom
Website: thepighotel.com
---
Kuti's, Town Quay
We couldn't discuss the best restaurants in Southampton without paying lip service to everyone's favourite curry house, Kuti's.
It's not just the restaurant's long-serving association with Southampton FC legend Francis Benali that makes this place a cult favourite among the city's curry fans; the food here is genuinely excellent, and its new location at the entrance to the Royal Pier illustrious.
In fact, Kuti's was named as the UK's Top Indian Restaurant in 2018 at the International Indian Chef Awards, and it was an accolade that felt well-deserved to those who have enjoyed the restaurant's famous Adraki lamb chops or Kashmiri king prawn rogan josh.
Sure, this isn't a modern 'small sharing plates of Indian street food' kind of place, with its very particular type of pink and yellow colourscheme and curious placement of full-size rickshaws. Rather, it's a curry house in the Anglo-Indian tradition of the British high street, with ornate gold trim on the banquette seating and a purple hue to the evening dining that Prince would feel at home basking under.
With Cobra King Malabar IPA on tap and the poppadoms free-flowing, there's no place we'd rather be, particularly post-St. Mary's, while we dissect a famous Saints victory over some delicious Indian food.
Address: The Royal Pier, Mayflower Park, Town Quay, Southampton SO14 2AQ
Website: kutis.co.uk
---
Dancing Man Brewery, Town Quay
Just a minute's walk from Kuti's and into Town Quay proper, we're ending our tour of the best food in Southampton at Dancing Man Brewery, with a pint of the brewpub's award winning, hop-heavy Jack O'Diamonds in one hand and a double DMB cheeseburger in the other.
This gorgeous pub, housed in a mediaeval woolhouse defined by timber beams and a freestone facade, is a place for incredibly complex, invigorating beer first and foremost, but the food found on the menu (fresh out of a newly refurbished and reimagined kitchen) is eminently satisfying, too, with nourishing pub classics the order of the day – every day – here. It's the perfect way to end a perfect day exploring Southampton's top restaurants.
Address: Town Quay, Southampton SO14 2AR, United Kingdom
Website: dancingmanbrewery.co.uk
Now, when was that last train home?
Why not head east on your culinary journey of discovery next, in search of Brighton and Hove's best restaurants? You know you want to!