The island of Phuket is famous for many things; its beautiful beaches, charming architecture and, of course, a sometimes insalubrious nightlife. But the reason we keep returning to the island is undoubtedly for its cuisine, which is truly some of the best in the world.
Indeed, food is a major part of Phuket's cultural identity. Named as a creative food city by UNESCO, the island's blend of Thai, Chinese-Thai, Indian and Malay influences has shaped the gastronomic landscape of Phuket in myriad ways, making it a destination for anyone who loves to dine just as diversely as they do deliciously.
As an island that overlooks the Andaman Sea, and in a country whose cuisine is one of the most fish-loving there is, Phuket is, of course, known for its seafood, with crabs, prawns and lobster taking centre stage, as well as plenty of seabass, trevally and Spanish mackerel hitting the menus, the deep-fat fryers and the grills. Hell, even the seasonings here revolve around the sea, with fish sauce and shrimp paste both major players in just about every bowl.
No surprise, then, that the seafood dining scene in Phuket offers a wide range of options, from floating fish markets that change into restaurants come evening all the way to well-established culinary icons. There are a plethora of Phuket resorts with quality seafood offerings too – although we suggest missing the all-you-can-eat seafood buffets that some resorts offer and, instead, making a sharkline for one of these places; the best Phuket restaurants that every seafood lover should try.
Mor Mu Dong, Chalong
Ideal for some of the best southern Thai food on the island….
We had to start here. If you're after the best, most interesting southern Thai food in Phuket, then it's to Mor Mu Dong you must head. This off-the-beaten-track restaurant made up of rustic salas and sitting atop a mangrove swamp offers Thai food with a sense of place, and doesn't compromise on spice one jot. It's one of the most famous restaurants on the island for a reason.
The must-order here is the stuffed mackerel (pla too yat sai); the restaurant's signature dish and a work of pure genius. When it arrives at the table, it looks like a straightforward fried mackerel, but inside is where the surprise lies. Spoiler alert: the fish has been totally deboned, the flesh mixed with red curry paste and then stuffed back inside the fish before being fried.
The result is a stuffing that sits somewhere between a sai ua sausage and the beloved Thai fish custard hor mok, the fact that the sausage 'casing' is, you know, a whole bloody fish confounding every first-timer's expectations. It's magic.
Don't stop there; the nahm prik relish – the main ingredient fermented shrimp paste pounded with chillies and here with dried anchovies added for crunch – is a textual delight. It's not the last time you'll hear about this dip today.
And it wouldn't be a southern Thai restaurant without gaeng som (sour yellow curry) and the island's classic crab yellow curry; both of them here arriving thicker and more luscious than their more ubiquitous soupy cousins, but no worse for it. It's a fantastic spread, make no mistake, that is of course completed with plenty of steamed jasmine rice.
Since taxis are so prohibitively expensive in Phuket, consider hiring a motorbike just to eat restaurant Mor Mu Dong's stuffed mackerel. It's that good. Just be careful on the roads and always wear a helmet.
Oh, and if you order too much, just ask to take the rest home (''klub baan'') and enjoy the spoils of your trip again later (probably, let's face it, as a midnight snack the same day).
Address: 9/4 Mu 3 Soi Pa Lai, Chao Fa Road, Chalong, Phuket, 83130, Thailand
---
One Chun, Phuket Old Town
Ideal for the best crab curry you'll ever eat…
They say that you should never eat seafood on a Monday, but this couldn't be further from the truth at One Chun in Phuket, whose name literally translates to 'Monday'.
The sister restaurant of the esteemed Raya, known for serving up some of the best southern Thai food on the island, on our list it's One Chun that just pips it, with a menu that leans a little more heavily on things from the sea. And hey, if you're looking for more arbitrary reasons, Raya's signature dish is braised pork belly, rather than fish…
…Anyway, fresh crab is always big news in Phuket, and some of the island's best dishes revolve around a generous serving of the sweet white meat. The amount of the stuff in One Chun's famous yellow crab curry feels downright philanthropic. In England, being this liberal with the crab would bankrupt a restaurant. Here, it's standard, with several fist-sized chunks gracing each and every bowl of this rich, super spicy curry.
You wouldn't go to a Thai family-run restaurant and order a single bowl. That would be sacrilege and this thing is about harmony across the table, so do yourself a favour and order the pert, piquant prawns with stink beans, too. The sator (stink bean) are a big part of southern Thai cooking as they thrive in the climate, and when paired with prawns and a lime-forward shrimp paste-heavy dressing, it's alchemy on the plate.
Back to that balance, and ordering the lon relish is a wise move here. Rich and soothing with coconut cream, it can offer some sweet relief from the spicier side of the island's cooking.
While the quality of the food is the primary reason you should visit One Chun, the decor is also splendid, with funky retro vibes all round, reflective of the colourful dynamics of its Phuket Old Town neighbourhood. The owner has a background in fashion and you can sense her taste for design in every detail; it's an all round great experience to dine here. Especially on a Monday…
Address: 48/1 Thep Krasatti Road, Talad Yai, Phuket, 83000, Thailand
---
Go Ang Seafood, Phuket Old Town
Ideal for southern Thai seafood with a Chinese twist…
You know what every chef and food writer with an Anthony Bourdain poster on their wall will tell you; ''eat where the locals are eating''.
Well, the eponymous Go Ang is reliably, resolutely packed with locals every evening (5pm to around midnight), taking respite from Phuket's hotter days in the air conditioned dining room and indulging in seafood cooked to order by the talented owner, a man who has been doing his thing here for decades. He's such a legend, the whole restaurant is named after him, in fact.
Anyway, that seafood comes in daily from several markets who Go Ang has built up a trusting relationship with over the years, and there's often no better guarantor of the freshest stuff than a relationship like that.
The fried mantis shrimp with garlic is superb, these alien looking creatures a little tough to peel, sure (mind out for those spikes!), but the reward within is well worth a few nicks and cuts.
For something a little different, try the yum kai mangda talay (horseshoe crab salad). Essentially, it's a spicy green mango salad made with the pungent eggs of the horseshoe crab – a delicacy in Thailand – all tossed together and served back in its shell. It's a sharp, funky affair that's sure to thrill.
For something a little more familiar, don't miss the crab fried rice, which boasts plenty of wok hei and, yep, plenty of white crab meat. Do be aware that, due to the one-man-band vibe on the woks and at the stoves, the food sometimes takes a little while to arrive here, but it's well worth the wait.
Opening Hours: Open daily from 17:00 – 23:30.
Address: 226 หมู่ 2 Phuket Rd, Tambon Talat Yai, Mueang Phuket District, Phuket 83000, Thailand
---
Mook Manee, Rawai
Ideal for a taste of Phuket's famous native lobster…
Rawai is one of the best beach towns to base yourself in Phuket, the vibe more laid back than its rowdy cousin up the road Patong, but still with enough energy to keep things fresh and lively at pretty much any hour of the day.
If you're a seafood lover, you'll be particularly well fed in Rawai, and Mook Manee is perhaps our favorite restaurant in the area. You can't miss it, as it has huge seafood tanks outside and streams of punters as soon as the sun starts dappling across the Adaman.
Indeed, though it's open from 11:30am, you'll want to settle into the al fresco terrace dining space at around 5pm, taking in the sunset as the sea seemingly turns to silk, and the tempo changes as you crack open a shell and a bottle or two.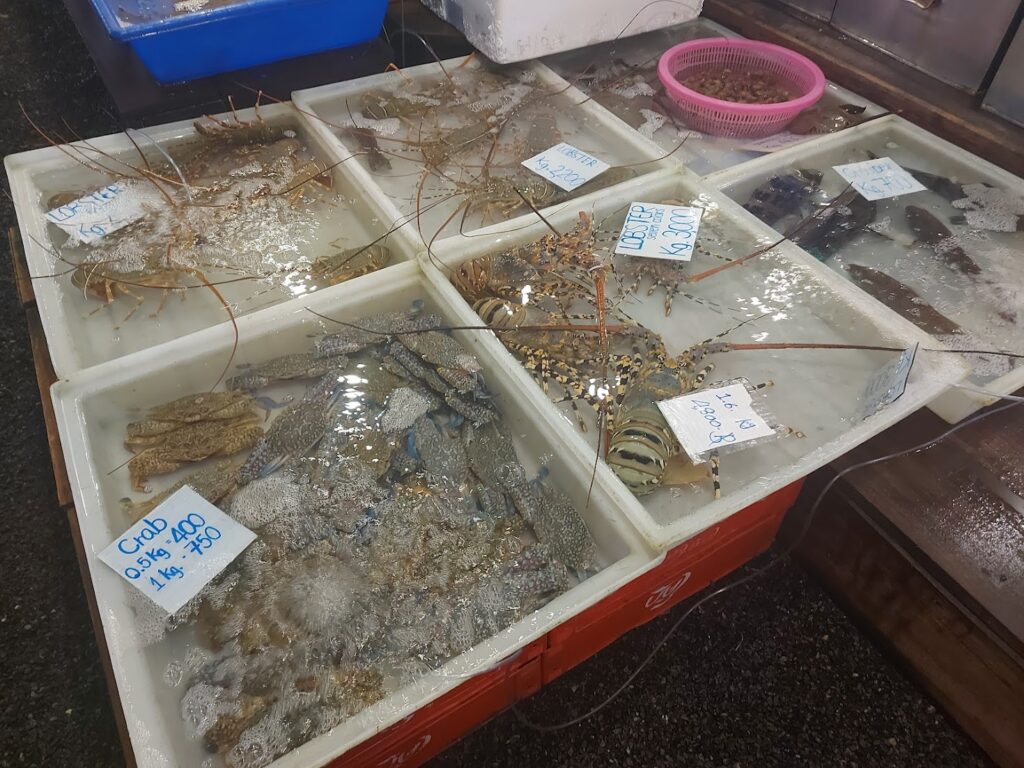 Local Phuket lobster (kung mungkorn or seven coloured lobster) is the order of the day here. Though this most revered of crustaceans graces the menu of most reputable seafood restaurants in Phuket, Mook Manee is considered the best seafood restaurant in Phuket to come for local lobster. Choose yours from the tank outfront, then decide how you want it cooked – steamed, grilled, fried… You get the picture.
Mook Manee's crab in roasted chilli sauce is an excellent version, not as teeth-shatteringly sweet as some renditions you'll find here and in Bangkok, the Thai basil generous and bringing fresh aniseed notes to every bite.
For a slightly more hands on experience, then just outside the restaurant you'll see the seafood market in full swing. You can even buy your seafood from the market and they'll chuck it on the barbecue for you – the cooking fee here is around 100 baht per kg. Speaking of which…
Address: 1120 Wiset Rd, Rawai, Mueang Phuket District, Phuket 83100, Thailand
---
Rawai Sea Gypsy Market, Rawai
Ideal for open-air, pick-your-own seafood
If you can't get a table at Mook Manee (though it seats 300 people, it does fill up), you could do worse than heading to the Rawai Sea Gypsy market. Located to the left of Rawai Pier, this open air seafood market has dozens of stalls operated by different local families, selling stuff from the sea of all shapes and sizes, all lined up in buckets and tanks for your pleasure.
Bring your most discerning eye and choose yours before heading across the road to a cluster of restaurants that are waiting to cook it up for you. It's a convivial, chaotic experience that's well worth doing at least once while you're on the island.
If you can't decide, Mook Dee is a solid choice. They charge a cooking fee of 100 baht per kg. Khun Pha is another good option, and at 75 baht per kg, it's a little cheaper, too. Speaking of price, whilst eating barbecued seafood certainly isn't the cheapest meal on the island, you'd be paying at least triple for a similar meal in the UK! And let's face it, it wouldn't be nearly as good as this…
Address: 1120 Wiset Rd, Rawai, Mueang Phuket District, Phuket 83100, Thailand
---
Salaloy, Rawai
Ideal for charming, casual outdoor dining with a sea view
Another one from Rawai…
The best seats in the house at this casual seafood eatery aren't actually in the house but, rather, in the outdoor seating area opposite the main restaurant, with a charming stone table, picnic bench seating and a wicked view of the sea.
The menu at Salaloy is extensive – a little intimidating, even, at first glance – so we'd suggest a plate of miang kham as you inspect the tome a little further.
These 'betel' leaf wraps come with an 'assemble yourself' situation of thinly sliced chillies, diced ginger, cubes of pink shallot, roasted peanuts, toasted coconut, and tiny dried shimp, all pulled together with a sweet, salty galangal caramel. The perfect one-bite encapsulation of John Torode trotting out the ol' ''Thai is a balance of sweet, sour, salty, and spicy'', it's a great way to start a meal, and pairs brilliantly with an ice cold Singha.
If you're still looking at that menu and feeling a little rudderless, we think that the soft shell crabs here are the standout. Alongside, deep-fried sillago fish comes dosed with a raft of deep fried turmeric and garlic, a true southern staple. If you're after something more refreshing, then you can't go wrong with goong chae nam pla, a Thai ceviche of sorts where raw prawns are gently cured in Thai fish sauce and lime juice, and served with sliced cloves of garlic, chillies and nahm jim seafood.
Address: 52/2 Wiset Rd, Rawai, Mueang Phuket District, Phuket 83130, Thailand
---
Kruvit Raft, Ban Laem Hin
Ideal for seeing exactly where your fish comes from
Fresh seafood on a floating restaurant? Count us in! Phuket is home to a few popular floating restaurants including Bang Mud Seafood – a belter no doubt – but our favourite is Kruvit Raft, which pulls its fish out from the sea in front of you in the style of a magician finding doves up its sleeve. It's quite the show.
To get here, you need to take a 5 minute longtail boat ride from Laem Hin Pier on Phuket's east coast, and head in the direction of tiny Coconut Island (Koh Maphrao).
Kruvit Raft, known locally as 'Kra Chang' (the fishing basket) sits somewhere between the two islands, a massive floating raft that's home to a handful of great seafood restaurants, with Kru Sawit and Bang Mud Seafood among the best.
Simply cast your eye over the nets below the raft, point out what you fancy eating, and a restaurant hand will fish it out for you. What could be fresher than that?
Check out the local oysters here, several times larger than native UK ones, and requiring portioning before eating! That said, in our experience at Kruvit Raft, it's the whole fish that's particularly good, the deep fried grouper with tamarind-forward three flavoured sauce a highlight.
Do be aware that Kruvit Raft and the fishing villages that surround it are a little way out from Phuket Old Town and even further from Patong and Rawai, so you might want to make a day of it here. Not to worry, as there's one more cracking place to eat seafood in Phuket that we have to recommend…
Address: Front of Maphro Island M.6 Koh Khaow ,Muang 83000, Thailand
---
Laem Hin Seafood, Ban Laem Hin
Ideal for jetties and jellyfish…
Not one for boats? Then you'll be pleased to know that right next to Laem Hin Pier there is an excellent seafood restaurant called Laem Hin Seafood. Tables are set on a long wooden terrace jetting out into the sea, and the atmosphere here is calm and collected, a world away from the notorious Bangla Road.
Since the restaurant is on the east coast of the island, it doesn't offer a sunset view, but it's still a gorgeous spot for a sundowner as the sky turns shades of pink, purple and orange. Just be sure to bring your mosquito repellent!
Once you've got your protective layer on, order the sea grapes, known locally as sarai puang a-ngoon, and a real delicacy in these parts. With little pops of saltiness akin to caviar with each bite, it's easy to see why. Take this alongside a jellyfish salad, if you're feeling adventurous.
The nahm prik gapi (a shrimp paste relish) is a fine version, too, not pounded to oblivion but left a little chunky in places, and all the better for it. With a clutch of local vegetables and foraged herbs for dipping, it's a gorgeously succinct taste of Phuket, and one which will linger on the palate long after we leave you.
Which, we should say, is right now.
Address: 90/10 7 Thepkrasattri Rd Ko Kaeo, Mueang Phuket District, Phuket 83000, Thailand