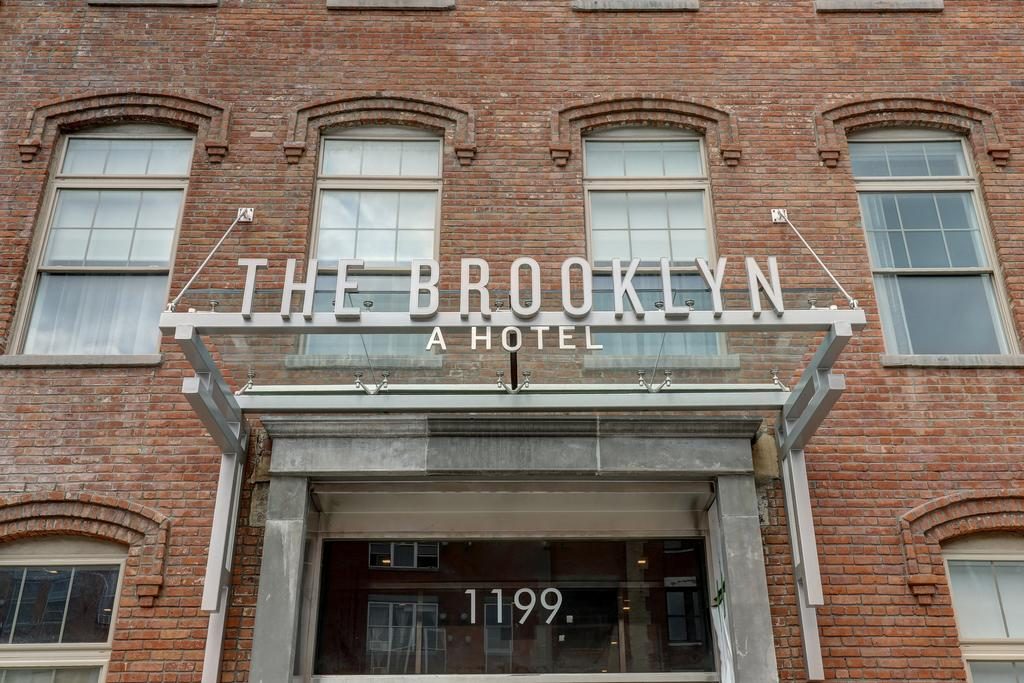 An estimated 44 millions visitors descend on New York each year, and most of them end up staying in midtown hotels. And that's just fine; taking a manageable bite out of the Big Apple is easiest from a central vantage point. However, you don't have to be based in Manhattan to explore the island in all its brash, bold glory. Indeed, a tastier, spicier mouthful awaits further afield.
It's no secret that Brooklyn is one of New York's most popular boroughs. It has a thriving culinary, artistic and artisan scene, and as such is one of the must visit destinations of the metropolis. If you're keen on getting amongst it and immersed, The Brooklyn is a hotel offering an authentic taste of its namesake's culture and quirks.
LOCATION
The location of The Brooklyn is just off Atlantic Avenue; a busy main road which stretches all the way from Brooklyn to Queens. It's also opposite the Long Island Railroad; easy access is assured. 
We'll say it now – Atlantic Avenue ain't particularly pretty too look at, and as such the view from the rooms isn't exactly picturesque. That said, Brooklyn is out there just waiting to be explored, not stared at longingly from the comfort of your room. Plus, the hotel's rough around the edges location is part of its charm – this is the real Brooklyn, where you get a taste of how New Yorkers like to live.
What's more, Prospect Heights is a five minute cab ride away. Here you'll find The Brooklyn Museum, one of New York premier cultural institutions, Prospect Park, which easily rivals Manhattan Park with arguably better views, and has some fantastic eateries including The Islands, renowned city wide for its jerk chicken. The Barclays Centre, home to some amazing concerts, is mere minutes away. If you're planning on going to a gig, this hotel is in the ideal location.
Bedford Avenue, the beating heart of Brooklyn, is an easy distance from the hotel too. And its proximity to the Nostrand Avenue subway stop is fantastic – it's just around the corner and from there you can catch an A or C line train to Brooklyn Bridge directly and walk across it to the city, or take the train straight into Manhattan and be there within half an hour.  
ATMOSPHERE & DESIGN
There's no glitz and no glam here – this is a truly urban hotel with a 'Brooklynesque' aesthetic. The Brooklyn channels the area's distinct personality, blending it's industrial architecture with a trendy, modern and minimalist design vibe .
On first glance, the lobby lacks a little character, the decor is mostly neutral with a few colourful pops – some red chairs here and there to add visual interest. It's not until you see the massive monochrome image on the wall paying homage to the area that you get that this is the look they're going for. In fact, it's quite refreshing to stay somewhere which doesn't have gaudy dial turned up to 11.  
The staff are laid-back yet helpful, making you feel comfortable, but again, without the sense of overdoing it. We throughly enjoyed it. Enough of the overly familiar, fake-as-news welcomes please.
ROOMS
The first things you notice about the gorgeous, smokestack rooms is the exposed brick walls and wooden floors.  Decor is minimal, with neutral palettes so the focus is on the aforementioned industrial elements. A feature wall in each bedroom depicting an iconic New York landmark or some facts about Brooklyn is a nice touch, and reminds you of the area you're in without the guest having to look out the window. The off white leather headboards are attractive and the beds sumptuously comfy – perfect for sinking into after a long day of sightseeing in New York.
Behind frosted glass sliding doors you'll find a fully equipped bathroom, complete with a rainshower head – fantastic. The toiletries, like a lot of New York's hotels, are Beekman 1802, from an upscale New York farm .The nespresso machine is welcome; New Yorker's live off the stuff. When in Rome…..
FOOD & FACILITIES
The hotel offers a fitness and a business centre, so whether it's working up a sweat or working on your next deal, you're set here. There is no restaurant, but the complimentary continental breakfast, although a little limited in choice, is nice enough; cereal, muffins, bagels – the usual stuff. We'd recommend having a cup of freshly brewed coffee in the morning and a little something as fuel, then go all out at one of Brooklyn's happening, hip-as-last-year's-ferdora brunch spots.
This mid-morning meal is a big deal in Brooklyn ('Brunchlyn'? nah, it'll never catch on) and needless to say, you're spoilt for choice here. We love Buttermilk Channel, and Christina Tosi's Milk Bar in Prospect Height's, just a five minute cab ride away.  If you're after traditional American breakfast experience, nearby Tom's Restaurant (also in Prospect Heights) is a landmark local diner – expect to queue but also expect to be sated. Or for something a little lighter, The Bagel Store on Bedford Avenue offers an array of bagels in rainbow colours and so many fillings it will blow your mind.
WHY GO
There aren't any frills at this place, but The Brooklyn has enough tried-and-true hotel touches that are sure to satisfy. 
Website: www.thebrooklynny.com