Step into the Marmara, Park Avenue, and the first thing you'll notice in the Art Deco lobby is a giant black birdcage. In the wrong hands this might bring to mind incarceration; not what you want in a hotel entrance. A few more tentative steps, though, and a sculpture of some nosediving, some soaring white doves will catch your eye. The heart then flutters. In the city that never sleeps, this is somewhere you want to.
LOCATION
The Marmara Park Avenue is perfectly positioned for those wanting to be amongst the action of central Manhatten, but not stifled by it. The street itself (E 32nd) is low-key, but just a short walk away is all the verve and vibrancy the Five Boroughs is famous for.
The Empire State Building is a block away, less than a ten-minute walk. Grand Central Station is twenty minutes on foot and 33 street's metro is just around the corner. The surrounding area offers some of the best shopping options on the planet, so if your plastic can manage it, it would be rude not to. If not, no one's going to judge you (well maybe) for a spot of voyeuristic window shopping.
ATMOSPHERE & STYLE
While the entrance of the hotel is a statement – conspicuous even – the inside is anything but. You enter through a striking vestibule that's been constructed with over 670 pieces of steel, into a glamorous yet understated lobby, awash with white marble. This is sleek, sophisticated and somehow soothing. The monochrome touches throughout evoke an attitude refreshingly not in thrall to modernity and the hectic, always-on mindset back out there beyond the hotel's entrance.
The staff here strike that balance between being always on hand but also hands off, in the best possible way. The overbearing, forced friendliness which pervades in some hotels hasn't checked in here. Instead, personnel have an air of staff who work at a front desk in a condo, letting you get on with your day. The Marmara prides itself on being a home away from home and this attitude to customer service suits this ethos perfectly. A big tick in our box.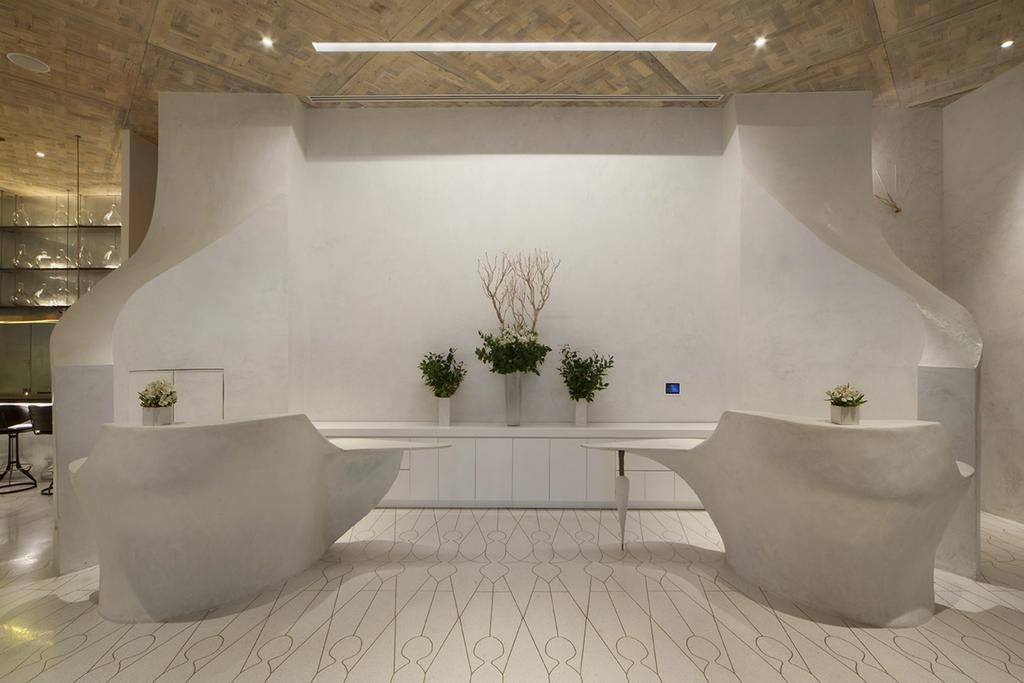 ROOMS
There are many grades of room here, with the intention of appealing to both short and longer term guests, comprising 128 rooms in total. The majority are studio suites complete with kitchenettes, again reinforcing the home-away-from-home vibe. Indeed, The Marmara also offers apartment-style living for those wanting an extended stay in the city; an astute move we reckon. Beds which could accommodate Donald Trump and several guests are guaranteed. You'll be glad to hear this is purely hypothetical. A dining table and four chairs as standard completes the sense that the Marmara really wants you to kick your shoes off, get comfy and settle in.. A complimentary iPad, New York Times and of course, wi fi, make it difficult to leave. Sound business sense we think, pulled off with aplomb.
FOOD & DRINK
If you don't fancy making your own dinner, there's plenty on offer to sate your appetite, both onsite and within walking distance of the hotel. The Marmara's rooftop plays host to not one but two restaurants, Middle Eastern flecked the Blue and the 114, offering a pan European menu. Both offer decent dinner options at a reasonable price for central New York. And of course, the chance for a cocktail on a Manhatten rooftop shouldn't be passed up.
Should you wish to see the lights of the city, Koreatown is a few minute's walk away and has some splendid restaurants; we love Samwon Garden BBQ if you're in the mood for meat, or vegetarian HanGawi, ideal for your kimchi fix. If fine dining takes your fancy and you have serious cash to cremate, Eleven Madison Park, currently ranked as the 4th best restaurant in the world, is only a km away.
FACILITIES
The Hamman spa makes sense when you find out this is a Turkish Hotel chain (hence the name). The idea behind the Turkish hammam is all about detoxification; welcome in a city like New York when you might have imbibed a little too heavily the night before. Poolside yoga sessions with an in-house instructor are also offered in the hotel. Zen awaits.
WHY GO
If you need escape from Manhatten's madcap, mile-a-minute mentality, then the Marmara's monochrome minimalism is just the tonic. Whether it's for a night or several months, the subtle service and superb facilities will have your every whim covered, and your hunger replenished, ready to get back out there and take another bite out of the Big Apple.
Website: park.marmaranyc.com