Ideal for those who are missing their usual dose of winter sun.
For those who simply love to bask under the sun's rays – well, for everyone, actually – this is a testing time. With planes grounded and the UK population currently confined to their homes, the prospect of some much-needed Winter sun lies in the hands of Britain's weather gods. We wouldn't hold out much hope; January saw just 45 hours of sun in total last year (compared to over 266 in summer) with temperatures reliably lingering in the lower half of the single digits for the first months of the year. And that's when we're actually allowed to venture outside for a much-needed dose of Vitamin D…
Spare a thought for our complexion. We think it's fair to say that we're not exactly looking radiant right now, with visages lacking Vitamin D and not exactly boasting that sunkissed aesthetic. If you're going to take matters into your own, soon-to-be orange hands, or you simply want to be ready for the moment that your beauty salon is next allowed to open its doors, then here's how to prepare for a spray tan in 8 steps, IDEAL for those who are missing their usual dose of winter sun.
CHOOSE YOUR TAN WISELY
Not all at-home spray kits are created equal, with some leaving streaks while others kiss you with a natural looking tan. Not to worry, we've scoured the internet for some of the most recommended kits offering superior, streak-free results. The beauty experts at Glamour Magazine recommend MineTan Bronze Babe Personal Spray Tan Kit (£99) and MineTan Nano Mist Tan Mist Atomiser Pack £59.99. If you're looking for something cheaper Sienna X Q10 Self Tanning Mist (£24) is also highly rated. For your local drugstore, try St Tropez Classic Bronzing Mist (21) or Bondi Sands Self Tanning Mist (£9.98).
FIRSTLY, A PATCH TEST
Particularly pertinent if you're spray tanning for the first time, it's essential that you have a patch test prior to your spray tan, firstly, to ensure that the formula being used isn't going to irritate your skin, and secondly, to check that the colour is correct! Clearly, Donald Trump regularly skips this step. And you wouldn't want to be compared to him, hey?
WAX OR SHAVE YOUR BODY THE DAY BEFORE
On the day before your scheduled spray tan (most likely, currently, in your home salon), you should shave or wax any areas of your body which you usually include in your shaving or waxing routine. Clear skin is necessary for an even tan but you should avoid shaving on the same day as your spray, as this may leave you susceptible to razor bumps which result in an uneven finish and are, of course, a little irritating, too.
Not only that, but shaving on the day of your spray session isn't advisable as it will open the pores of your skin, resulting in pore-clogging. This, in turn, could lead to acne and blemishes.
EXFOLIATE, EXFOLIATE
Exfoliation is perhaps the most important part of your spray tan preparation, helping to get rid of dead skin cells from the body and priming your skin for its shiny new coating, presenting an even layer to receive the spray.
If exfoliation isn't done, these dead cells would receive the spray, and take the tan with them when they bid farewell to your body. This leaves a patchy finish, which, of course, you want to avoid.
To exfoliate effectively, you can use a scrubbing lotion to shed dead skin cells. Beauticians do caution, however, to only scrub gently; go too hard and you run the risk of irritated skin after the tan. If you're doing your beauty regime from home, be cautious and kind in your approach.
PRIME SKIN BEFORE SPRAY
Jules Von Hep, co-founder of self-tanning brand Isle of Paradise tells Good Housekeeping that you should prime your skin before tanning "In order to get the most out of your spray tan, I always recommend priming your skin with a pH-balancing spray just before your spray tan appointment. This will help your skin reach an optimum of pH of 4.5, which can help the tan absorb deeper into the skin and therefore last longer."
According to the magazine, "your natural skin typically has a pH of between 4.7 and 5.57, so bringing it to a 4.5 will help it match the pH of the tanning solution, meaning it will absorb faster". Whilst we're not suggesting you get a degree in chemistry, it does pay to get in tune with your skin's pH levels.
TAKE A SHOWER BEFORE SPRAY TAN
It's advisable to take a gentle shower with a moisturising lotion to get rid of sweat prior to your spray tan. Having a spray tan with post-workout, sweaty skin risks an uneven finish. Do avoid using soap during your pre-spray shower, as it will make your skin overly dry.
The best way to get the desired results from a spray tan session, whether that's at home or in a beauty salon, is to receive the spray on natural skin with no makeup or deodrant. Remove it all prior to your spray tan session.
DON'T COMBINE A FACIAL WITH YOUR SPRAY TAN
During a day of pampering, it only feels natural that getting both a facial and a spray tan will be included on the itinerary. This would be a rookie error; the facial opens up your pores, leaving them prone to clogging and blackheads post spray. Separate these two treatments by putting a day (at least) between them.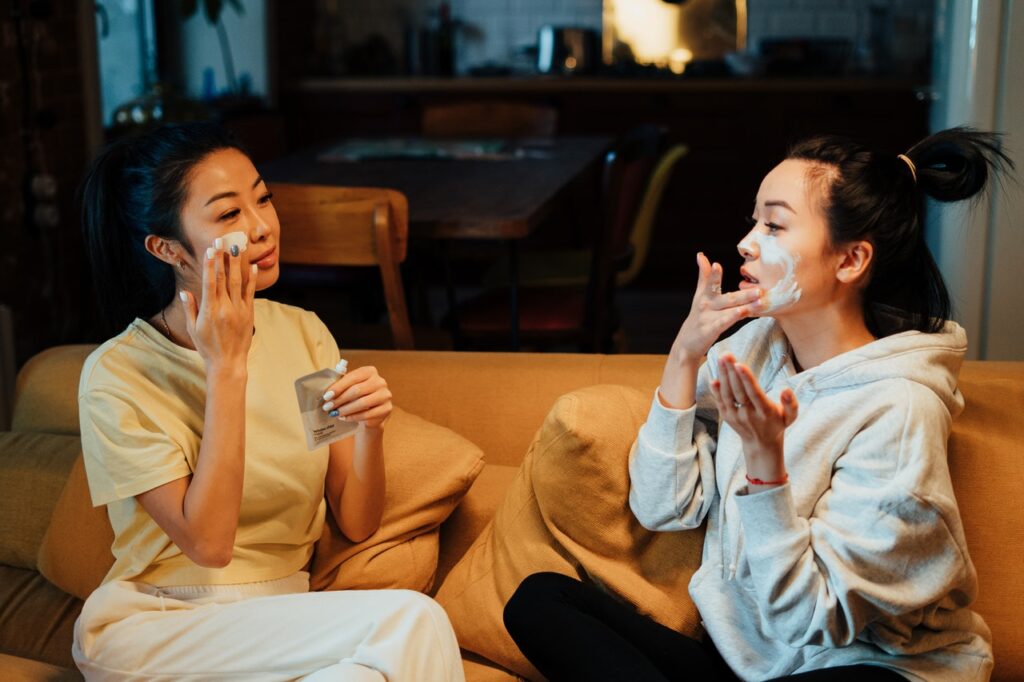 NAIL VARNISH
A decent spray tan should get as near to 100% body coverage as possible. This is great news, and guarantees a natural finish. That said, you do want to avoid your fingernails and toenails receiving a good dose of tan; the very opposite of a natural finish, don't you think? There's a simple way to avoid this happening; just apply nail varnish before you receive your spray.
TIE YOUR HAIR BACK
Because no one wants to emerge from their spray tan session with hair the same colour as their skin, right? Make sure you tie back your hair back, tightly to your head, prior to getting sprayed. Job done.
Looking to do more with your beauty regime from the comfort of home? Check out these 5 IDEAL tips for a DIY pedicure.