First things first; congratulations! You're getting married and there's nothing more special. Secondly though, commiserations. As a bride, you've got a lot of prep ahead, a lot of stress and a lot of headaches; all worth it in the end, we know, but a weight on your shoulders nonetheless. In terms of outfits, it's not just your own that you need to think about. You'll also need to curate your bridesmaids' dresses and, assuming your fiance can't dress themself properly, maybe their ensemble too.
While it's true that the bridal gown is the most important dress of them all – the focal point and the reason for all the fuss – leaving the bridesmaid dresses to the last moment is a big mistake. There are many factors to take into account when choosing the perfect bridesmaid dress, and with so many different body shapes, styles and colourings to deal with, it may feel like a frankly impossible task.
Worry not, however. Choosing the bridesmaid dress should be just as much fun as picking your own, and is a breeze as long as you follow simple tips. So, here is our IDEAL guide to choosing the right bridesmaid dress.
Research, Research, Research
The researching of a bridal gown and bridesmaids' dresses can be the most fun part of the entire process – it's also the best place to start. Gather your bridesmaids around you, buy bridal magazines (and some bubbly) or search online for some excellent bridalwear shops, and have yourself a dress research party.  Let everyone look through the pages both on and offline (for a great example, check this out and read more!) and find something that they like. Start to narrow down the designs and you'll soon have a great idea of what you're looking for.
Be Flexible
You may have a pretty fixed idea as to exactly how you want your bridesmaids to look. However, it doesn't hurt to check out other dresses (even if it's just an excuse for a day out shopping), just in case. You never know, something unique and from leftfield might just catch your eye. Shopping with friends is better than dress shopping alone, as second opinions can really help, especially if you're set on a particular style, colour, or design. Maybe seeking a second opinion on your spouse-to-be might also be a good idea?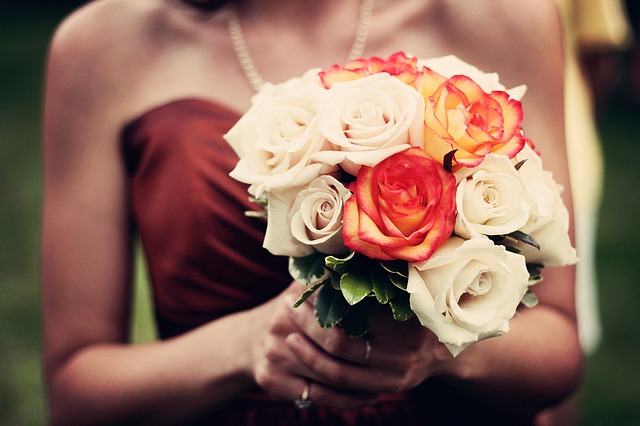 The Cut
Once you've got a better idea of the type of dress they'll be wearing, it's time to hone in on those finer details. The cut should be the next deliberation. Every woman's body is different, and what flatters one shape could look less fitting on another. Try not to shoehorn your girls into something that doesn't work for them just because it's the perfect accompaniment to your dress or the flowers.
Thinking a little more laterally is wise. Dresses with different lengths and necklines, but in the same colour, will give all of your bridesmaids the chance to look radiant. So often overlooked but important to consider is the need to be comfortable. Your friends and loved ones will be wearing them all day, and they'll need to be able to move around, dance, eat and breathe. Take this into account when thinking about cut and design.
The Style
When confronted with the style of the dress, the elements requiring decisions are endless. There is halter neck, empire line, strapless, one shoulder, bandeau and so much more…
The key, we think, is to pick something timeless. A cursory flick through old family wedding photos will reveal what endures the test of the years and what doesn't. Any attempt to be on trend will likely look odd decades down the line. Fashions change as rapidly as the British weather, so it's best to stick with something tried, tested and true. Selfish though it is to admit, you don't want your bridesmaids overshadowing you, so keep their apparel toned down, classically beautiful, and not overtly sexy or 'out there'. You'll appreciate it in years to come, make no mistake.
The Colour
It's common practice to set a broadly themed colour palette for a wedding, and this makes it much easier to decide the tone that the bridesmaids should be wearing. Even so, remember that even the slightest difference in shades can lead to clashes rather than complementary colours. If you are able, take a swatch of the fabric you're using in your decorations when shopping for your bridesmaids' dresses so that you can be sure (and the professionals can reassure, equally).
If you haven't got a theme as such, the bridesmaids' dresses will still need to blend in so as not to give a jarring effect to the wedding party. Muted hues of understatement are the ideal. Think of the flowers you're having, for example, or the time of year, or simply allow the bridesmaids to suggest colours that they find flattering. You might end up with all of your bridesmaids wearing different colours, but if the style of dress is the same, and the colours don't clash, then this could work wonderfully.
The Fittings
To make sure that the bridesmaids' dresses all fit exactly as they should, fittings are a must, and it's up to you to arrange them. Whether you buy the dresses from a designer who'll carry out the fittings for you, or buy them 'off the shelf' and then arrange fittings separately, it doesn't matter. What matters, simply, is that they fit! 
Three fittings is usually optimum, although time constraints dictate play, to an extent. The final fitting should be as close to the big day as possible, to ensure that there will be no nasty surprises (weight lost, weight gained, damange, spillages…you get the picture) when everyone is getting dressed. The last thing a bride will want to deal with is a bridesmaid whose dress is falling off because it's too big, or is too tight and won't do up.