Your honeymoon. It's one of the most indulgent and extravagant holidays you'll ever take, so expectations are undoubtedly going to be sky high. If you're looking for a honeymoon that won't disappoint and where the only decision you have to make every morning is "pool or beach?" then Vila Galé Cumbuco is the perfect place to start your happily ever after.
IDEA
An all inclusive resort that offers a laundry list of enticing features: three restaurants and two bars, a glorious beach, water sports, exciting buggy rides over the dunes, a spa and so much more.
LOCATION
This modern, relaxed resort is located on the famous beach of Cumbuco, between the dunes of Costa dos Ventos. If you don't know Cumbuco, think of a place with white sand dunes, blue lagoons, endless beaches with coconut palm trees. Got it? That's Cumbuco.  It's setting will stun you into an appreciative silence.
ATMOSPHERE
The atmosphere here isn't overly romantic, which accounts for the resort's broad appeal. But that's one of the reasons it's great for honeymooners. You're not surrounded by a zillion other couples on their honeymoon who think that they are the most loved up couple in the world. This is your honeymoon and you're the most loved up couple in the world.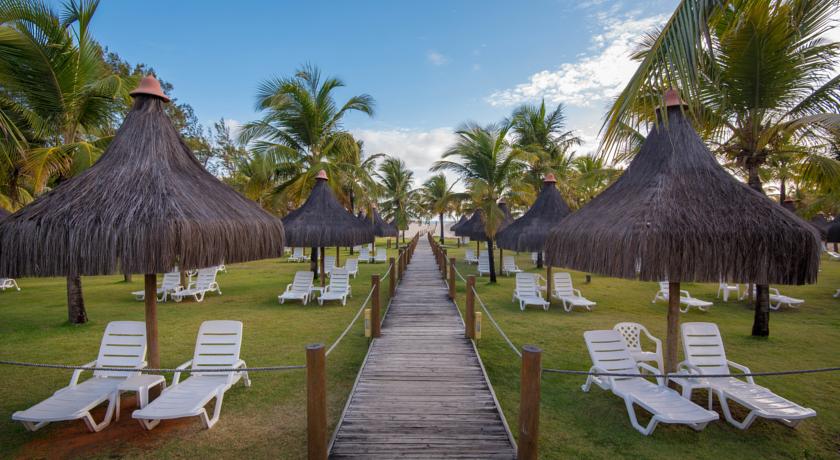 However, romance is more than possible thanks to the the hotel's idyllic setting. You can relax with your lover on the uncrowded white-sand beach, swim together in the pristine pool sipping on cocktails, read together in the charming garden, get a massage together at the gorgeous spa. The level of romance is what you make of it.
ACTIVITIES
Vila Galé Cumbuco is the kind of place where days slip into a dreamy sequence: lounge around by the pool, head to the beach for a swim in the warm sea, eat some delicious food. Repeat. However, if you want to push the boat out and do something different, the hotel offers various activities and excursions for when you're not snoozing by the pool.
If you're after an adrenaline rush, rent a buggy and go sand dune bashing. Whizzing over the honey-coloured dunes is a heart-thumping experience and feels just like a roller-coaster ride. If you have a guide, ask him to stop off at the beautiful Águas Crislatinas lagoon where you can zip-line straight into the water. Also stop off at Parnamirim Lake where you can have a go at ski-bunda which is a bid like sledging, but on sand. You basically sit on a wooden board and slide down a sand dune into the refreshing waters of the lake.
The hotel's location, Cumbuco, is also famous for being one of the best kitesurfing spots in the world. Even if you don't fancy have a go, bathing in the lagoons and watching the kite surfers do their thing is a cool experience. You can also go horseback riding on the beach. What could be more romantic than riding down a white-sandy beach and frolicking in the warm water? If you want to do something cultural, ask the hotel to organise a day trip to Fortaleza for touring the crafts fair, the market and the historical sites.
THE FOOD
One thing is for certain at Vila Galé Cumbuco, you will never go hungry. The hotel boasts three restaurants!
The hotel's main restaurant, Versátil, offers a sumptuous buffet breakfast – think  big bowls of fruit, a tempting spread of pastries, cakes and cheeses. Hot breakfast dishes and local delicacies like tapioca crepes.
Cajuína & Amêndoa Amarga, a restaurant located by the pool, offers snacks throughout the day and a buffet service with a gargantuan choice in the afternoon.
In the evening it becomes an à la carte restaurant, offering Portuguese and regional cuisine.
If you fancy some Asian or Mediterranean cuisine, head to the fancy Inevitáve. It's lovely and you can get dressed up.
THE BARS
Swimming around a gorgeous pool while soaking up the rays is thirsty holiday work, right? Well worry not, Kite Bar is literally in the pool, so you won't have that awful inconvenience of getting out when you're in dire need of another caipirinha.
Located near the hotel's lobby, Euphoria Bar is a great place to have a pre-dinner drink. Expect some sporadic entertainment here. In the northeast, traditional Brazilian country music called forró is everywhere and on some nights the hotel welcomes a folklore act playing and dancing to traditional forró music. Oh and did we mention that the hotel also has a 'souls and blues' disco if you want to get your groove on.
THE ROOMS
Since this is your honeymoon, we reckon you should go all out and stay in one of the detached cottages set in tropical gardens. They are gorgeous and you feel like you have your own little house. Otherwise the rooms and suites are just fine. Featuring modern decor, they all come with include flat-screen TVs, Wi-Fi  and minibars, as well as balconies or terraces.
THE SPA
Is there a better way of relaxing after a stressful wedding than spending some time at a spa. The answer is no. The resort has it's own Satsanga spa, where you can enjoy its lovely sauna and jacuzzi, take a Turkish bath or indulge in a glourious massage. Bliss.
Why Go
For a gorgeous once-in-a-lifetime (yet affordable) honeymoon where you can do as much or as little as you want.
Stay: Find more information visit www.vilagale.com.
Fly: TAP Portugal flies from London Heathrow to Fortaleza seven times a week. For further information, visit www.flytap.com or call 0345 601 0932.
Tourist info: Find more info about Brazil on the Tourist Board website, Visitbrasil.com.
IDEAL stayed as a guest of the hotel.