In the wise words of Nietzsche, 'sleeping is no mean art: for its sake, one must stay awake all day'. Indeed. But actually, the guy had a point. For all the huge amount of good work sleep does in repairing the ills accrued throughout the day, it's not often given the respect it deserves.
We're all a little guilty of jeopardising the quality of our sleep or simply not getting enough of it, whether that's because our bedtime routine isn't mindful enough or the stresses of the day are keeping us ceiling staring. In short, we're an overstimulated, under-rested bunch.
This lack of quality sleep can wreak havoc on our youthful good looks, making skin look tired, complexion pale, and our faces prone to wrinkles and bags, equally. When the fix is so simple, to sleep more, it's surprising we're not all doing our best to catch those all-important 8 hours each and every night. If you're still asking if beauty sleep is a real thing, then read on; here are 8 reasons sleep is so good for your skin.
HUMAN GROWTH HORMONE RELEASES TO HEAL AND REPAIR
During the first few hours of sleep, your pituitary gland releases Human Growth Hormone (HGH) which helps your skin repair itself from the stresses and damage of the day. This nightly skin tune-up acts as a reset for your skin, guaranteeing a more glowing complexion in the morning.
MELATONIN AS AN ANTIOXIDANT
Melatonin isn't just the hormone that makes you sleepy, it also has some pretty potent antioxidant abilities. As such, melatonin can help your skin deal with some of those skin-damaging free radicals created throughout the day.
CORTISOL LEVELS DECREASE TO REDUCE INFLAMMATION
Cortisol is your stress hormone, and while you need some of it to give you that pep which helps you tackle the rigours of the day, ideally you want it to reduce to a low level at night, while you sleep. 
When your cortisol drops at night and while you sleep, it helps reduce the overall inflammation in your body and provides deep tension relief in the muscles of your face. And, since inflammation can show up on your face in the form of red, irritated, or blotchy skin, letting your cortisol settle down at night is a good thing.
YOUR BODY BALANCES MOISTURE LEVELS WHILE YOU SLEEP
At night, your body can help regulate and redistribute the water content of the body and skin, including making sure your face is optimally hydrated. If you've ever had a bout of sleeplessness, you may have noticed that your skin became dull, lacklustre, or dry. Get enough of those Zzzeds to prevent this.
BLOOD FLOW IMPROVES DURING SLEEP AND WHEN YOU ARE WELL-RESTED
Your body needs an optimal supply of blood to deliver all necessary oxygen and nutrients to the area, including your face. When you sleep, the blood vessels in your face dilate, allowing more blood flow than during the day. And, it's this increased blood flow that helps you look fresh and rosy in the morning.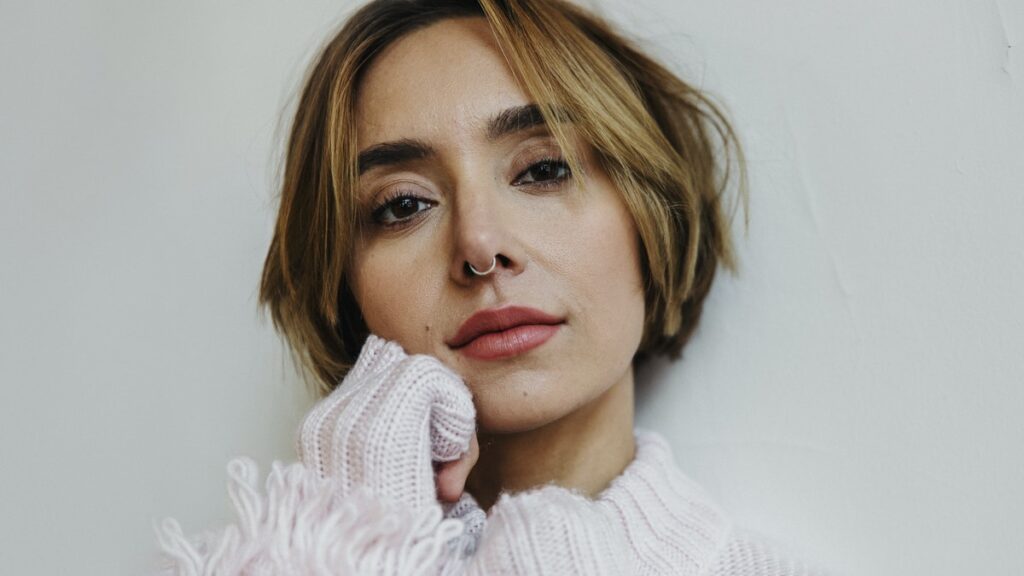 REDUCES THE APPEARANCE OF DARK CIRCLES UNDER EYES
When you skimp on sleep, the blood vessels under the thin skin of the eye can expand and cause fluid to linger, causing your eyes to have that well known, much-feared darkened or puffy appearance.
Get enough sleep to ward off eye bags, keep well hydrated, and if possible, sleep with your head slightly elevated to reduce extra fluid pooling under the eyes.
YOUR SKIN MAKES MORE COLLAGEN AND PROTECTS EXISTING FIBRES
Collagen is the vital skin component that gives skin its elasticity and bounce, meaning that the more collagen you have in your skin, the fewer wrinkles you'll see forming. While you are sleeping, your skin ramps up the production of those youthful collagen fibres. What's more, reducing the stress on your skin by sleeping well can help prevent the breakdown of your existing collagen.
SKIN CELLS GROW FASTER WHEN YOU ARE SLEEPING
Rapid skin cell turnover is a great way to keep your complexion looking fresh and dewy, and happens to be one of the main targets in skincare products ranging from retinoids to exfoliants, and even chemical peels.
You can help your body launch into quicker skin cell growth and turnover by simply getting high-quality shut-eye on the regular and also by using gentle moisturizers and serums with glow-promoting ingredients like vitamins, hyaluronic acid, or retinoids (if wrinkles or acne are a problem), which are great nightly add on to up your beauty sleep game.
Oh, you thought this thing was over?
Here's an little added extra for you; our 10 top tips for taking your beauty sleep to the next level:
Sleep on silk or satin pillowcases and sheets
Elevate your head and try to sleep on your back
Reduce caffeine, nicotine, and alcohol before bed
Make sure the room is completely dark at night
Drink plenty of water before bed
Reduce use of electronics before bed or use a blue light filter
Take a warm bath or shower at night
Aim for getting 7-9 hours nightly
Go to sleep and wake up at the same time each day
Wash your face before bed and apply high-quality skincare products