Ideal for self isolation, quarantine and lockdown.
If you can't face watching Jamie Oliver's daily teatime briefings to a worried nation seeking reassurance, then perhaps the dulcet, delicious tones of IDEAL magazine might put you in a better frame of mind? We can certainly help you put a nutritious dinner on the table, too, using what's leftover, lying around or in the pantry.
Let's not beat about the bush here, these five dish ideas are designed to be quick, easy, healthy and made from basic stuff you'll likely have in the cupboards. With that in mind, here's our lockdown larder: 5 easy, delicious meals you can make from your store cupboard and freezer.
TINNED SARDINE RAGU WITH SPAGHETTI
It might sound odd but it's damn delicious – trust us – and a cheaper, healthier alternative to your standard red meat ragu.
Start with a sofrito; a mix of diced vegetables used in many Italian recipes to form their backbone. Though the 'holy trinity' of white onion, carrot and celery is standard, you could use fennel, leek, shallot, even red peppers as the base; needs must, and all that, and if it keeps you from going outside, then sacrificing a little authenticity is ok.
Anyway, gently fry off your sofrito mix in a confident glug of olive oil until softened but not coloured. Grate a little garlic into the frying pan if that's your thing. At the same time, set up a pan of salted boiling water.
Next, add tinned sardines in tomato sauce to the sofrito, along with a touch of extra passata and a dash of chicken stock. Season with soy sauce, salt and a pinch of sugar, and simmer until it reaches a ragu like consistency (this should only take around 10 minutes) with the subtle sheen of fat that the best ones boast.
Put your spaghetti in to boil for 7 minutes, and turn off your ragu, allowing it to cool in the pan (in our humble opinion, this one tastes even better lukewarm). When the pasta is done, pull it out of the boiling water with tongs and into the ragu pan; bringing a little of the pasta water into the ragu is welcome. Mix thoroughly, and top with parmesan. Yep, we love the cheese and fish combo. Don't @us.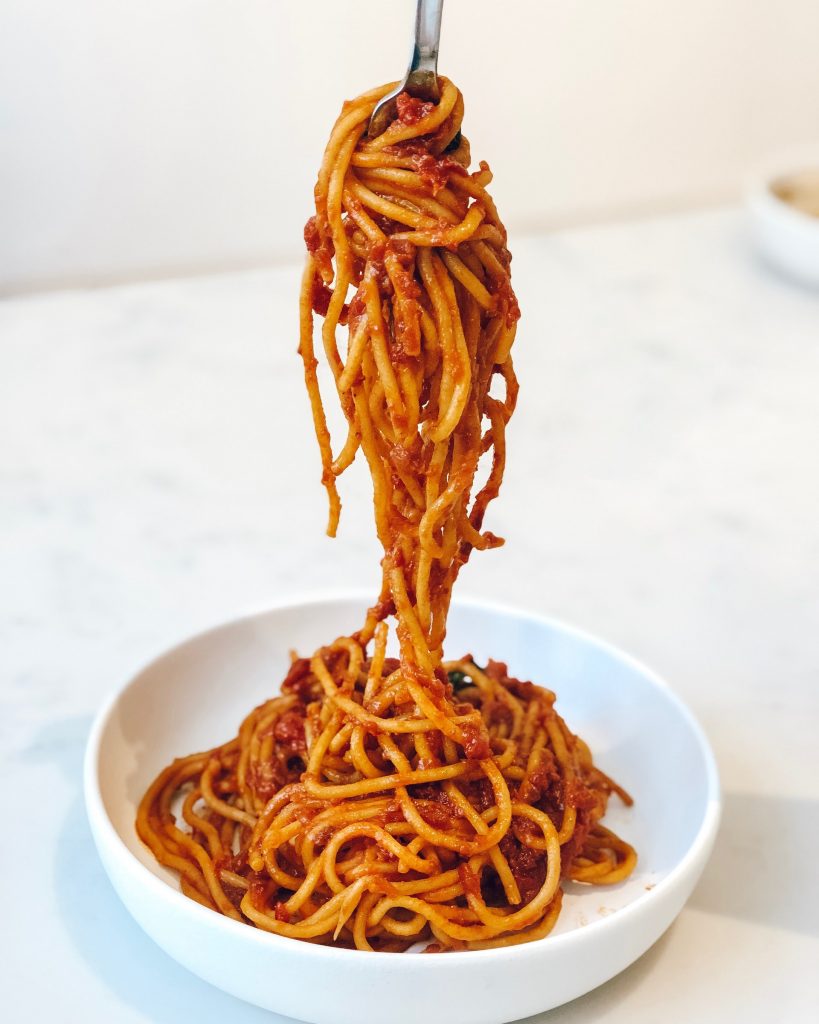 FREEZER FRIED RICE
Fried rice is the leftover lover's dream. The good news is this; the finest fried rice benefits from the leftover rice being a day old (and a day cold), since the time spent in your fridge dries it out agreeably, allowing for less clumping in the pan or wok. This one really is a no brainer, then.
What's more, you can use a selection of what's kicking about in your fridge or freezer, diced fairly finely. We particularly like courgette, carrot, cabbage, peas, sliced onion and sweetcorn to provide the body, with sliced spring onions and chillies added at the end.
Simply crush a skin-on clove or two of garlic under your palm, and add to a couple of tablespoons of cold oil in your wok. Bring up to a strong heat then remove the garlic before it browns. There you have it; perfumed oil perfect for coating all those grains.
Add your cooked rice and the vegetables of your choosing to the wok and stir fry gently (you don't want the grains to break down, rather to each be coated individually with oil) until the rice is heated through thoroughly. This could take up to ten minutes.
Prepare a seasoning mix of soy and oyster sauce, white pepper and sugar (just a little, oyster sauce is already pretty sweet), taste to check the balance is right. Then, make a well or space where the wok's surface is exposed, and add your seasoning to the pan; allow it to caramelise slightly. Mix through the rice mix, add those spring onions and chillies, and serve.
FROZEN PEA RISOTTO
Many chefs say that frozen peas are, in fact, better than the freshly podded sort. This is because they're picked at the height of their ripeness, and frozen immediately afterwards, locking in that sweet burst of freshness rather than the starchy effect you sometimes get from a podded one.
Should you have some knocking about in your freezer, and don't anticipate any injuries or soreheads that need tending to, then go ahead and knock up a delicious pea risotto. The other essential ingredients you'll also likely have lying around; arborio (or other 'risotto') rice, chicken stock – hey, the cubes are fine, we're in a crisis here – and parmesan cheese. Should you have shallots and garlic to hand, and some white wine, then it's luxury living all the way to the dinner table. Check out our tips on the IDEAL risotto to truly lift that plate.
CHICKPEA & FROZEN SPINACH CURRY
A tin or jar of chickpeas, another of chopped tomatoes, some spice rack standards and some greens…these are the key components of a nourishing, healthy chickpea curry created from what's lying about at home.
Start with a mixture of garlic, ginger and white onion, in a ratio of roughly 1:1:5 (but hey, in these tough times, who's counting?) blitzed in the processor or pounded in the pestle and mortar to a paste.
Gently fry that paste in plenty of vegetable oil for ten minutes, then add a ground spice mix including coriander and cumin seeds, cayenne pepper, turmeric powder and garam masala; we'll defer to the UK's beloved Queen of Indian cooking, Madhur Jaffrey, for the ratios here.
Once fragrant, add a can of chopped tomatoes and a tin of drained chickpeas. Simmer until the chickpeas are tender and the curry has a nice slick of oil. You'll know when it's done, as the spices will have lost their rawness, and the flavours matched, mingled and married into a homogenous unit.
Add some frozen spinach leaves and mix through the curry before turning off the heat. You'll want to eat this one the next day if you can wait that long; it categorically tastes several notches nicer.
SPICY BAKED BEANS & POTATO CAKES
If you're feeling lazy or your store cupboard is getting bare, canned baked beans and hash browns is a fine meal in itself, and provides a fair amount of nutrition for such an indulgent feeling supper.
But if you do want to make things from scratch (and let's face it, you've probably got the time right now), you could do much worse than cooking up some spicy homemade baked beans with potato cake. Check out Gordon Ramsay's simple, delicious homemade spicy baked beans with potato cakes recipe for this fancified version of a store cupboard staple supper.
Not one to usually direct you away from our website, but food writer Jack Monroe is such an authority on cooking store cupboard based meals for pennies – simply essential during this tough time – that it would be dishonest not to send you on to their website, Cooking On A Bootstrap. The recipe section is deep and broad; go get it!