Despite the fact Cambodia, and especially Siem Reap, has benefited greatly from a recent boon in tourism, there is still much to do to alleviate poverty and help the young escape it. Coupled with this, much of Cambodia's history has suffered blackout due to the previous dictatorship, and cuisine is a fundamental way of preserving and celebrating the country's heritage. Spoons, therefore, is a very vital place indeed.
IDEA
With hospitality being the dominant enterprise of Siem Reap, Spoons was built to capitalise on this, with philanthropy at the forefront of its purpose. The idea of the restaurant is to integrate disadvantaged Cambodian youngsters into an industry with which they can build a meaningful future.
The menu is resolutely Cambodia, which is immensely pleasing, as so many joints in the city tend to tone down their food, or ignore it completely, for the Western market. Not so here, and for delicious dining that decision makes. Sustainable sourcing and support of local farmers makes this place a no-brainer, especially if you've only got one night in the city and a hungry, inquisitive tummy.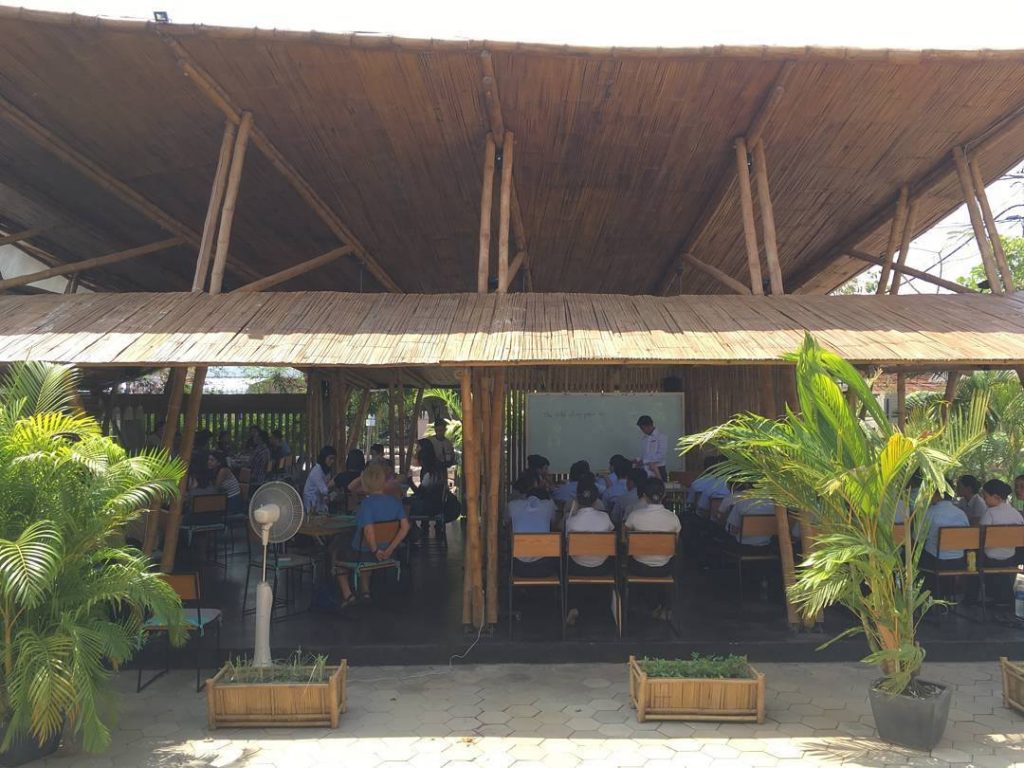 LOCATION
Spoons is five minutes by tuk-tuk from the Old Market and a short ride from any of the major hotels. The restaurant is tucked away on the charming and leafy Bamboo street (hence the decor) just behind Wat Danmak. Its position on this laid-back street has a feeling of calm far removed from the hectic Pub Street.
ATMOSPHERE
Charitable and culinary cares aside, the décor is unique and true to Cambodian charm – all bamboo and wood, greenery and airy minimalism. It's a special place to spend an evening, with good cheer radiating and service attentive. Were a visitor to happen across this spot and not be aware that wait staff were in training, it would not be immediately obvious, as the whole experience is managed with grace and poise.
FOOD
The menu is refreshingly crisp, a plus for tourist-heavy cities with eager to please tomes in most restaurants. Fish is prominent, especially those from the river, reflective of the local sourcing and effort to maintain the authenticity of the Cambodian diet. There's an abundance of coconcut and fresh herbs, everything is light and flavourful, and most importantly each dish we tried was genuinely delicious.
DRINK
The drinks menu riffs on some classic cocktails and gives it an Asian twist. There's also a clutch of decent, affordable wines and a couple of beers. We'd recommend the Cambodian beer, brewed nearby.
MUST TRY
Spoons is a fish-lovers paradise, which suits us to the ground – a large proportion of the menu would feel confident in the must try section. Best of all though was the whole mackerel, grilled until the skin reaches that delicious smokiness that oily fish does so well and furnished with that Cambodian specialty which we just can't get enough of – Prahok. If you haven't encountered it before, we pity you.
A pungent blend of spices and fermented, salted fish adds body to any dish, especially sitting well alongside raw, chilled vegetables. In this dish, with sour tamarind relish and sweet, refreshing coconut rice, it worked so perfectly.  Num Krok, tasty coconut cream dumplings served with a zesty galangal dipping sauce, were another high point.
WHY GO
A myriad of reasons, so take your pick. For us, the prahok has started a new culinary obsession and the relaxed ambience made for a most memorable, enjoyable evening in this laid-back city. That makes a visit here a must even before the charitable considerations which make this place so worthwhile. Just go, and leave a fuller, better person.
Website: www.spoonscambodia.org
Image source: Spoons Facebook page