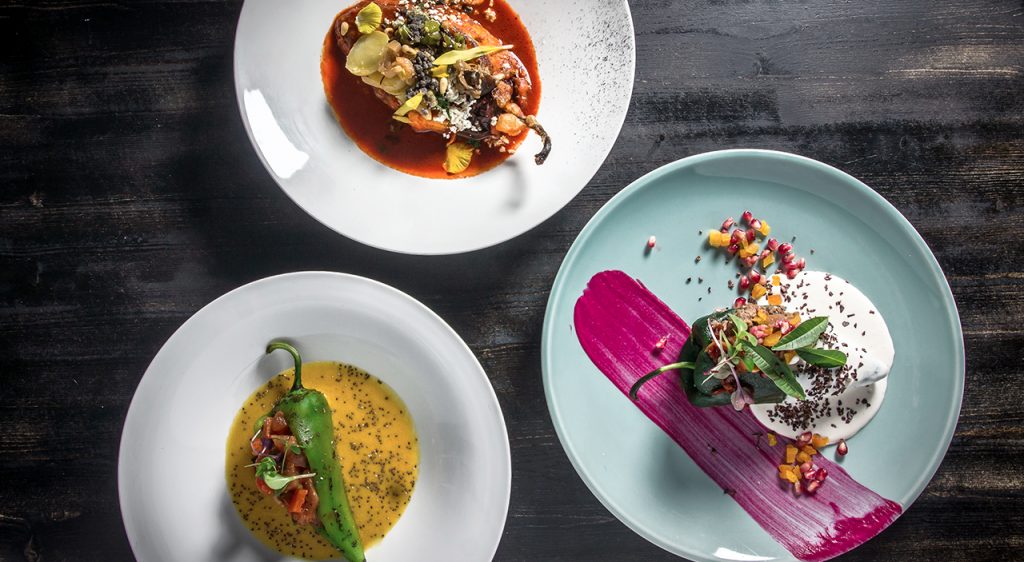 Yes that is an insect in your dish. No it hasn't just climbed into your guacamole and you can't send it back. This is an authentic and unfamiliar Mexican restaurant and grasshoppers, ants and other edible invertebrates are their thing.
One problem with the UK is that it's difficult to discover authentic Mexican food here. We have the likes of Wahaca and Barburrito who doll out decent enough dishes, but leave diehard mexican foodies screaming 'Ay caramba'. And we have the likes of Cafe Pacifico in London where the only reason to go is to drink cheap margaritas, because calling the food mediocre there would be a compliment. However, if you hop across the pond to the USA you're spoilt for choice when it comes to amazing Mexican restaurants.
Luckily, Donald Trump wasn't around a century ago when immigration from Mexico began, and what a shame it would be if he was. Not only have Mexican immigrants made the US labour market more efficient, they have given America the gift of authentic Mexican cuisine. Over there they know that any self-respecting taco joint would never allow sour cream, cheddar cheese and lettuce to be put together in a flour tortilla. Here we think that combination is traditional and authentic.
Chances are most of us in the UK have never had authentic Mexican food. Ever sampled pozole, tacos al pastor or chiles en nogada? Nor had we. So when we went over to the states earlier this year, our mission was to find an amazing Mexican restaurant, and boy did we. Enter Black Ant.
Idea
This place is a modern Mexican restaurant, putting a creative twist on traditional Mexican cuisine, using authentic ingredients.
Location
The Black Ant has set up shop in the super trendy East Village, an area in New York known for great food and restaurants.
Ambience
The restaurant has taken it's name from the ancient Mesoamerican fable of an ant,  so aptly the ant appears throughout the decor of the restaurant. The space is pretty small and has a cool dark ambience about it, quite the opposite of most Mexican restaurants where you can't turn your head without being blinded by a bright colour.  But don't worry, the guys at the restaurant haven't forgotten their colourful heritage, instead of the decor, the familiar pops of Mexican colour are all in the food.  There is a lovely little patio outside the restaurant which is great for dining al fresco.
Food
In a nod to bringing traditional Mexican elements to the table, insects have crawled their way onto the menu at The Black Ant. For years the Aztecs, Mixtecs and other great civilizations of ancient Mesoamerica lived on diets rich in insects and this has recently become a trend in modern Mexican restaurants like The Black Ant.
Eating insects may make you're skin crawl, but we reckon it's just a mental allergy.  There are loads of other countries already eating insects. Ghanaians munch on termites, in Thailand they eat deep fry crickets and grasshoppers and Chinese gourmands love fried silkworm. If you ask us the UK are way behind. Believe it or not,  Eating insects actually has lots of nutritious benefits, did you know that Caterpillars provide more protein and iron than the same quantity of minced beef. Also creepy crawlies are a sustainable source of protein, which is important given today's quest to find sustainable produce.  Mexico alone has more than 300 species of edible insects.
Anyway, back to the insects at The Black Ant. The restaurant has different bugs on the menu at different times of year,  and changes them according to the season. Each insect has a unique taste that adds something different and exciting to the food and we love the texture they bring to the dishes here. Insects aside, the food here is bursting with colour, flavour and depth. Here's our food rundown:
Black Ant G
uacamole
The house guacamole is a must try. The avocados are freshly chopped (not mashed) and full of the crunch of fresh onions, chillies, tomatoes and garbanzo (chickpeas) and topped with black ant salt. The recipe is from the executive chef's grandmother and it will probably be the best quacamole you've ever tasted.
Tacos De Cocochas
We've always said that the cheek is the tastiest part of the cod and we're pleased to see that The Black Ant uses them in their tacos.  Succlent chunks of battered and fried cod cheek are served with aïoli and cabbage-mango slaw on a wonderfully fresh masa tortilla. It's a  delicious combination of flavours.
Cactus Fries
Sliced, battered and deep fried cactus – simple yet great. If you like vegetable tempura, then you're bound to like these.
Margarita
We've tasted many a margarita here at IDEAL. Whether frozen, blended or on the rocks, we like to think of ourselves as margarita conisseurs so trust us when we say they are damn good at The Black Ant.  You can even add a flavour to them – prickly pear works. Oh and the bartender adds ants in the salt rims of all the tequila and mezcal drinks.
Why Go
For creative cusine and a taste of modern Mexico. You may have to rely on your phone to look some of the ingredients on the menu up, but that's half the fun.  All the food here looks absolutely amazing and tastes even better.
Address: 60 2nd Ave, New York, NY 10003, United States
IDEAL Magazine dined at the restaurant as a guest and received a complimentary meal.