News just in. There's no need to cross the channel – or wait for pancake day – to enjoy French crepes and galettes, delivered with the finesse and quiet confidence of their country of origin. And just as these days in Paris you'll find modern versions rubbing shoulders with traditional crepes and local patrons happily shovelling down both, so it is in our capital city too. Channeling this batter based marriage of tradition and modernity isL'Ami Malo in London's Spitalfields.
IDEA
L'Ami Malo takes the traditional values of the French creperie and revisits them with a contemporary twist. Inspiration comes from the French town of St Malo, which is famous for its crêpes and galettes. We feel something of Paris' much loved Breizh cafe in the food, and that's certainly no bad thing.
LOCATION
It's a short walk from Liverpool Street Station, in Spitalfields' Artillery Passage; a lovely little tangle of tight lanes and cosy, welcoming restaurants and pubs. An afternoon spend in this part of town is guaranteed to turn into a satisfied, satiated one indeed.
ATMOSPHERE
The restaurant is narrow and dimly lit, with an open kitchen offering a glow of light and warmth to adjacent tables. At the back and up a few steps is small bar room area; the website calls it 'speakeasy'. We're not sure of that description but it's a snug place for an aperitif or post-dinner cider.
This intimate vibe is accentuated through reclaimed timber features used on the walls and floors, low-hanging pendant lights and upholstered seating clad in blue-striped, vintage French fabric.
FOOD
A great galette is a thing of beauty and if such a thing as a pancake pageant existed, the ones at L'Ami Malo would be in the running for the winning spot.
Here, buckwheat is used in dishes where possible and appropriate – favoured for its healthy, versatile and gluten-free properties, as well as a nutty depth of flavour.
So, let's get to business. Mains of Morteau sausage, earthy baby new potatoes, leek fondue with crispy leeks on top for that all important textual element, and whole grain mustard bringing pleasing sharpness. A rich yet moreish pancake, and a real winner.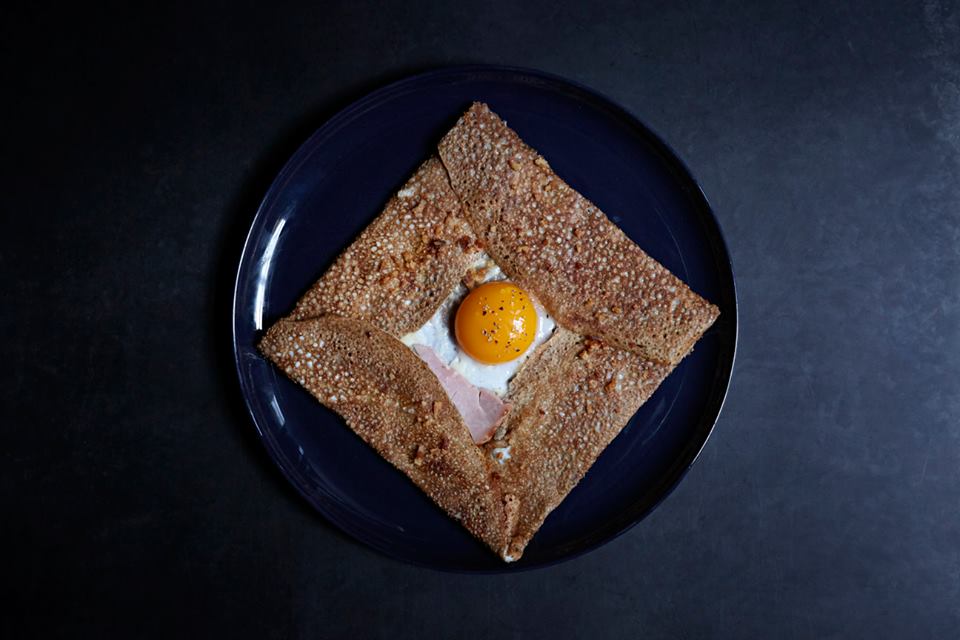 A goat's cheese crepe with classic pairings of confit shallot, roasted butternut squash, cider marmalade and walnut salsa was soft and silky, light yet with crispness in the right places. These two offerings proved that the classics are just that for a reason; ingredients which match harmoniously and cooking kept on the correct side of tradition.
Starters, it has to be said, left the crowd a little more puzzled than purring. Maki rolls, combining Japanese aesthetics with French traditions, let the side down texturally; a cloying affair of soggy rye-bread and under seasoned filling.
But that was the only bum note of an otherwise enjoyable meal. The crepe Suzette to finish erred on the safe side – no Julia Childs, table side flambeing here – but was poised and thoughtfully seasoned. Perhaps a little more Cointreau would've given it liftoff, but it was a delicious way to finish dinner nonetheless.
DRINK
As any crepe aficionado will know, Breton cider is the most natural, noble accompaniment to a great galette. A 750ml of Bouche Breton Brut clocked in at a eminently reasonable £14 and matched confidently.
WHY GO
With it's varied menu of crepe classics and more experimental offerings, L'Ami Malo is undoubtedly, in parts, on a safe, assured path to success. Tradition, in this case, trumped innovation, but next time we're craving a galette, we'll definitely go back.