We all know the drill by now. Pad thai so sweet it makes your teeth vibrate. A bracing papaya salad dressed with a ubiquitous chili sauce which makes unwanted announcements on every plate. Fluorescent green curries which seem to visibly hum with radiation. Some funky carrots the shape of a rose petal.
Thai food in the capital has seemingly left these horrors behind of late, in favour of hyper-regional, hyper-seasonal cuisine favoured by those actually from the country. Genuine Thai food is a complex balancing act, that when done right, marries sweet, salty and sour with grace and where spice is used to complement rather than shock. One of the capital's torch bearers for this welcome shift, and one of our favourite places to dine anywhere in the world, is The Smoking Goat in Soho.
Idea
The idea behind this great restaurant is to use open flames, the traditional pestle and mortar, and no shortcuts to create amazingy flavourful Thai food – the type you would enjoy at the side of the road in Bangkok and beyond as you knock back ice cold bottles of Singha. The constantly celebratory feeling in the air of the Smoking Goat suits this cuisine to a tee.
Location
The Smoking Goat is located on Denmark Street in Soho, a short walk from Tottenham Court Road tube station.
Atmosphere
Dub and roots reggae play off an old vinyl as punters drink pints of London local craft beer and mop their brows as the latest bite of chili catches up with them. You don't feel shy about being merry in here – and it's great. Bar seating jostles for supremacy with a few lower tables, but the cozy atmosphere and shoulder-rubbing only adds to the fun – conversations seem to be striking up with strangers all over the restaurant. The staff are super knowledgeable and equally as friendly – you could come here alone and be welcomed like an old friend, we love it.
Food
Spicy, assertive and balanced, with smoky notes from open flames, the food is the ideal accompaniment to beer, but that is not to dismiss it as post night-out kebab fare – it's wonderfully complex. The menu is divided into smalls, larger (of which there are usually one or two sharing options) and sides. Seafood and vegetables are keenly represented here, which only adds to utter stage fright when ordering, everything sounds so well-thought out it's almost impossible to choose, even before considering the small specials board of seasonal produce. Fortunately, well informed staff are always at hand to point you in the right direction. We always over order, a credit to the enticing menu, and by no means a detriment to our next day's lunch.
Making things even harder is their recently announced offal Mondays. Their fish head curry has already gained a cult following. The duck heart larb blew our minds on a previous visit, so we're happy to see that it has a more regular presence on the menu.
Drinks
This is beer food and the drinks menu is weighted accordingly. There's lots of great and interesting beers and ales on tap and bottled, with IPA making a strong showing – the perfect, fruity foil to the vigour on the plates. The convivial atmosphere is even represented in the beers, with plenty of big bottles for sharing. Wine is, of course, available too, and bar staff can offer recommendations of which would stand up to the food with the required confidence.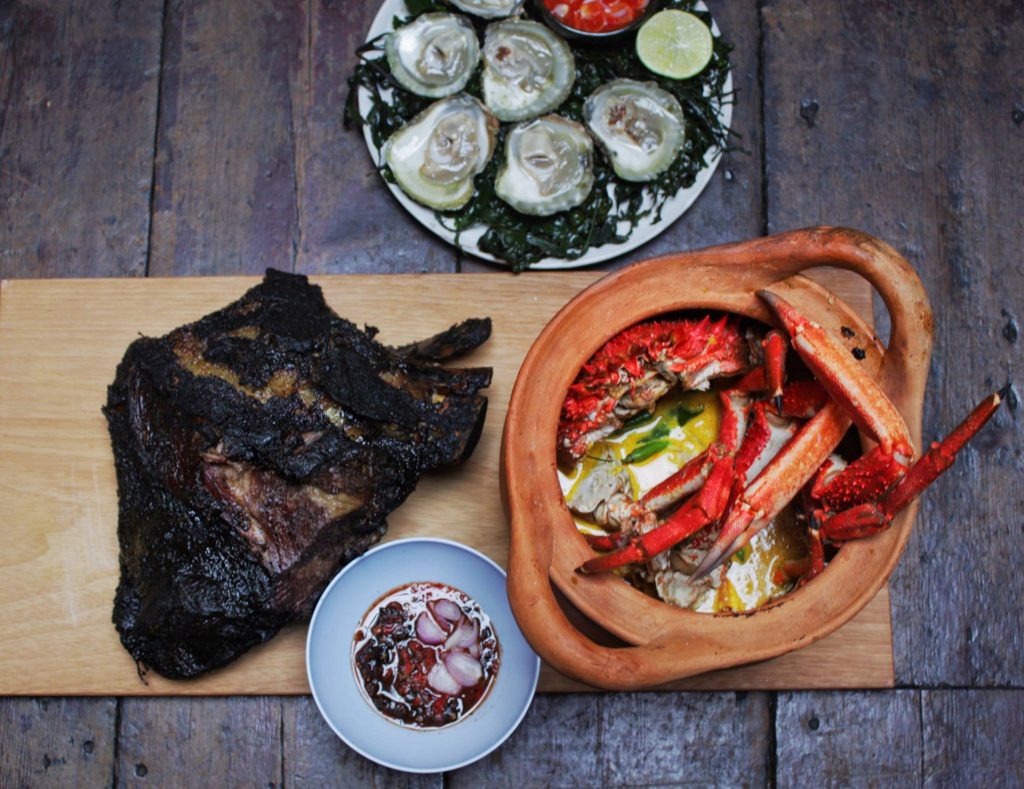 Must Try
We couldn't narrow this down to just one, however hard we tried. If pushed for two, the smoked, sharing goat from which the restaurant takes its name, is phenomenal. Make sure to order sticky rice to eagerly mop up all of its delicious juices. Then there's the chicken wings, which are dressed in a fearsome chili and fish sauce glaze. They have a crunch which reverberates in your ears and a depth of flavour that KFC cannot come close to. A must.
Why Go
Interesting beer and sensational food, with brilliant yet informal service to match, and a welcoming, festival-like atmosphere, it's an absolute winner.
Address : 7 Denmark St, London WC2H 8LZ
Website: smokinggoatsoho.com 
Twitter: twitter.com/SmokingGoatSoho
Facebook: www.facebook.com/smokinggoatsoho
IDEAL Tip: The guys behind Smoking Goat have another restaurant on Brewer Street called Kiln that also specialises in cuisine from rural Thailand.