MasterChef's amateur competition has led to a string of success stories in recent years. From Andy Oliver's superb Som Saa to Alex Rushmer's recently closed but universally adored Hole in the Wall, it seems that John Torode and Gregg Wallace might not be quite as inept at this judging lark as recent blunders have suggested them to be. With a commendable track record of finding talent capable of exciting and lucrative restaurant openings, hopes are high as we enter WOOD.
IDEA
Data manager turned MasterChef champion Simon Wood has adopted the ethos of the show that made his name in attempting to bring haute cuisine to a wide audience. As such, WOOD's pitch is a relaxed, unpretentious dining experience, and the mission statement of fine dining without the frippery is, we're happy to report, a largely fruitful one.
LOCATION
Stepping under the railway viaduct from the lively and still slightly ramshackle bars and clubs of Whitworth Street West (once home to the legendary Haçienda Club) and into the new First Street development is like stepping into a different world. First Street is neat, clean, ultra-modern and almost completely without character. Despite attempts to add local colour with streets named after hometown heroes Jack Rosenthal and Tony Wilson and a recovered Soviet statue of Friedrich Engels, you could be in any city in the midst of gentrifying through plate glass office blocks and luxury apartments.
WOOD is directly opposite HOME (everything's written in needlessly shouty all caps round here), First Street's multi-theatre arts venue, so the restaurant also offers an affordable early evening theatre menu. Curtain's up then, and on with the show.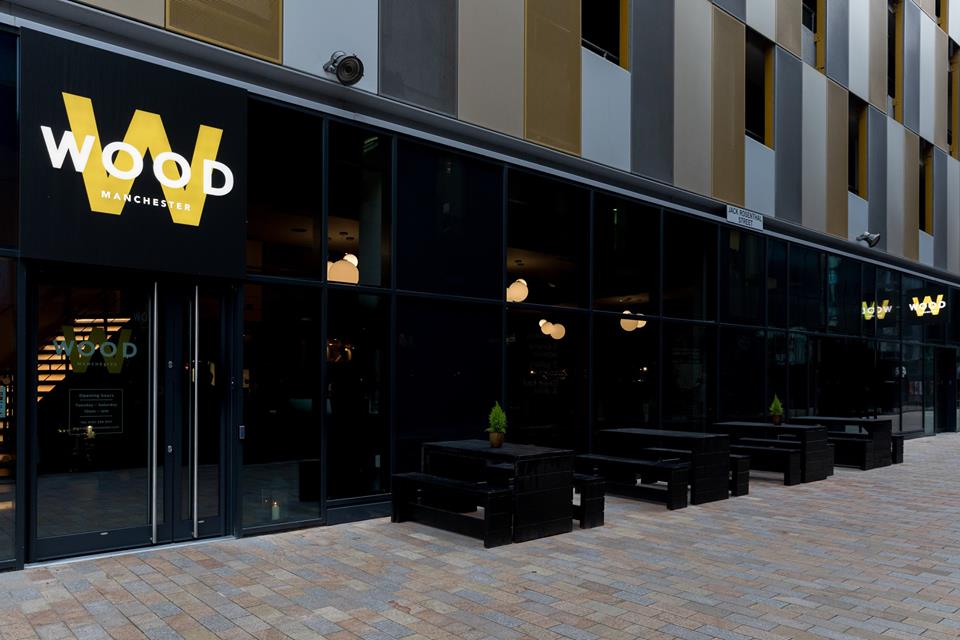 ATMOSPHERE
The restaurant's décor, in shades of charcoal and teal, with distressed, exposed concrete and brass light fittings illuminating the open kitchen, wouldn't feel out of place in the Pizza Express two doors down. By now a well-worn look of urban restaurants, it perhaps helps with this restaurant's professed desire to be unintimidating. WOOD is never going to compete with the more out there imagination of the city's most creative dining spot, The Rabbit in the Moon, and it has no real desire to. The unintrusive backdrop, it seems, serves to draw all of your attention to the food's precise, pretty plating. And since we're here to eat, that's certainly no bad thing.
FOOD & DRINK
Wood's MasterChef experience serves him well in ensuring that there is a pleasing harmony to each dish. Flavours, textures and even colours work together to ensure there is a sense that nothing has been added superfluously. Such an act would be easy pickings for a TV judge looking for something to criticise, and that careful, deliberate air is apparent on all plates.
There is a well-considered balance to the tasting menu as a whole (five courses for £45 – £70 with wine pairings, or seven for £65/£100). The rich yolk of a crispy hen's egg, morels and asparagus and its accompanying savoury, spicy Wairapa Pinot Noir is followed by a cured salmon and melon dish that is light and refreshing on the palate, giving the menu a measured cadence.
Occasionally, the gentle harmony of flavours and Wood's desire for accessibility leads to unnecessary restraint. Instead, at times a throwing the gloves off and ramping it all up a notch is what's called for. Sometimes you just want to be punched in the mouth. A wasabi cream accompanying the salmon dish lacked the assertiveness necessary to cut across the cold, fresh nature of the rest of the dish.
But we're nitpicking; the majority of the dishes are knockouts. TKOs. A slow cooked belly pork with pineapple salsa – described as Wood's take on sweet and sour pork – is meltingly soft and luxurious; the pork so moist and rich that we wished there was a little more tang to the pineapple, in order to counteract it. The lamb main of loin and slow cooked neck, served with a rich, hearty sauce, is classical, accurate cooking but its accompaniment of a crisp anchovy alongside an anchovy and garlic purée elevates it to something of great complexity and added dimension. A thrilling dish given added clout by its companion wine, a 2016 Pirovano with a chocolaty, cherry-like quality.
MUST TRY
Owing to the well-orchestrated rhythm of the menu, room is left for dessert. And with good reason; this is the one that you'll be talking about for weeks afterwards. Wood's citrus tutti-frutti was what won him the MasterChef title and is fast becoming the restaurant's signature dish. A creamy lemon posset with a hint of bitterness is topped with crispy meringue, paper thin shortbread tuiles and pieces of orange and grapefruit to give a mix of sweet and sour that lingers almost as long on the tongue as in the memory. A truly exquisite dish and a fine way to close the set.
WHY GO
WOOD aims for unchallenging high end dining and succinctly succeeds, with unpretentious, carefully curated and beautifully presented plates of poise and craft. A little more pizzazz would lift it from stable to stratospheric, but all of the ingredients are well in place for a bright, starry future.
Website: www.woodmanchester.com