Rolling into the bright and sunny East London studio at 8am on a Tuesday morning, I was welcomed by Percy and Reed's lovely Senior Stylist Taylor. With over 10 years experience in the business, plus a fab burnt orange shade of lippy and covetable blonde choppy bob of her own, she immediately put me at ease. Next up, I was presented with a colourful tray of proper coffee and a Tunnocks Tea Cake to breakfast on while Taylor got to work on a full head of highlights.
The Percy and Reed salon is refreshingly warm and inviting with rustic wood paneled walls (an regional feature – the building was once a banana trading stall of Spitalfields Market) and none of the sterile feel that some hairdressers have. Quirky vintage looking furniture, a selection of cool giant afro wigs on display and a strong collection of tongue-in-cheek fashion prints on the wall with sayings like 'Pissing Everywhere isn't very Channel'. give the feeling of a charming, fun and slightly Ab Fab personality to the place. Taylor explained she was going to use L'Oréal  product Smart Bond (the equivalent of the brilliant Olaplex, for all you Bleach heads in the know) to protect and repair my locks while the bleach got to work. An ashy toner was then applied and left to work for 10 minutes. I was particularly impressed with Percy and Reed's own styling products that were used on my hair The 'Wonder Treatment Oil' containing Camilla Oil to give shine (I usually don't use oils due to my fine hair, but Taylor explained the molecules are finer than those used in Argan Oil so it doesn't weigh your hair down or look greasy. She was right. Plus 'The Perfect Blow-Dry Spray to give texture and volume.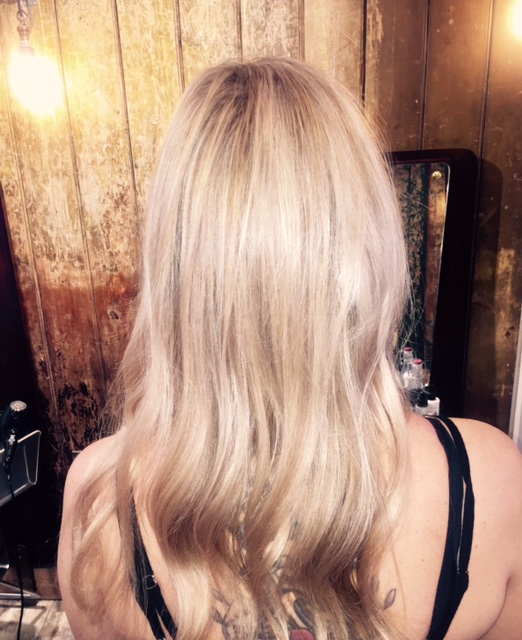 After an expert trim and Blow Dry (one of the best I've ever had) the end result was a gorgeous beachy blonde tone with a (shockingly) healthy shine and glow – which I'd thought pretty much impossible for my bleached out barnett. This is why we go to hairdressers. I'll definitely be back for more glowing shiny hair…. and Tea Cakes.
https://www.percyandreed.com/salons/find-us-east-end/
IDEAL'S treatment was complimentary