As the dampest squib of British summers feels like it might just be easing into the mellow warmth of autumn, it's time to embrace the change in seasons rather than lament a summer lost. Indeed, when nature's colour palette shifts from vibrant greens to golden hues, and the air fills with delicious, comforting scents, there's no time and place we'd rather be. 
Autumn, with its kaleidoscope of aromas, stirs emotions and sparks memories as if we're falling in love with it anew. This season's fragrances are deeply connected with traditions, events, and moments that make life so unique. Sit back and immerse yourself in this olfactory journey through autumn's most captivating fragrances.
The Crisp, Misty Morning Air
There's nothing quite like the first brisk morning of autumn. The air seems to lose its summer humidity, becoming crisper and fresher, filling the lungs with cool invigoration. Each breath is an exhilarating rush that awakens the senses.
Indeed, the unique, damp scent that accompanies misty autumn mornings adds an ethereal quality to the season – and honestly, we can't wait for it! Part dew, part cold air, it's a smell that seems to embrace the quiet and stillness of a sleeping world.
To emulate this aroma whilst staying cosy and warm indoors, consider an air purifier or an air freshener with an 'ocean breeze' or 'fresh linen' fragrance. For the latter, we particularly love the 'fresh laundry' scented soy wax candle from the guys at buff, which delivers that fresh, crisp air feel inside your home just beautifully.
Burning Logs
As the evenings grow colder, the scent of burning logs from fireplaces can be smelt wafting through the air, creating a nostalgic and cosy atmosphere. It's a smell that is comforting, inviting, and reminiscent of evenings spent under cosy blankets, sharing stories and sipping on hot chocolate.
Of course, if you have an active fireplace or wood burning stove, then recreating this evocative aroma at home is easy. If you don't (or, if you're keen to keep your eco-credentials intact), then purchase a woodwick candle. As it burns, it crackles like a real fire and gives off a scent reminiscent of burning logs. Alternatively, use a fireplace-scented diffuser oil.
Wet Leaves
After a soft autumnal rain, the earthy aroma of wet leaves provides an intoxicating scent. Walk through a wooded park after a rain shower to experience this fragrance in its most potent form. It's the quintessential smell of autumn, earthy, rich, and slightly sweet.
Whilst we wouldn't necessarily recommend bringing in a massive pile of damp leaves and dumping them on that lovely carpet of yours, it is possible to recreate the aroma at home without the mess. There are various scented candles and diffuser oils available that perfectly capture this scent. Look for ones labelled 'woodland' or 'forest rain'.
The Apple Harvest
Autumn is the season of harvests, and the smell of fresh apples picked straight from the tree is a scent to be savoured. Whether you're passing an orchard or baking an apple pie at home, this aroma is a delightful hallmark of the season.
For a homemade touch, simmer apple peels, a little bit of cinnamon, and a drop of vanilla extract on the stove. Or, bake an apple crumble (any excuse, hey!), filling your home with this delightful autumnal aroma – and your tummy with its delightful flavour, of course.
Autumnal Spices
Spices such as cinnamon, nutmeg, and clove become more prominent in autumn. They're in our candles, our lattes, and our food, creating a warming effect that comforts the soul and excites the taste buds.
Spice-scented candles or potpourri bags filled with dried cinnamon, nutmeg, and clove can evoke this aroma. A homemade stove simmer of these spices with some orange peel can also do the trick of spreading those seasonal scents about the house.
Figs & Berries
Autumn is when figs and berries are at their ripest and most succulent. The slightly sweet, musky scent of figs blends beautifully with the tart aroma of berries, making for a delicious autumnal aroma full of autumn fruits.
To bring the aroma of fresh berries indoors, place a bowl of ripe figs and berries in your living space, perhaps on a radiator, and allow them to over ripen (we're only half joking here). Alternatively, use scented candles, diffusers, or air fresheners in fig or berry scents.
Pumpkin Spice
Pumpkin spice, a concoction of cinnamon, nutmeg, ginger, and allspice, has become synonymous with autumn. Its sweet-spicy aroma permeates our desserts, coffees, and homes, heralding the arrival of the cooler months.
Whilst you could, of course, put your loyalty card to really good use and buy a daily pumpkin spice latte from Starbucks, nothing beats making your own version at home. Brew strong coffee, then heat 2 cups of milk with 2 tablespoons of pumpkin puree, 1 tablespoon of sugar, 1/2 teaspoon of pumpkin spice, and 1 teaspoon of vanilla extract. Combine the mixtures and top with whipped cream and a sprinkle of pumpkin spice.
Read: How to make the perfect pumpkin spiced latte at home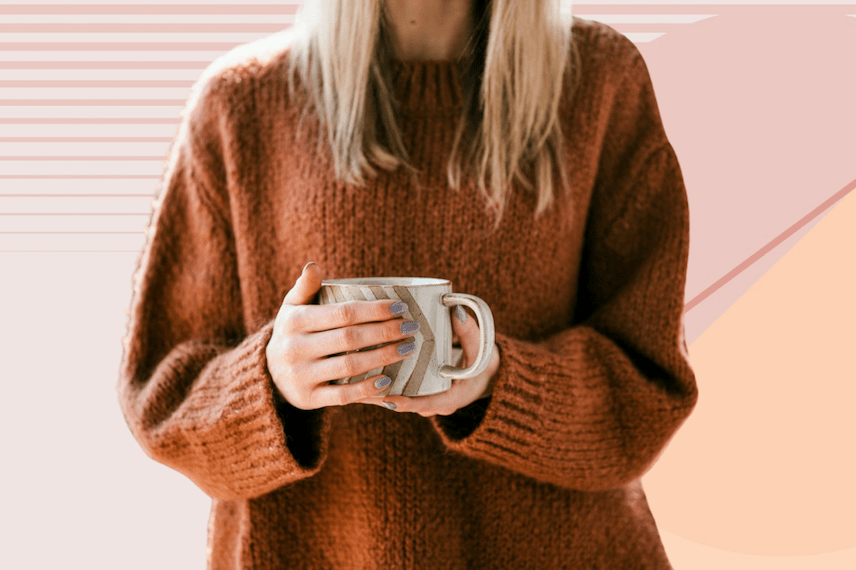 Freshly Baking Bread
Autumn heralds a change in our diets beyond the sudden ubiquity of pumpkin spiced lattes. Out go the salads and light, vibrant plates, and in come heartier stews, complete with freshly baked bread for mopping and dredging.
Indeed, the wholesome smell of freshly baked bread wafting from bakeries or kitchens is another comforting autumn aroma that warms the heart and feeds the soul. If you're up for it, baking your own bread is great fun, healthy and delicious – and wonderfully therapeutic, too. For those short on time, warming a good-quality store-bought bread in the oven will also fill your home with this comforting scent.
Mulled Wine
Late autumn is the time for the mulled wine to start bubbling, too. Steeped with spices and served hot, this fragrant blend is a feast for the senses with its tantalising smell that seems to embody the spirit of the season.
Homemade mulled wine is the real deal. Combine a bottle of red wine, 60g of demerara sugar, 1 cinnamon stick, grated nutmeg, 1 orange (halved), 1 dried bay leaf, and optionally, 60ml of sloe or damson gin. Heat gently until the sugar has dissolved.
The Bottom Line
Autumn's rich scents, from the earthy smell of fallen leaves to the sweet aroma of apple and pumpkin pies, weave a sensory tapestry that is as vibrant and comforting as the season's landscapes. They evoke feelings of warmth, comfort, and a certain wistfulness that only comes with the changing of the seasons.
Whether you're sipping on a pumpkin spice latte or taking a walk in the park with leaves crunching underfoot, take a moment to breathe in and appreciate these signature autumnal scents. Mmmm, this season is a rather cosy and comforting place to be, don't you think?