New York City is known for its hustle and bustle, iconic landmarks, and vibrant culture. It can also be a pretty premium place to visit, cost-wise, and that's putting things mildly.
In fact, on average, couples can expect to pay approximately $3,547 for a 7-day trip to New York, which, in this economy, feels like a frankly obscene figure. Fortunately, in a city of great juxtaposition, of great wealth and crippling poverty, of high rises and dive bars, there's just as much fun to be found for free as there is for thousands of dollars.
And the Upper West Side, a charming neighborhood in Manhattan with plenty of history and heritage, is one of the best places to do your day on a budget, boasting a plethora of free activities for visitors and locals alike, helping the area and city showcase its best side, in the richest way possible. And all without having to put your hand in your pocket!
So, let's dive in; here are the best free things to do in New York's Upper West Side.
Central Park
We had to start here, Central Park is one of New York's must-visit destinations, and while not exclusive to the Upper West Side neighbourhood, its western border runs along Central Park West, making it easily accessible for visitors to the neighbourhood.
The park offers countless free activities, including walking tours, bird watching, sunbathing on the Great Lawn, and exploring attractions such as the Alice in Wonderland statue, Bethesda Terrace, and the Conservatory Garden. Central Park also hosts free events throughout the year, such as Shakespeare in the Park and SummerStage concerts. What's not to love?
Read: 6 of the world's most romantic places to propose in 2023
Riverside Park
Spanning over four miles along the Hudson River, Riverside Park is a stunning green oasis in the heart of the city. Designed by Frederick Law Olmsted and Calvert Vaux, the same duo responsible for Central Park, Riverside Park offers breathtaking views of the river, lush greenery, and various recreational facilities.
Take a leisurely stroll or bike ride along the waterfront, check out the boats at 79th Street Boat Basin, have a picnic on the grass, or enjoy a game of tennis or basketball at one of the many courts available. The park also features playgrounds, dog runs, and seasonal events like outdoor movies and concerts, some of which are free to enjoy.
American Museum Of Natural History
Although the American Museum of Natural History charges admission, it operates on a pay-what-you-wish basis, meaning you can choose to donate any amount for entry. Be aware that this does need to be booked in advance, in a time-specific slot, and the offer is only available to residents. That said, you simply have to enter a resident-specific postcode to access this feature, which could perhaps be your hotel's? Just sayin'…
Anyway, this world-renowned museum houses fascinating exhibits on everything from dinosaurs to outer space. Highlights include the Hayden Planetarium, the Hall of Ocean Life, and the Rose Center for Earth and Space. Be prepared to spend several hours exploring this vast museum (it's a hard life).
The Cathedral Church of St. John the Divine
As one of the largest cathedrals in the world, the Cathedral Church of St. John the Divine is an architectural marvel worth visiting. Free guided tours are available on a first-come, first-served basis, offering insight into the history and design of this magnificent building. Additionally, the cathedral hosts various free events throughout the year, including concerts, lectures, and art exhibitions.
Read: 7 IDEAL tips for taking the kids to New York
Grant's Tomb
Located in Riverside Park, Grant's Tomb is the final resting place of Ulysses S. Grant, the 18th President of the United States, and his wife, Julia Dent Grant. This impressive mausoleum is open to the public free of charge and offers a glimpse into the life and legacy of this influential figure in American history.
The Soldiers' & Sailors' Monument
Dedicated to the Union Army soldiers and sailors who served during the Civil War, the Soldiers' and Sailors' Monument is another historical landmark worth visiting in the Upper West Side that won't cost you a dime to do so. Situated at the entrance of Riverside Park, this grand monument features intricate sculptures and plaques detailing the history of the Civil War, and is a fascinating spectacle.
Lincoln Center For The Performing Arts
While many performances at the prestigious Lincoln Center come with a price tag, the complex itself is worth exploring for its stunning architecture and public art installations. Additionally, Lincoln Center offers free events throughout the year, such as live performances during the summer at the outdoor plaza and guided tours of the campus. Check out the Center's list of free upcoming events for more on that.
The New York Public Library – St. Agnes Branch
The St. Agnes Branch of the New York Public Library is a charming and historic Carnegie library located on picturesque Amsterdam Avenue. Aside from offering a quiet place to read or work, the library hosts free events and workshops for all ages, including book clubs, writing workshops, and children's storytimes. Yep, the kids are definitely going to love this one. As will your wallet…
GreenFlea Market
Every Sunday, the GreenFlea Market sets up shop on Columbus Avenue between 76th and 77th Streets. This open-air market features a mix of vintage clothing, antiques, handmade crafts, and delicious food. Even if you don't plan on purchasing anything, browsing the unique offerings and soaking in the lively atmosphere is a fun and free way to spend an afternoon.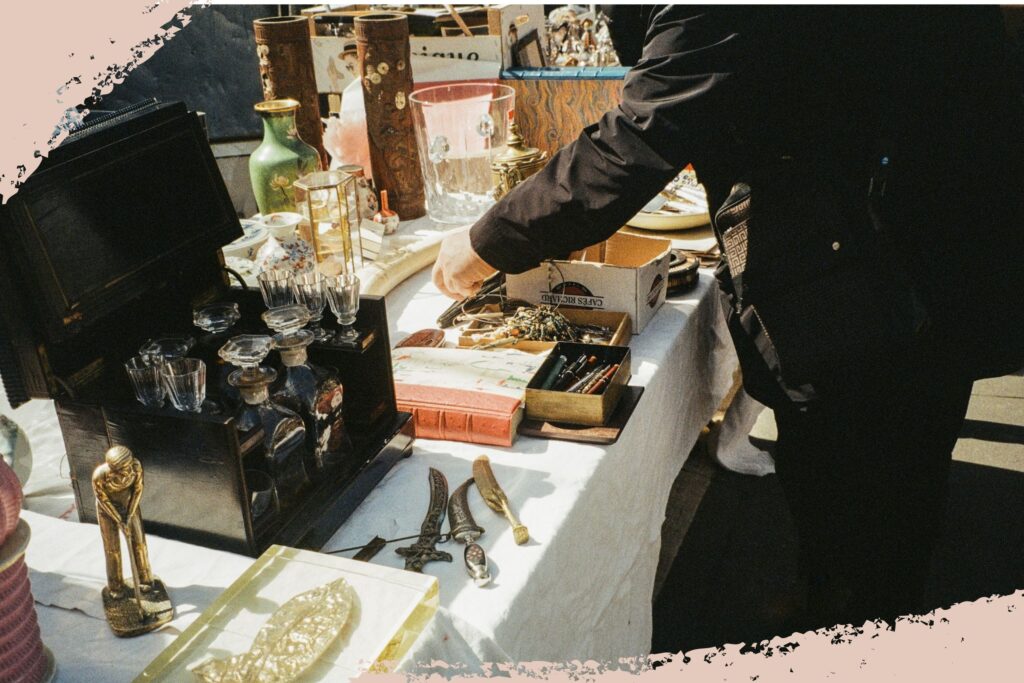 Street Art & Murals
The Upper West Side is home to several impressive street art murals that showcase the neighbourhood's creative spirit. Take a self-guided walking tour to discover these colourful and thought-provoking works of art scattered throughout the area.
Art enthusiasts will appreciate the chance to see an original Banksy piece in the neighbourhood. The elusive street artist's 'Hammer Boy' can be found on the Upper West Side, providing a unique and exciting scavenger hunt for fans (we won't reveal where it is here!).
Similarly, for those interested in architecture and history, a self-guided walking tour of the Upper West Side is an excellent way to discover the area's stunning brownstones, historic landmarks, and picturesque side streets. You can also embark on a literary walking tour of Brooklyn, which is easily accessible from the Upper West Side.
The Bottom Line
We think it's fair to say that New York's Upper West Side is brimming with free activities and attractions that cater to a wide range of interests. From lush parks and world-class museums to historic landmarks and bustling markets, there's something for everyone to enjoy in this vibrant and diverse neighbourhood.
Don't get caught out by the slang here; instead, check out these tips we've pulled together on some of the local lingo and other things Brits should learn before moving to New York.
Now, shall we see you at that Banksy mural? If you can find it, that is!