Ideal for ice cream, sorbet, gelato and sundae lovers in the seaside city.
Brighton beach and ice cream; could there be a more perfect match? Well, apart from rum and raisin, mint and chocolate chip, blueberry and ricotta…but you catch our drift.
We're here today to talk about the quintessential British experience, of a coast side recline with a cone, but taken up several notches in quality.
Mr. Whippy this ain't. Instead, it's some of the finest cold stuff in the country, some elegantly flavoured, some downright dirty. Our pick of the bunch in our favourite place in the world? Here's where to buy the best ice cream in Brighton & Hove, IDEAL for ice cream, sorbet, gelato and sundae lovers in the seaside city.
JO JO'S GELATO
This Western Road favourite, now in its seventh year on the block, may look garish from the outside. It may also feel garish on the inside (you could imagine a kid's party going off in here) but the ice cream, sorbet, sundae and gelato selection here is pretty much unbeatable in the city.
Yep, here is where to buy some of the best ice cream in Brighton and Hove. With over fifty flavours and loads of toppings and extras available, Jo Jo's is a real treat; our favourites right now are Amaretto, boozy and nuanced, and their awesome Snickers ice cream, which is properly sweet and indulgent. It's just a five minute walk towards the beach and Hove Lawns, too, making this a great takeaway spot. If you're craving some of the cold stuff at home, you can also find Jo Jo's on Deliveroo, Uber Eats and Just Eat.
Website: www.jojosgelato.co.uk
Address: 123-124 Western Rd, Hove, Brighton BN1 2AD
BRASS MONKEY
Tucked away in Brighton's iconic North Laine Bazaar, Brass Monkey is one of the newer kids on the ice block, but they've already earned acclaim for their organic, vegan friendly offering. Inside it's a pretty minimalist affair, but you wanted to enjoy your saffron and rose ice cream outside anyway, right?
Yep, you heard that right, saffron and rose, and it's damn delicious. Other leftfield options which feel so in tune with the setting here in the centre of Brighton include Chai Latte and our favourite, cardamom, which is heady and intoxicating and just brilliant. They also do a mean cake; what's not to love?
Address: 16 Kensington Gardens, Brighton BN1 4AL
MARROCCO'S
Just beyond Hove Lawns and right on the oceanfront along the gorgeous Kingsway promenade is Marrocco's, a Brighton and Hove institution. It's pretty old school looking from the front, with Tricolore themed signage and a few al fresco seats. Opened since 1969, it feels as though nothing has changed since, and that's all part of the charm. 
Though the menu includes a Norwegian breakfast, burgers, and fish and chips amongst other globe-trotting delicacies and alongside seafood pasta and pizza, we're here for the superb, daily changing selection of gelato, which is some of the best in the city. On a recent visit, the blueberry and ricotta ice cream was as good as it gets, only surpassed by the assertively salty (trust us) salted caramel, which was the best of its kind we've ever had.
Though the word 'legendary' is thrown about on menus a little too liberally these days, their ice cream sundaes are genuinely worthy of the acclaim. The best ice cream in Brighton and Hove? Perhaps. This is proper old school Italian at its best, this, and open every day from 8am to 9pm while lockdown gradually lifts, for all your takeaway ice cream needs.
Website: www.marroccos.co.uk
Address: 8 King's Esplanade, Hove BN3 2WA
GELATO GUSTO
Though Gelato Gusto's original is on Gardner Street, in the North Laines, we're here for their King's Road Arches outpost (opened last year) which comes complete with a sea view and seagulls competing for your cone. Just as it should be, we think.
Here, their reliably gorgeous artisan ice cream comes in a huge variety of flavours (200 and counting since the gelateria's inception!) with 20 or so on at one time. Gelato Gusto uses local Sussex milk and cream and recipes sourced from the owners training in Bologna. None of this would matter if the product wasn't great, but we're pleased to tell you it's lip smackingly awesome and as creamy as can be; no pockets of ice here, that's for sure.
Whilst choosing our favourite flavour would be a bit like making us choose our favourite child, we're going to put our neck on the line and say if Gelato Gusto have Jaffa Cake on offer, then order it. You can thank us later.
Available on Deliveroo to order from 11am to 6pm each day.
Website: www.gelatogusto.com
Address: 2 Gardner St, Brighton BN1 1UP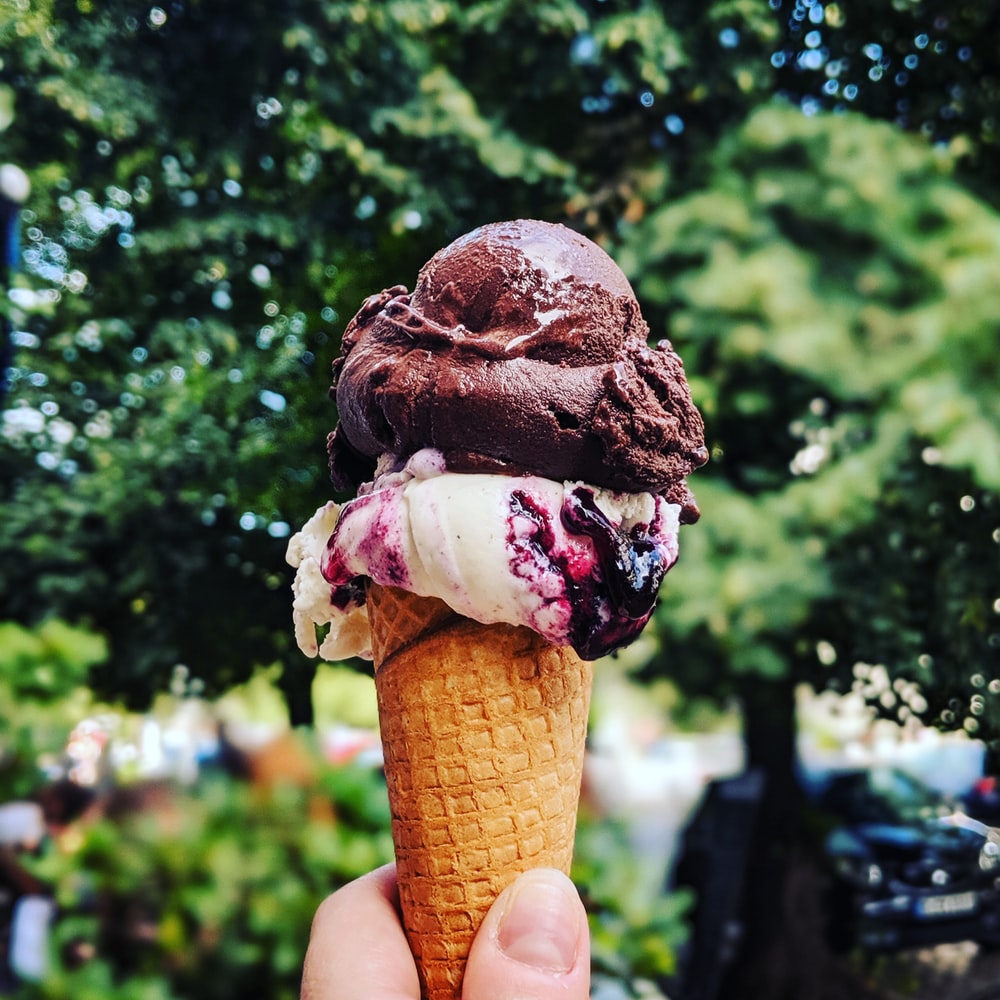 BOHO GELATO
With perhaps the finest selection of vegan ice cream options in the city, Boho Gelato finishes our list in style, putting the final flake in our five scoops. Ten years of serving Brighton fantastic ice cream hasn't dented their enthusiasm; Boho now have four outposts, two in Brighton, one in Weymouth and one in Worthing.
For those who are lactose intolerant or on a plant based diet, be sure to check out their strawberry, basil and black pepper number, just lush, or the cookies and cream (containing no cream!) for an indulgent, totally vegan experience.
Brighton foodies should pay attention to their yearly 'Flavours of Brighton' celebration, which has special collaborations with several of the city's favourite restaurants and coffee shops. Mine's a Small Batch Cold Brew Coffee Sorbet!
Right now, they're offering their ice cream for delivery, at £9.50 a tub. Time to make room in our freezer.
Website: www.bohogelato.co.uk/
Address: 31 Ship St, Brighton BN1 1AD
Address: 6 Pool Valley, Brighton BN1 1NJ