Phuket has long been one of the world's most popular tourist destinations, with world class resorts, seemingly endless stretches of golden sands, and plenty of entertainment for both the kids and the adults.
Thailand's most visited destination, this year TIME Magazine named Phuket on its list of the World's Greatest Places, with tourist numbers expected to top pre-pandemic levels later in the year.
With direct flights from London Gatwick to Phuket recently announced, and affordable trains from UK stations via Gatwick Express on which you could make savings by booking group save tickets, there really is no better time to visit Thailand's biggest island.
And whilst Phuket is certainly most famous for its scenery, it's the island's food scene that seems to be getting all the recognition recently, with its Old Town being named a UNESCO City of Gastronomy in 2019 and the island as a whole boasting a brimming Michelin Guide for the past four years.
Should you be visiting and a craving for Italian food hits, then it's to these places you should head; the best Italian restaurants in Phuket.
Acqua, Patong
Acqua Restaurant Phuket is one of the island's most exclusive (and expensive) dining establishments. A rare fine dining restaurant not housed in the bowels of a corporate hotel, diners at Acqua can survey the twinkling Kalim Bay from Acqua's esteemed vantage point, luxuriating in the dining room's clean lines and futuristic posture.
It's certainly a leading contender for one of the most visually appealing restaurants in Phuket, even if the decor at times wouldn't look out of place on Sky Atlantic's mafia drama Gomorrah.
That's not to say that the stunning backdrop pulls focus away from the food. Acqua's success can – and should – primarily be attributed to its dedication to authentic Italian cuisine, influenced by the traditions and culture of Southern Italy, in particular, with the special touch of Chef Alessandro Frau's native Sardinia gracing many of the dishes.
The chef's philosophy emphasises the use of the finest ingredients, both local (Phuket lobster makes a welcome appearance in the Catalana style salad) and imported (Siberian caviar, Japanese Amaebi prawns, and, of course, extra virgin olive oil and Parmigiano-Reggiano) treated with the utmost respect. It's a winning formula.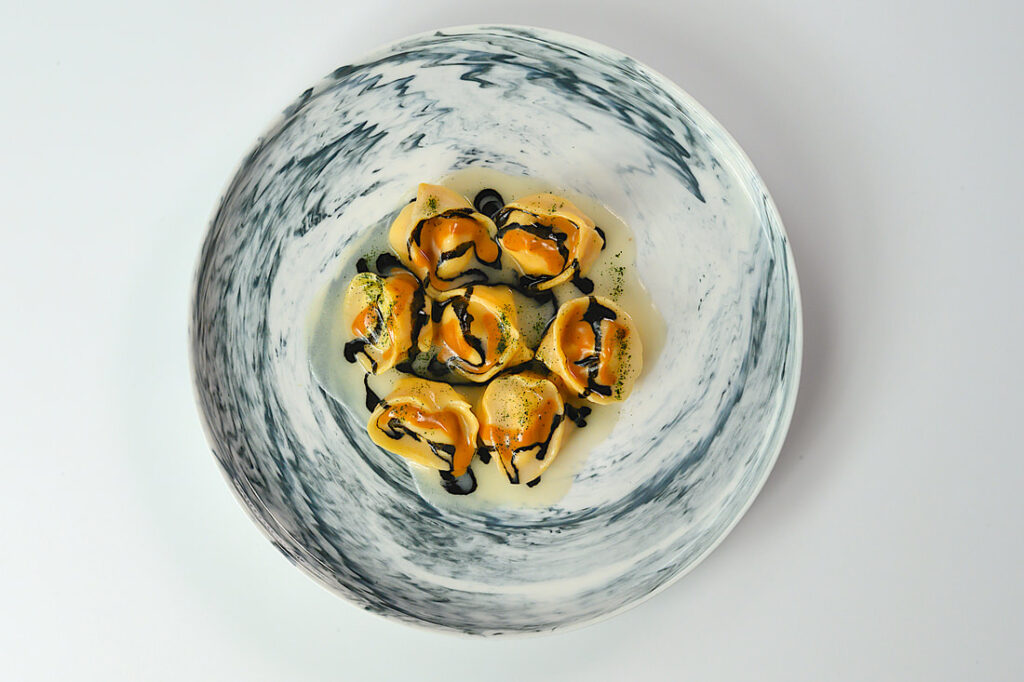 A formula which has won Acqua many awards over the years, in fact, including a Michelin Plate in Phuket's inaugural Michelin Guide (retained in each of the four years since), as well as being named one of Thailand's Top 20 Restaurants by Tatler in 2017 through to 2020.
The wine list here is also of some repute, with Acqua consistently received the Wine Spectator's Award of Excellence from 2010 (just a year after opening) to the present, acknowledging it as one of the best wine lists in the world and certainly one of the top wine selections in Phuket. In 2017, Acqua earned the Best of Award of Excellence with two glasses from Wine Spectator, a distinction it continues to hold.
That list boasts an extensive wine list, featuring over 450 labels from around the world, and receiving numerous awards, including the prestigious Ospitalita Italiana certification for its authenticity and quality. Cheers to that!
A second branch has now opened in Bangkok, a testament to Acqua's enduring quality.
Address: 324, 15 Phrabaramee Rd, Pa Tong, Kathu District, Phuket 83150, Thailand
Website: acquarestaurantphuket.com
---
La Gaetana, Phuket Old Town
Nestled in the heart of gorgeous Phuket Old Town, La Gaetana Restaurant is a charming family-run establishment that has been delighting diners here for over two decades.
The restaurant is owned by Gianni Ferrara, a charismatic Italian, and his Thai wife Chonticha, who infuse their rich cultural backgrounds into the very essence of the restaurant. With only six tables, La Gaetana exudes an intimate warmth and hospitality, making every guest feel like a part of their extended family.
Though the welcome is full of the beaming smiles Thailand is so famous for, the menu is resolutely, traditionally home-style Italian, with the couple's passion for authentic Italian cuisine evident in proud pasta dishes that sit front row and centre of the menu here, many of which are inspired by traditional recipes passed down through generations.
On our last visit, the bottarga pasta from the specials board, ideally suited to linguine (the choice is yours here), was superb simplicity at its very best, full of umami and just the right level of sweet bitterness from perfectly golden garlic.
Should you be looking for a more elaborate spread, then it's to that specials board you should head, with Osso Bucco (done with actual veal here – a rare treat), and Hokkaido scallops both excellent, the latter an exemplary display of letting the ingredients shine, served seared with little more than a few rocket leaves and a drift of taut dressing.
Indeed, sometimes the most simple things are also the most memorable, and the eggplant topped bruschetta isn't something we're going to forget anytime soon. Similar in taste profile to a parmigiana, it hit all the right notes; crisp, juicy, umami-heavy, yet ultimately refreshing. Speaking of memorable, the apple tart dessert is quite the spectacle when it's served; order one and you'll find out what we mean!
Away from the plate, the homely room is a visual treat, too, with sunflower yellow walls, old family photos, and trinkets from the owners' pasts creating curiosity at every turn.
Though it's certainly not a 'hidden' gem – La Gaetana is featured in Phuket's latest Michelin Guide – the restaurant's intimacy will have you feeling like you 'discovered' this place for the evening. All that said, booking in advance is very much recommended.
Address: 352 Phuket Rd, Talat Yai, Mueang Phuket District, Phuket 83000, Thailand
Website: La Gaetana | Phuket | Facebook
La Gritta, Patong
Perched on a cliff (though not too precariously, we might add!) overlooking the stunning Patong Bay, La Gritta is a romantic restaurant that has been serving carefully composed Italian plates for over a decade to islanders and tourists alike.
Housed in the prestigious Amari Resort, the restaurant is led by Chef Giordano Roscini, a native of Amelia, Umbria, who brings his passion for regional Italian food to the table here; a table which, if you can snag one on the terrace overlooking the bay, is arguably the most beautifully positioned in Phuket. Just remember to douse yourself in mosquito repellent before buckling up!
La Gritta's menu is a little more pedestrian than the previous two entrants on our list, with bolognese, carbonara, a couple of pizzas and even a hamburger, but, honestly, we're here for the vibes, and that view really is something.
The wine list isn't half bad either, with an unsurprising, unwavering focus on Italian wines that pair beautifully with the cuisine. La Gritta has received the Ospitalita Italiana certification for its authenticity and quality. The restaurant was also named one of TripAdvisor's Best Fine Dining Restaurants in Thailand back in 2018.
Address: Amari, 2 Muen-ngern Road Beach, Pa Tong, Kathu District, Phuket 83150, Thailand
Website: lagritta.com
---
Red Sauce
Part of the Rosewood Hotel, Red Sauce sits pretty on Tri Trang beach, with talented chef Giuseppe Bonura at the stoves here creating deceptively simple dishes that draw inspiration from his native Sicily. So, expect copper-coloured shellfish soups that straddle the rustic and the refined with grace and style, designed to be paired with the restaurant's house focaccia, this one studded with anchovies and served alongside burrata and a pesto throbbing with Thai basil. Yum.
That subtle local influence continues into desserts, with an exquisite baba made with Phuket rum. It's a must-try, and another reason that, under Bonura's leadership, the team at Red Sauce have earnt mention in Phuket's Michelin Guide.
That's not to say Red Sauce errs on the side of exclusive or pretentious. With a tight, globetrotting wine list with every entry available by the glass, and pizzas clocking in at under 500 baht (£12.50 ish), there's something for everyone here.
Address: 88/28, 88, in Rosewood Phuket, 30-30 Muen-Ngern Rd, Tambon Patong, Kathu District, Chang Wat Phuket 83150, Thailand
Website: rosewoodhotels.com
---
Da Moreno Pizzeria, Patong, Kathu, Koh Kaew and Phuket Old Town
That said, if you're seeking the best pizza that Phuket has to offer, then it's to Da Moreno you should head.
Fortunately, it won't be too far away, wherever you are on the island; with four locations across the island, Da Moreno must be doing something right.
That something is a 72 hour fermented, wood-fired, chewy and pillowy pizza, with a range of toppings that, whilst not necessarily Neapolitan Nonna friendly, will have everyone in the squad satisfied, whether they're a pizza purist or a ham and pineapple punkah.
For those who fall in the former camp, the capricciosa is particularly good, both earthy and piquant and downright lovely. And if pizza's not your thing (why are you here?), Da Moreno does a more than capable clutch of pasta dishes, with the spaghetti vongole hitting the spot in that saline, by-the-beach way that's hard to beat.
Address: 128 Nanai Rd, Pa Tong, Kathu District, Phuket 83150, Thailand
Website: damorenopizzeria.com
And since we're by-the-beach by the way, we're off for a swim. Come on in, the water's fine…