Should you be heading to the Big Smoke for a weekend city break but have no idea what to pack, firstly, you're not alone! The weather's totally fickle, the vibe of each neighbourhood forever shape-shifting from smart to casual to 'what even is that?' and beyond, and the demands of the big city often require a fashion switcheroo halfway through the day.
Fortunately, you've come to the ideal place (pun intended) to get guided. We understand the pain you're going through right now, trying to second guess the climate, the city and the culture. With that in mind, here's the IDEAL packing list for a trip to London.
WEATHER READY
Damp, drizzling and with perenially grey skies – yep this is what London is famous for. However, while the weather in the capital is perenially unpredictable, you can bet that it rains a lot (about 164 days of rain a year, to be precise).
Since the weather's this changeable, it's sensible to wear layers and always have something waterproof to hand. An umbrella is advisable, but make sure it's sturdy enough to withstand the wind yet small enough to fit in your handbag. And if you also decide to pack a rain poncho, no one will judge you.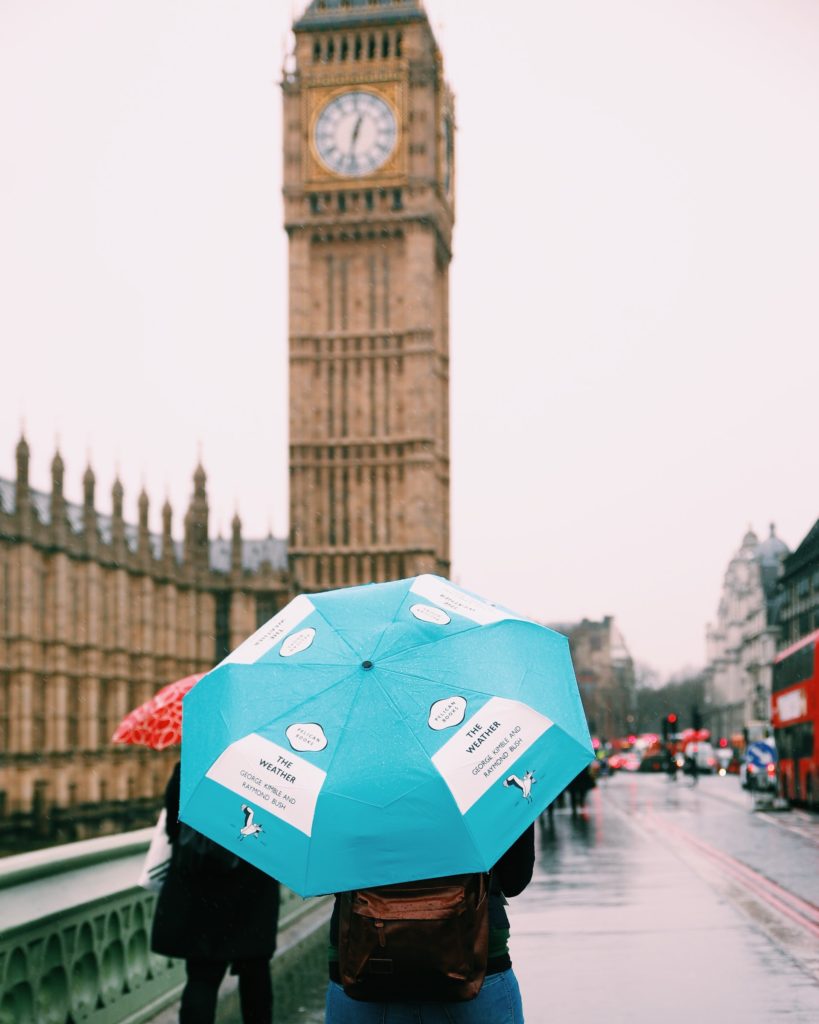 LONDON STREET STYLE
Unless you want to stick out like a tourist, save those "I heart London" t-shirts for when you get home. Despite what us residents may sometimes say, London is one fashionable city and the pavements of the capital act as a runway, with photographers capturing the coolest cats for street style features in magazines and more.
Indeed, Londoners are famous for a style which straddles the cool with the causal. That said, it's also a pretty eccentric city – you can wear your wackiest outfit and people won't bat an eyelid.
Of course, if you're most comfortable in a pair of jogging bottoms and an oversized hoodie, or if you feel more fantastic in a floor length gown, then just go for it – the beauty of London is that you can wear whatever you want, so embrace your own personal style and have fun with your outfits.
TUBE TALK
London wouldn't be able to function without the tube. It's the quickest and most useful method of transport in the capital. And as a tourist, no doubt you'll be using it a lot.
As such, you need to be tube ready. Pack a tube map or better yet, download Citymapper and TFL London on your phone for quick and easy access to the latest timetables and the best routes. Also, make sure you bring a contactless travel card like Monzo for efficient payments (there's not much need for an Oyster card anymore if you're only in the city for a day or two).
When it comes to bags, a big backpack will be your (and your fellow passenger's) worst enemy. It's a pretty massive faux pas to wear a pretty massive bag, taking up valuable space for another passenger to squeeze into. Don't be that guy.
In the scorching summer months, a handheld fan for the tube makes for an excellent companion; it gets hot down there. No not down there, silly, we mean down under the ground. You'll also hear TFL announcers encouraging you to carry a bottle of water with you – advice not to be ignored – and rumours of temperatures reaching 40°C below the city's surface. Prepare for the worst.
COMFORTABLE FOOTWEAR
London is an eminently walkable city. Indeed, the best way to get a feel for each of London's unique boroughs is to stroll the streets and take it all in. Therefore, packing comfortable footwear is essential for your London trip. You don't want pesky blisters ruining your trip (come to think of it, you should also pack some plasters).
Bear in mind that London has a number of cobble-stoned streets, so make sure the soles of whatever shoes you're wearing are thick enough to deal with them. Leave the heels at home unless you're heading out to a fancy restaurant and want to dress up.
SUMMER ESSENTIALS
London in the summer can get sweltering and in the last few years has seen several heatwaves with temperatures rising well above 30°C for prolonged spells. During the season, avoid jeans as they can get hot, sticky and uncomfortable to walk in. Opting to wear fabrics which stop your skin from breathing and trap in moisture will make your trip pretty unbearable. A rookie error to assume London will be forever cold, we think.
To survive London's enduringly sticky summer days, go for breathable summer fabrics like linen, cotton and chambray, as well as moisture-wicking underwear for maximum comfort in such hot settings.
Don't forget to pack sunscreen and a pair of sunglasses which will come in handy for your free walking tour in London. The addition of a summer scarf and a lightweight, easy to carry handbag will be useful if you decide to enjoy one of London's many parks or need to cover your hair from a sudden bout of rain.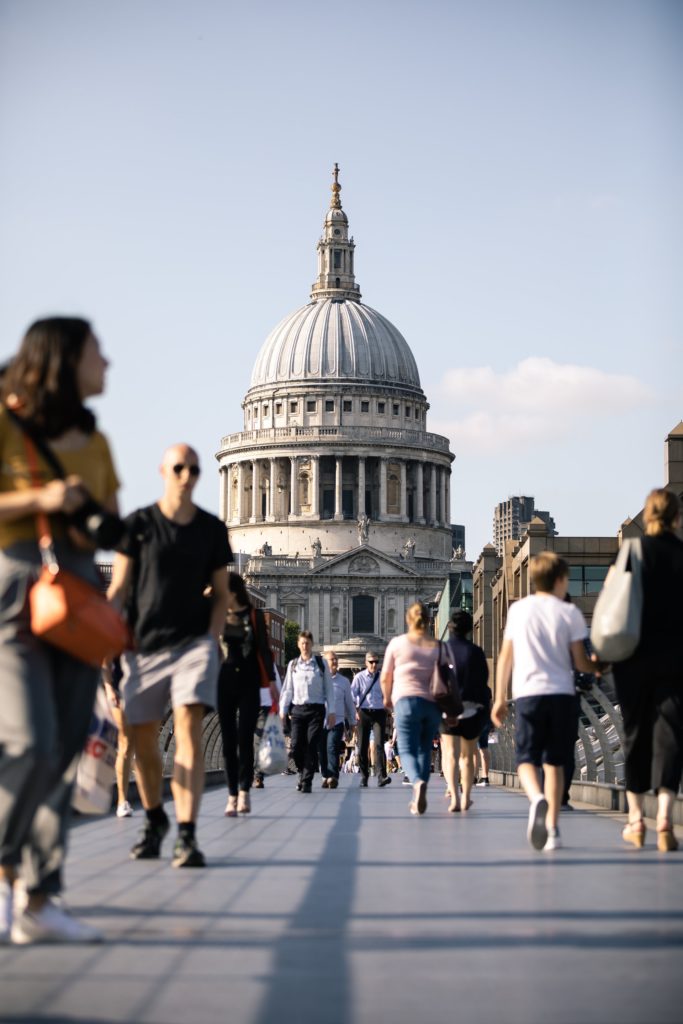 SPRING & AUTUMN OUTFITS
Spring and Autumn in London are for the large part very pleasant seasons with temperatures in the early to mid teens. That said, the weather can be changeable during this time. One minute you'll be kicking yourself for leaving your jacket at home and the next, you're sweating profusely because you dared to wear a pair of tights.
As such, wearing layers is a good idea at this time of year. If you want to fit in with the Brits, in Autumn there's nothing more British than a classic trench coat – sleek and stylish, offering function and fashion in droves. And don't forget to pack a pair of comfortable ankle boots; they're the perfect in-between-season shoe.
WINTER WEAR
Skating at Somerset House, strolling along the Southbank with a mulled wine in hand or enjoying the festive delights of Winter Wonderland – there are loads of outdoor activities to be enjoyed when Winter comes around in London. While temperatures don't often drop to below freezing and snow in London isn't all that common, if you're visiting during the Christmas period, expect it to be cold.
Accordingly, a warm winter jacket is a must for London tours during winter. Pack anything you need to keep you warm because it can get really chilly outside. Warm sweaters, gloves, scarfs, jeans, and hats – you name them, you need to wear them! Warm boots are a must, and make sure they're waterproof; keeping your feet and lower legs warm and dry is essential to great day out in London.