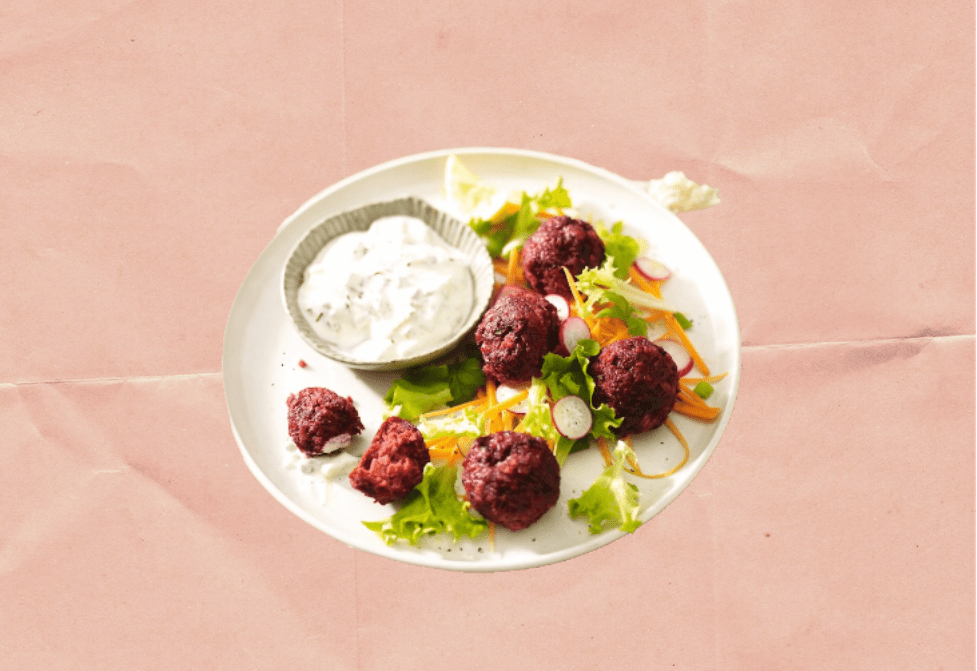 Ideal for National Falafel day and each and every day after .
One of the Middle East's most beloved fast foods, falafel is amazing as a snack, light lunch inside a pitta or part of a wider spread for dinner. Though it's traditionally deep fried on the streets of Egypt, Palestine, Jordan, Syria, Israel and more, we've taken an already healthy dish and made it that little bit more so by adding beetroot and baking our falafel. If you do prefer to deep fry, do so in oil heated to 180°C until crisp, and drain on a paper towel before serving.
These will keep for 2 days in the fridge, and are just as good eaten cold as leftovers as they are hot. They make a great packed lunch, too. Is there anything falafel can't do? Here's our IDEAL recipe for baked beetroot falafel.
Vegetarian
Preparation time: 5 minutes
Cooking time: 25 minutes to 30 minutes
Total time: 30 minutes to 35 minutes
Serves: 4
WHAT YOU NEED
1 tbsp olive oil, plus extra for brushing
1 onion, chopped
2 cloves garlic, chopped
2 tsp ground cumin
250g pack Waitrose Duchy Organic Cooked Beetroot
400g can Waitrose Duchy Organic Chickpeas, drained and rinsed
125g fresh white breadcrumbs
1 essential Waitrose Free Range Egg, beaten
200g pot Waitrose Tzatziki, and mixed salad, to serve
WHAT YOU NEED TO DO
1. Heat the oil in a large frying pan and cook the onion and garlic for 5 minutes until softened. Stir in the cumin and cook for a further minute.
2. Preheat the oven to 200ºC, gas mark 6. Pat the beetroot dry on kitchen paper and roughly chop. Place in a food processor with the onion mixture, chickpeas, breadcrumbs and egg. Whizz together to make a firm paste.
3. Using damp hands, roll the mixture into 20 even-sized balls and place on a non-stick baking sheet. Brush lightly with oil and bake for 20–25 minutes until crisp and heated through. Serve warm with tzatziki and mixed salad.
Recipe courtesy of Waitrose & Partners.