Is your home looking a little boring? Do you sometimes sit in your room and wonder how you can bring some life into your home? Do you want to incorporate a little more of your own personal style into your rooms? Well we are here to help. We've asked the experts at AIDA, one of our favourite shops in Shoreditch who offer an array of quirky brands, from distinct vintage influence through to modern and contemporary styling, to share their top 10 tips on how to give a unique touch to your home.
Be Yourself
The most important consideration when decorating your home is that the aesthetic reflects your personality. You're not creating a show home, you are creating a sanctuary for yourself and your loved ones – so whether you're juggling a career with young children, or working on your dream fashion collection whilst also working a 40 hour week, your space should fit with your lifestyle.
Be A Collector
The objects and trinkets you pick up when you're travelling are the items that can make your home unique. Objects can tell a story, and having a visual reminder about that party holiday in Ibiza, or romantic Moroccan trip last year can transport your mind after a stressful work day and act as a talking point when entertaining.
Curate and Rotate
When curating the AIDA home range we saw so many beautiful, well designed and inspiring pieces. Tempting as it is to have everything on show, sometimes less is more. Rotate your favourite objects and put the others in storage until you are ready for a seasonal change.
Invest In Classic Pieces
I am a big believer in saving for the perfect piece rather than settling for something that's not quite right. Buying into a classic brand or style will last a lifetime and may even become something that appreciates in value and can be passed down through your family.
Listen to William Morris
'Have nothing in your house that you do not know to be useful, or believe to be beautiful.' William Morris knows best – enough said.
Support Local
There are so many extremely talented, passionate designers and craftspeople in the U.K. Pop along to local design markets and source up-and-coming makers; not only will you end up with a unique item, but you will most likely be able to speak directly to the designer too.  It feels good to be part of a community that supports creatives and helps to fund innovative and sustainable manufacturing on your doorstep.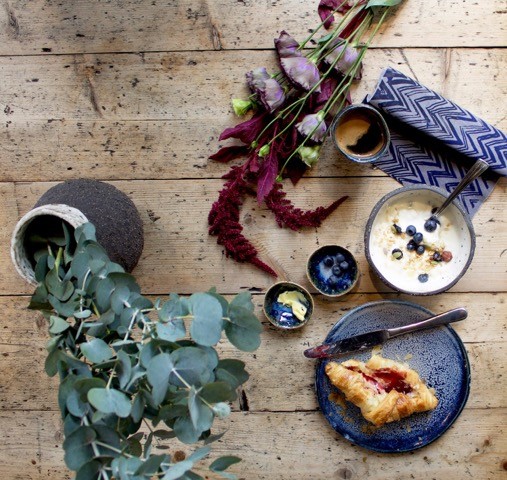 Don't Be Afraid Of Colour
Although the trend for monochrome interiors is not going anywhere fast, it's still nice to inject a bit of seasonal colour and pattern into your home. You can do this simply and easily with artwork or interesting textiles without having to make major decorative changes.  At the moment we are brightening our walls with Claudia Borfiga's graphic screen prints.
Indulge Your Five Senses
Smell, Touch, Taste, Sight and Sound.
Immerse yourself in an environment that pleases all of your senses. There's nothing like kicking your shoes off and letting your feet sink into a textured rug or breathing in a scent that takes you to another place. Cosy throws, your favourite aromatic candle, great music, art and food – enjoy life at home.
Take Your Time
There is so much fun to be had looking through interior blogs, following designers and makers on Instagram and scouring unusual shops to find that perfect piece for your home. What you buy will likely become part of your day to day scenery, so take the time to find things that will enhance your life and that you'll love looking at every day.
Enjoy
It's your interior and your home, so have fun with it.  The person who really has to love it is you.