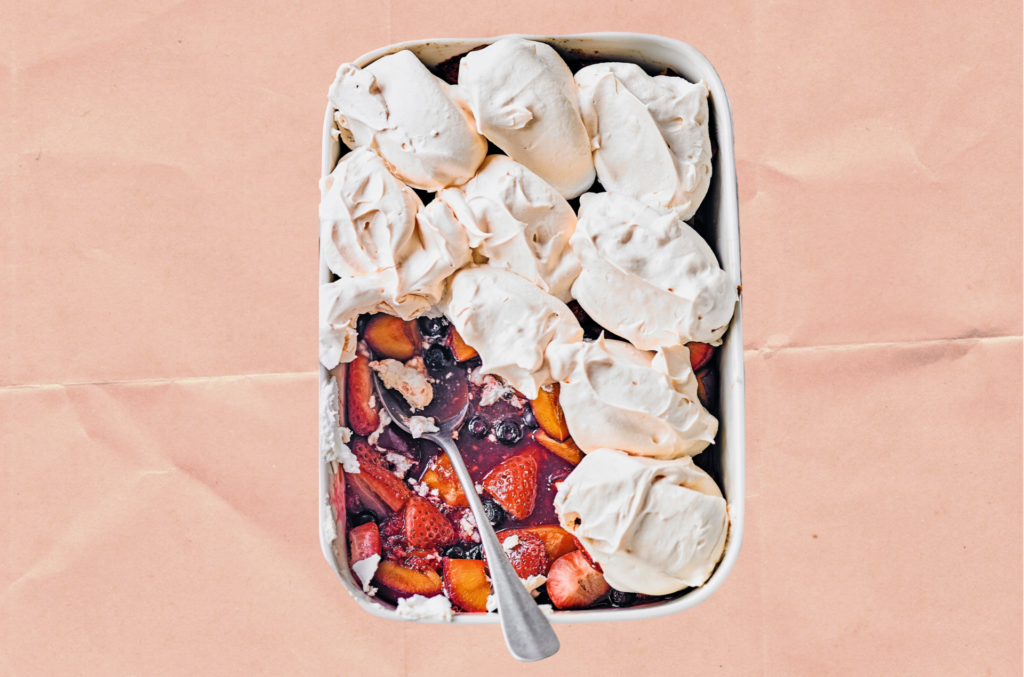 July has started and traditionally, this would mean one thing above all else; tennis! But we're not going to let anything like Wimbledon being cancelled stop us from celebrating this most famous of tournaments.
Instead, we're tuning into some classic Wimbledon finals and rewinds being shown on the BBC and cooking up this delicious, celebratory dessert. Check out this recipe for traybake meringue with mixed berries, the IDEAL dessert for Wimbledon.
Preparation time: 15 mins
Cooking time: 60 mins
Vegetarian
Serves 6
WHAT YOU'LL NEED
600g mixed berries, including blueberries, strawberries and raspberries
400g (approx 6) plums, halved, stoned and roughly chopped
75g light muscovado sugar
1 vanilla pod
4 Waitrose British Blacktail Medium Free Range Egg whites
200g caster sugar
2 tbsp cornflour
2 tsp white wine vinegar
WHAT YOU NEED TO DO
1. Preheat the oven to 140°C, gas mark 1. Place the berries (strawberries halved if large), plums and muscovado sugar into a baking dish or tin measuring about 20x30cm. Split the vanilla pod in half and, using a small, sharp knife, scrape out the vanilla seeds and mix well with the fruits then add the scraped pod.
2. Place the egg whites in a clean bowl and whisk until soft peaks form. Gradually add the caster sugar 1 tbsp at a time, whisking well after each addition, until the mixture is stiff and glossy. Add the cornflour and vinegar and whisk until just combined.
3. Drop large spoonfuls of the meringue mixture on top of the fruits until roughly covered, then bake for 1 hour, until the meringue is crunchy on the outside and marshmallowy on the inside, and the fruits are tender and have a lovely sauce. Serve warm or cold with thick cream or ice cream.
Recipe courtesy of Waitrose & Partners.