''Save me a piece of marchpane''
The city of Verona, in Italy's northeastern Veneto region, is perhaps most famous for being the setting of Romeo and Juliet, Shakespeare's tale of violent, ecstatic love.
In fact, food plays a major role in the scene setting of the play, as it's in Act 1, Scene 5 that the two protagonists first lay eyes on each other, at a feast organised by the Capulets.
Though the scene begins with servants clearing away the feast, there is mention of marchpane, or marzipan, and this almond based confection remains hugely popular in the city and surrounding region today. Other food based connections to the much loved play are scant and hard to come by, so we'll dispense with this clumsy prologue and move onto the first act with haste.
LAKE GARDA'S UNIQUE MICROCLIMATE
Just a half hour's drive west from Verona is Lake Garda, which sits at the foot of the famous Dolomites mountain range, a UNESCO World Heritage Site in its own right. Garda is Italy's largest lake, with the eastern side belonging to the Lombardy region and the western half to Veneto.
The microclimate here and the lake's distinct mix of cultures has led to a truly unique cuisine, with the lake boasting plenty of freshwater fish and its waters feeding into ultra-fertile soil nearby.
The surrounding gentle slopes play host to olive trees and vineyards aplenty, and the relatively mild temperatures promote the region's famous citrus gardens, where lemons, cedar and bitter orange grow abundant.
WHAT TO EAT & DRINK IN LAKE GARDA
All of this equates to some of the most fascinating food you'll find anywhere in Italy, and that's saying something! To explore some Venetian specialities further, here's what to eat and drink in Lake Garda.
Bigoli con le Sarde del Garda – Pasta with Freshwater Sardines
First up, we're celebrating agoni, a type of freshwater sardine that's fished straight from Lake Garda and served in a simple pasta dish.
Using bigoli, a fresh egg pasta from the Veneto region, and a simple sauce of those sardines fried off in world renowned Garda DOP olive oil with a little garlic, dried chilli flakes and parsley, this is arguably the most famous regional dish from Lake Garda's western shores.
Lugana Garda DOC – A Superb Local White Wine
But what to drink with bigoli con le sarde and the region's other famous freshwater fish dishes? Well, the resort town of Peschiera del Garda, on Lake Garda's southwestern trip, might just have the answer.
The local Lugana grape variety produces the revered white wine Lugana Garda DOC, which brings the unique terroir of the lake into its perfume and provides the perfect match to the local fish.
Our friends at Domusvini.eu, a winery in the Veneto region near Venice that's been run by the Vedovato family since the early 1900s, tell us that the vine has been present on these fertile shores since the Bronze Age and produces a drink whose bouquet has strong notes of white flowers and light almond, with a flavour that is particularly delicate, fresh and balanced, with a characteristic sapidity. A must-try.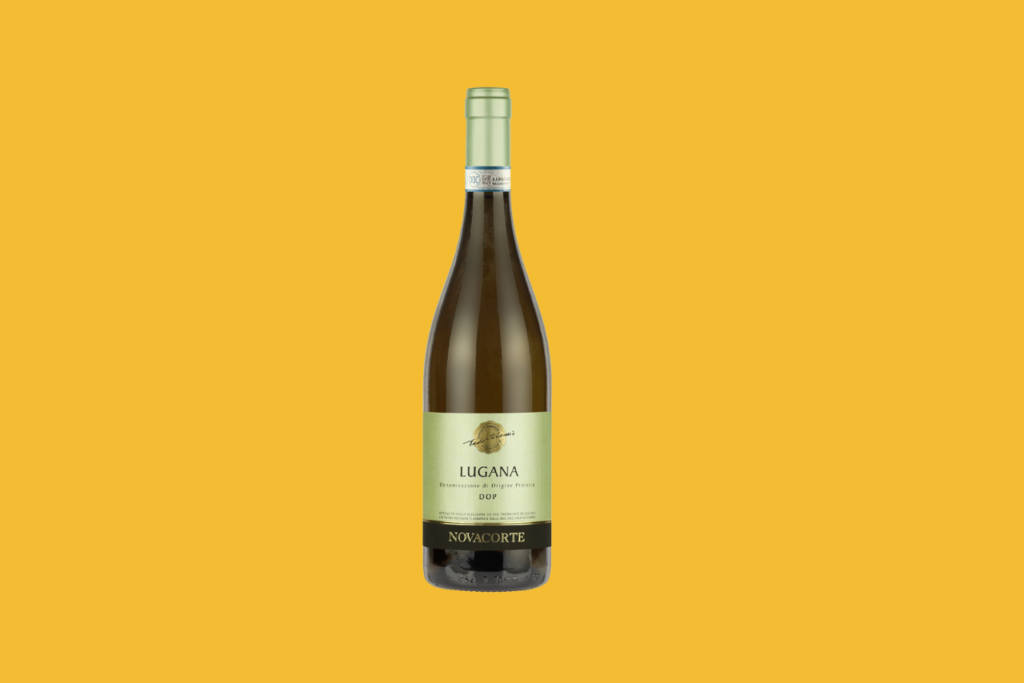 Risotto con la Tinca – A Risotto Of Freshwater Tench
Lugana Garda DOC pairs particularly well with the region's famous risotto dishes, of which there are many, owing to the premium rice that's grown around the lake.
Risotto con la tinca is perhaps the best of all. Using the freshwater fish tench alongside Swiss chard and local courgettes, as well as a splash of that excellent wine, it's another succinct taste of the region.
Read: How to make risotto in 7 easy steps
Carbonèra
Not to be mistaken with the popular Roman pasta dish carbonara, carbonèra is a whole other thing entirely, and one that's equally as delicious, we should add.
Essentially a wet polenta enriched with local Monte Baldo cheese, that's then allowed to chill before being grilled, carbonèra is often served with truffle grated over it, offering a luxurious take on a dish with the most humble of origins; the name comes from the coal miners who used to it eat, known as the ''carbonari''.
Risotto all'Amarone
A dish instantly recognisable for its striking colour, risotto all'Amarone uses the prized red wine Amarone della Valpolicella in its base alongside another deeply-hued ingredient, radicchio.
Luccio e Polenta
Another dish based around polenta that's typical of the Lake Garda region is luccio e polenta. Here, the polenta is served in the 'Gardesan-style' – wet and creamy – with a sauce made from pike (the luccio) and piquant elements such as capers and garlic.
Tortellini di Valeggio
The village of Valeggio sul Mincio, just 25km southwest of Verona, has gifted the region with an ultra-thin type of stuffed pasta often filled with pumpkin and sage. The parcels have a knotted shape that's earned them the nickname 'love knots', calling to mind that most famous of stories set in Verona once again.
Usually served in a light broth, tortellini di Valeggio is one of the most delicate, delicious dishes you'll ever try.
Limoncello
Lake Garda is hugely famous for its lemons. On the Lombardy side of the lake, there's even a whole village, Limone del Garda, devoted to the citrus fruit! Unsurprisingly, then, the local limoncello is rightly revered.
These marvellous lemons are often also used in local desserts and confectionary.
Brassadele
One such sweet treat which uses those local lemons to great effect is brassadele. These little donuts flavoured with grappa and lemon peel are found all over Verona and the west of Lake Garda during the Easter holidays, and are famous for their shape, made to resemble Jesus' crown of thorns.
And with that, we're pretty full. We need a lie down!