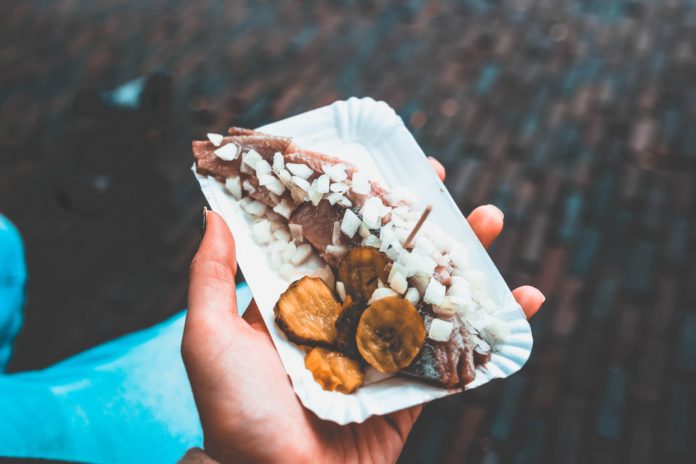 Mention to friends you're off to Amsterdam and you'll get a tome of the latest tips on tulips, toking and traversing the canals. Yep, it seems like every man and their orange beclad dog can give you a lengthy diatribe on the best things to do in Amsterdam, and that's just lovely. The more tips the merrier is our mantra, as we're sure you'll have noticed.
But ask for advice on Amsterdam's best restaurants, markets and foodie experiences, and it seems like those enthusiastic friends are suddenly stumped. Prepare to be pleasantly surprised; the 'Dam isn't just about waffles, edibles and gouda. Instead, the Dutch capital boasts one of the most thriving, exciting food scenes around. With that in mind, here are 7 IDEAL things to do in Amsterdam for foodies.
INDONESIA
A legacy of Dutch colonialism, Amsterdam has a huge Indonesian diaspora. As such, the town is full of fantastic, flavourful restaurants serving Indonesian delicacies and us foodies just can't get enough of it. 
The best in the city make zero concessions to the Western palate, and all the better for it, we think. Some of our favourites in an admittedly blessed field include Tempo Doeloe, which does a properly authentic, huge 'rice table' spread, spicy and pungent as hell, but with elegance in its delivery, too. Or, check out Sampurna for the finest satay skewers this side of Jakarta.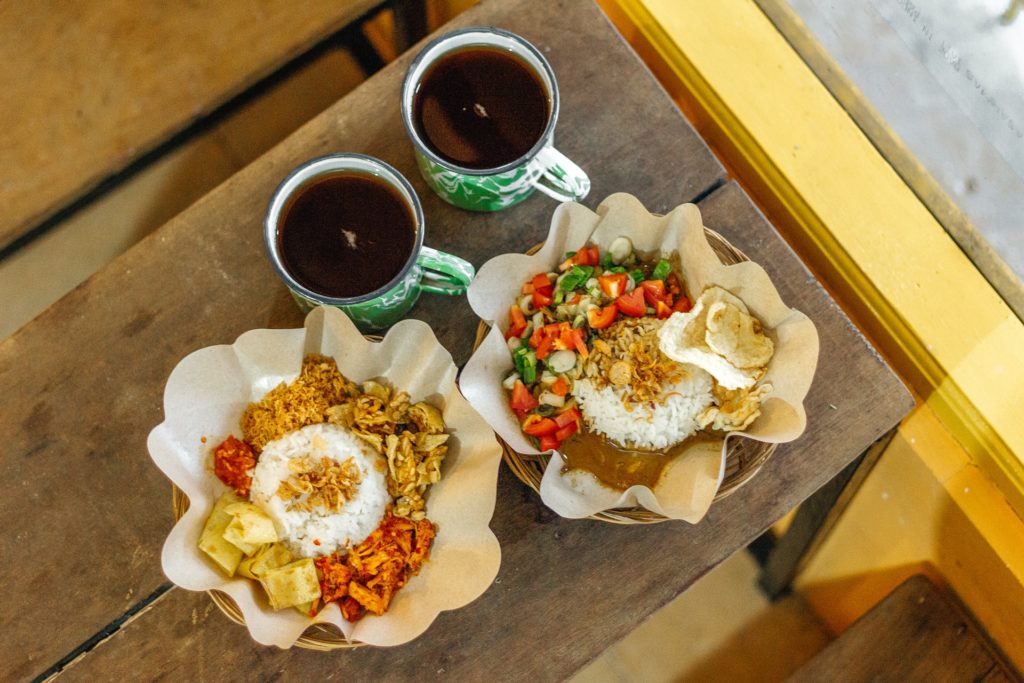 VISIT THE CHEESE MUSEUM
Though Amsterdam's Cheese Museum is small, it packs one hell of a punch. Dutch cheese has a long and proud history, ingrained in the culture, with many of its most famous cheeses named after towns in the Netherlands.
This museum pays respect to the cultural and culinary heritage of the good stuff in an interesting, interactive (yep, that means there are tasters) way, and represents a great first stop if you're looking to get under the skin – or should that be 'rind'? – of the foodie credentials of the city.
The place is divided into two floors, with historical intrigue catered for below and the tasting of hundreds of vibrantly coloured wheels provided above. Since it's free to enter, a visit here seems like a no brainer. If you haven't got your fill of cheese, take yourself on a tour of Amsterdam's many cheese delis for some extra tastings. That's our foodie afternoon sorted, then.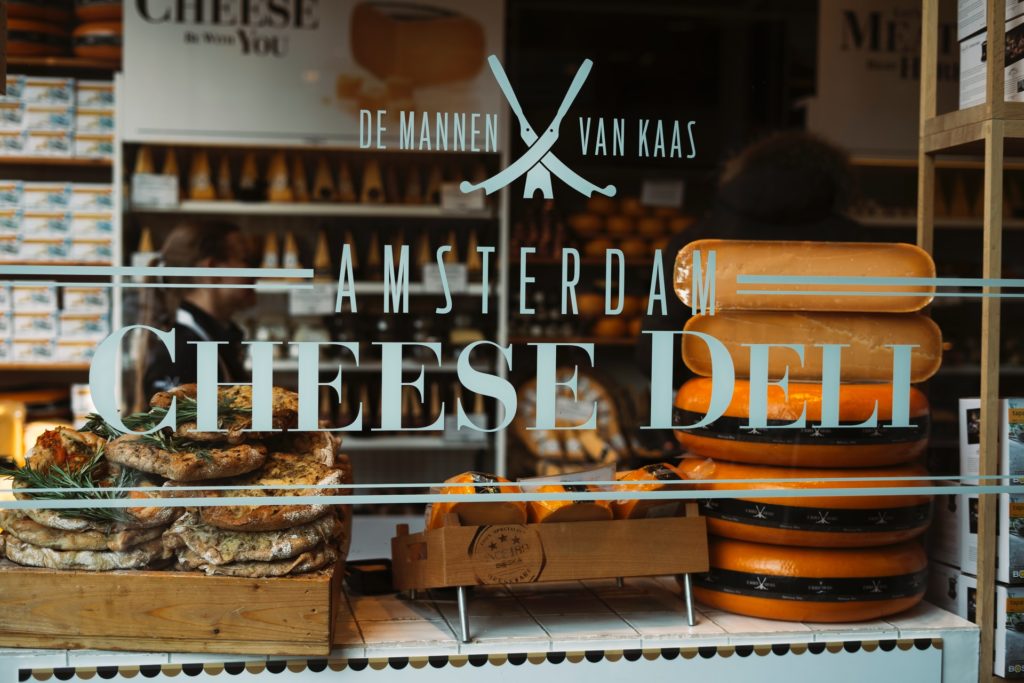 HUNT OUT THE BEST PANNEKOEKEN & APPELTAART
You call yourself a foodie? Going to Amsterdam and not eating pannekoeken (the definitive Dutch pancake) or sampling a slice or ten of the country's famous appeltaart would just be wrong. 
For pannekoeken, we love the version at Upstairs, housed in a tiny 16th century house, with quirky and kitsch decorations including 100 hundred teapots hanging from the ceiling and interesting pictures of the Dutch Royal Family. Order the sugared ginger and cheese version, it may sound odd but it totally works. With only 4 tables, Upstairs claims to be the smallest restaurant in Europe. Fear not; the pancakes are absolutely huge, taking up most of the room in the restaurant. Since it is so tiny, we recommend booking. Don't be late; they only hold your table for 10 minutes.
Now let's talk about appeltaart. This is not your regular apple tart (it's got a double A for start), it's so much more; crumbly, crunchy and cakey in consistency with chunks of apple and warm spices running through it, you'll be singing bye bye to any American pie you see from now on. Indeed, this is one of the Netherland's most delicious desserts. While it can be found in most cafes across the city, as far as we're concerned the best and deservedly most famous place to sample this delicacy is Winkel in the hip and happening Jordann neighbourhood.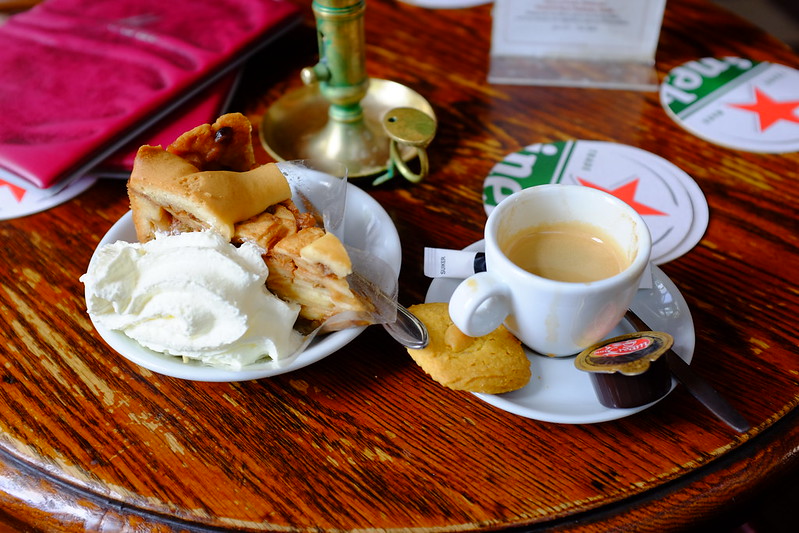 SNACK YOUR WAY AROUND JORDAAN & LINDENGRACHT
Speaking of which, Jordaan is one of the most picturesque neighbourhoods in Amsterdam. Situated bang in the centre, it's full of trendy shops, luxury boutiques, lovely galleries, lots of cosy cafes, breakfast and brunch spots and great restaurants. You could easily (and should) spend the entire day here, wandering from shop to shop, stopping for some coffee and a snack when your legs get weary.
Snacks that you should try include:
The aforementioned pannenkoeken and appeltaart.
Ontbijtkoek, which is literally translated as breakfast cake, and is one of the stables of a traditional Dutch breakfast.
The internationally famous stroopwafels that need no introduction.
Kroketten (or croquettes). These little bundles of joy are traditionally filled with a meaty ragout of beef or veal.
Poffertjes which are small, spongy pancakes covered in melted butter and powdered sugar.
Raw Dutch herring accompanied with some chopped onions and pickles, maybe on a bun; perhaps the ultimate savoury snack in this part of the world, we think.
Another one for the fish fans is Dutch Kibbeling. This enduringly popular street food snack consists of bits of fish dunked in batter and fried.
Ordering a portion of Dutch fries with lashings of mayonnaise is a must. These Flemish fries can also come with uniquely Dutch toppings; a must try is patatje oorlog where the chips are piled high with mayonnaise, peanut satay sauce and diced raw onions.
We hope you're not full yet. Because every Saturday, the whole of Lindengracht (a former canal) becomes a market, selling everything from handcrafted items to cheese (of course). The selection of fresh fish, fruit and vegetables here is second to none in the city; if you're lucky enough to be staying in accommodation with a kitchen, a trip here on Saturday morning to pick up supplies before cooking up a delicious dinner at home sounds like a lovely way to spend a day.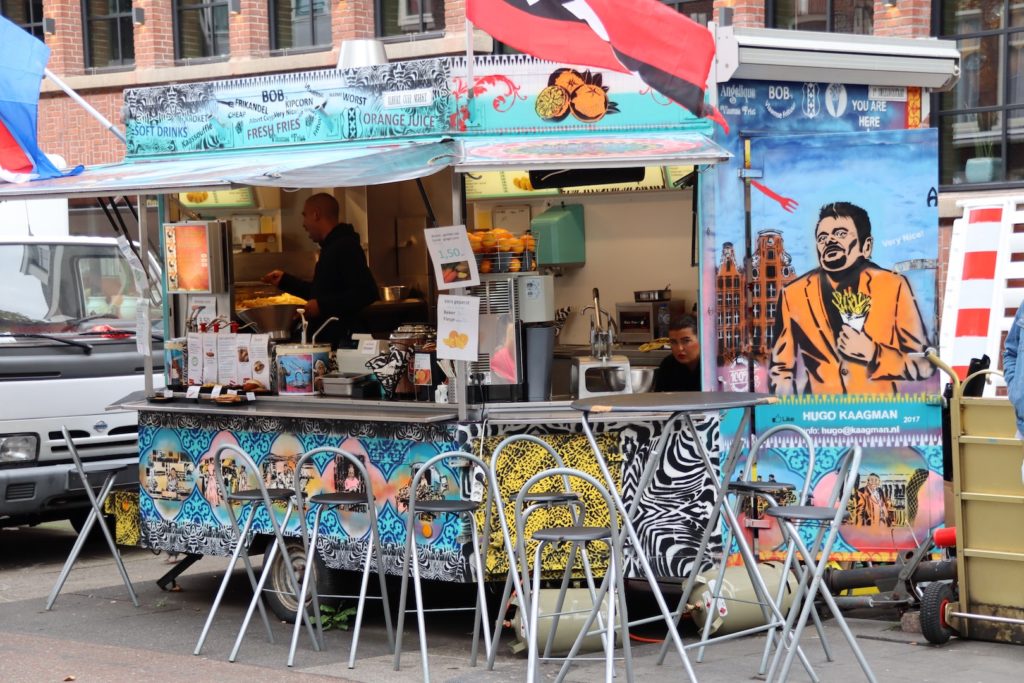 TAKE A TRIP ALONG THE PRINSENGRACHT
There are a total of 165 canals that circle the city of Amsterdam, providing a natural border to the Pjjp, the Jordaan and the Museum Quarter – making the entire city picturesque and in its own way, peaceful.
The most attractive canal is the Prinsengracht, lined with trees and quirky houseboats; visually stunning and wonderfully quaint for an inner city experience. Here, you'll find an eclectic mix of fantastic cafes and restaurants. We're huge fans of John Dory (the restaurant, though we love the fish too!) right on the canal. It's set in a 17th century warehouse and serves the freshest fish from the North Sea in creative, modern ways; just delicious.
We also love Envy, another hip as hell restaurant on the canal which does small plates of style and sophistication paired with a lovely view of the water. What more could you want? With Amsterdam boat rental available, you can curate your own culinary tour of the canals in style.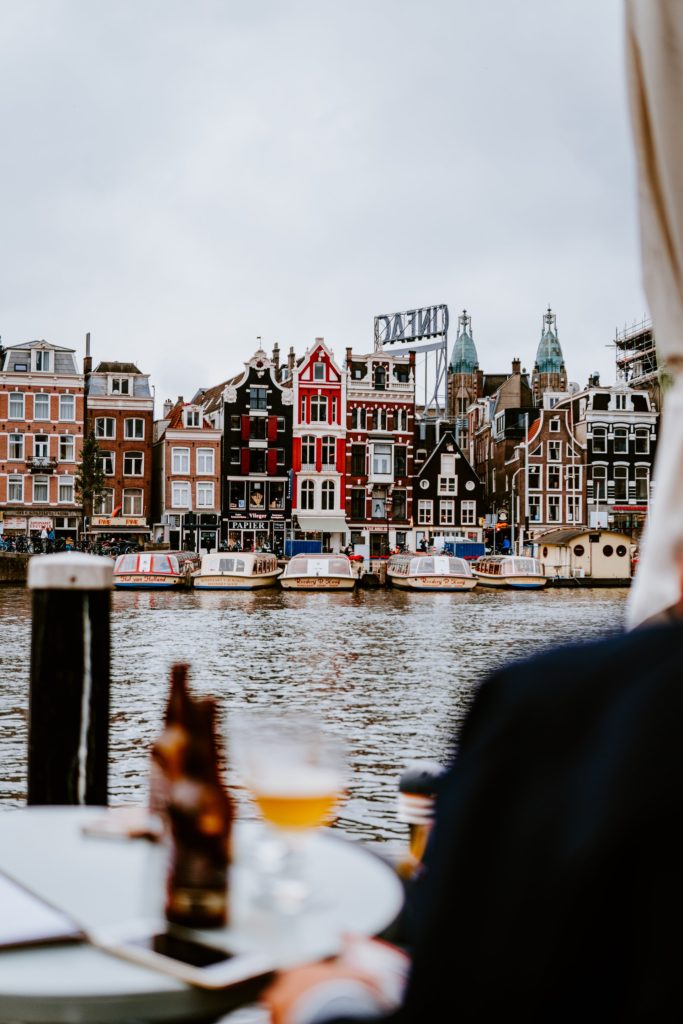 SPEND AN EVENING AT FOODHALLEN
Set in the old tram depot in Amsterdam's cool Oud-West neighbourhood and inspired by Torvehallerne in Copenhagen, Foodhallen is the first indoor food market of it's kind in the Netherlands. Streetfood fans will delight in the large space lined with over 20 street food vendors serving up gastronomic delights from Michelin star concepts to 'international streetfood'. We particularly love the soft shell crab baps from Le Big fish as well as l'Entrecote's superb steak sarnies.
There's live music in the evenings and every Friday and Saturday the market hosts a live DJ set until 1am. So if music and food is your thing (and it is very much ours), you'd be mad not to visit Foodhallen.
HAVE A PICNIC
Amsterdam's largest green space, Vondelpark, is the ideal place to have a picnic. In fact, on a bright day, we'd say Amsterdam is the ideal city to eat alfresco; fresh, convivial and with great cheese. Result!
Named after the famous Dutch poet Joost van den Vondel, these 46 hectares of public green space play host to sculpture and open air theatre, and there are also restaurants and cafes dotted around, meaning it's possible to spend the whole day here if you wish.
Perfectly poised to cater to those wanting to enjoy a picnic in Vondelpark are several excellent delicatessens, particularly along the park's south side. Kooy's Deli, on Valeriusplein, is just a couple minutes walk from the park, and serves up baguettes using the best Dutch charcuterie and cheese.
Or, if it's a bit of globe trotting you're after, Benteng, an Indonesian deli, sells a rich variety of freshly made curries, stir fries and salads daily, and from there, a 15 minute walk south-west along Koninginneweg will bring you to A Loja, a Portuguese deli serving up some cracking custard tarts. Did we just write your menu for you? You can thank us later.