Slowly but surely, and with an unassuming confidence, Lisbon has become one of the world's great foodie destinations. It's easy to see why; the national produce, particularly from the Atlantic, is bountiful, affordable and served as fresh as you like. What's more, despite the famous hills, the city is eminently strollable, and the cobbled streets are lined with cafes and beer joints you'd be more than happy to stumble across (stumble you will, those cobbles get slippery) and pitch up in for the afternoon. Warm welcomes abound here, and the country does snacks like no other.
You'll also find haute cuisine, with celebrity chef Jose de Allivez having several outposts in the city, including two Michelin starred Belcanto. All in all, come here hungry and with an open mind, and you won't be disappointed; we can guarantee that. You'll want to tick these off your list. From pastel de nata to bifana here's what to eat in Lisbon, Portugal – our 7 IDEAL things to eat in Lisbon, Portugal.
SHELLFISH
It's not an exaggeration to say that Lisbon is one of the best places in the world for shellfish and if you're wondering what to eat in Lisbon, Portugal, you'd be a fool to leave the city without sampling as much of it as possible. The best of it is served at informal, boisterous and completely unpretentious restaurants known as Cervejarias (places where beer is dispensed) serving platters of mainly grilled shellfish in a convivial atmosphere. Wash your meal down with that requisite beer or better still, a glass of Vinho Verde, a dry green wine from Portugal which goes exceptionally well with seafood.
The best place in town to eat seafood is undoubtedly Cervejaria Ramiro; a Lisbon institution and one which has lost none of its charm as its popularity has grown. For us, the absolute standout is the scarlet prawn; the size of your forearm and boasting enough of those all important head juices to fill a teacup. The clams here are excellent, too. But enough of the eulogising, we're getting hungry. Head on over to our roundup of best places to eat seafood in Lisbon here, to find out more.
PASTEL DE NATA
Ask anyone what to eat in Lisbon, Portgual, and they'll likely tell you pastel de nata. Indeed, the famous Portuguese custard tart – puff pastry, egg, milk and sugar, with a touch of cinnamon spice – is perhaps the country's biggest culinary export. But forget those claggy ones you've had off some subpar place on the British high street. The real deal is a different beast entirely.
It's worth making the journey to Belem, a 45 minute tram trip, to sample the goods served at Pastéis De Belém; they began making the tart in 1837 according to a secret, ancient recipe from the Mosteiro dos Jerónimos, and lay claim ('arguably'…don't @us) to being the first commercial operation to do so.
If you don't have the time for that jaunt west in search of sweet treat heaven, then Manteigaria, a custard tart factory with a stall in the Mercado da Ribeira, serves up the best custard tarts in town. Their second joint – the original – is on the corner of Largo de Camoes.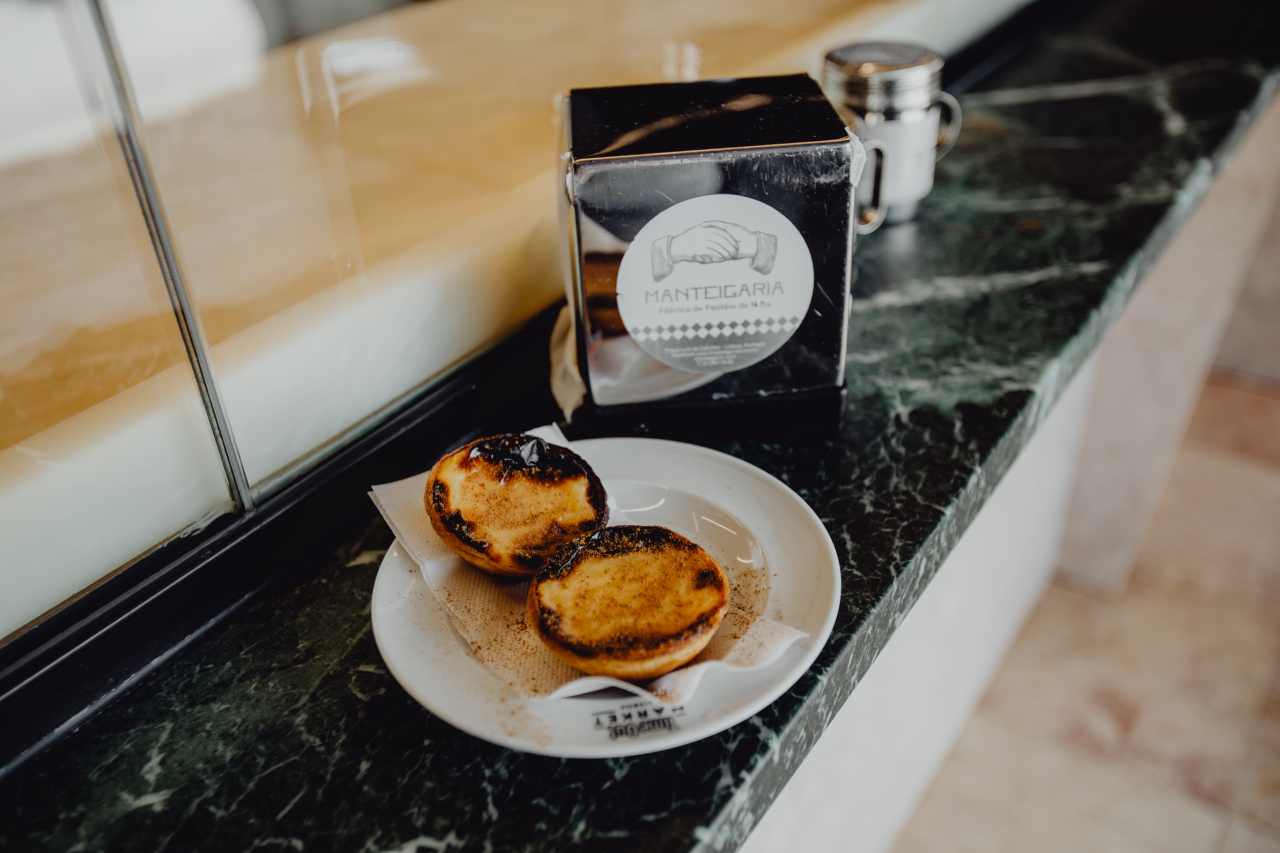 TINNED FISH
Doesn't sound all that exciting, does it? But to dismiss tinned fish would be to miss out on a Portuguese staple, tradition, and a worthwhile meal indeed. Many head to Sol E Pesca, on the lively, perennially popular Pink Street, for a few snacks of tinned sardines, horse mackerel or octopus (to name but a few) on bread; paired with a beer and a spot of people watching there could be no better early evening activity in the city.
Don't leave without visiting Conserveira de Lisboa, a shop in the Baixa neighbourhood selling the tinned stuff and a tourist attraction to boot. When you visit you'll understand why; towers of colourful tins line every wall, and the quality here is top notch. When you make a purchase, they'll wrap the tin up in wax paper and tie it with a bow of twine for good measure; the perfect souvenir or gift, we think.
SARDINES
Speak about Portuguese cuisine to anyone in the know and sardines will soon be a central talking point. They're just so damn good here, the temperature of the surrounding Atlantic waters seemingly bringing out the best in the catch. Visit in June, during the Festa de Lisboa (celebrating Saint Anthony) and you'll see them getting the grill treatment all over town, blistered, aromatic and at their best. Enjoy fresh and grilled, or tinned on toast!
BIFANA & PREGO
The Portuguese certainly know how to make a sandwich. And after a trip to Lisbon, you'll be looking at that supermarket meal deal of yours even more resentfully, because the sarnies here are as fresh and affordable as you like.
The two juggernauts are the Bifana and Prego, both beautiful in their simplicity. The former sees pork loin sauteed in garlic and white wine, plonked in a crusty roll (did we mention how good the bread is here?). And that's it. Who can argue with that, hey? The prego is the beef version, usually pepped up with a bit of mustard.
Embrace the clarity and restraint of it all at As Bifanas do Alfonso. Or, for a more upmarket, refined version which stays true to the soul of the sandwich, try the suckling pig sandwich at Barrio do Avillez' Taberna; sensational.
PIRI PIRI CHICKEN
Did we say the custard tart was Portugal's greatest culinary export? Well, we might want to correct that claim. Because the country is equally proud of its grilled chicken, with Piri-Piri gaining huge popularity after the recipe for this particular grilled chicken and hot sauce was brought back by Portuguese travellers who had enjoyed it so much in Mozambique and Angola. Though the first shop of its kind in the country was in the Algarve, Lisbon boasts several historic Frango Assado (roast chicken) com Piri-Piri restaurants, many of which simply do takeaway. Indeed, this is the city's favourite fast food, make no mistake.
The finest, in our humble opinion, is found at A Valenciana, on Rue Marques de Fronteira in the city's northwest. Here the skin is crispy, the flesh smokey and the sauce extra spicy. And that's all you need, right?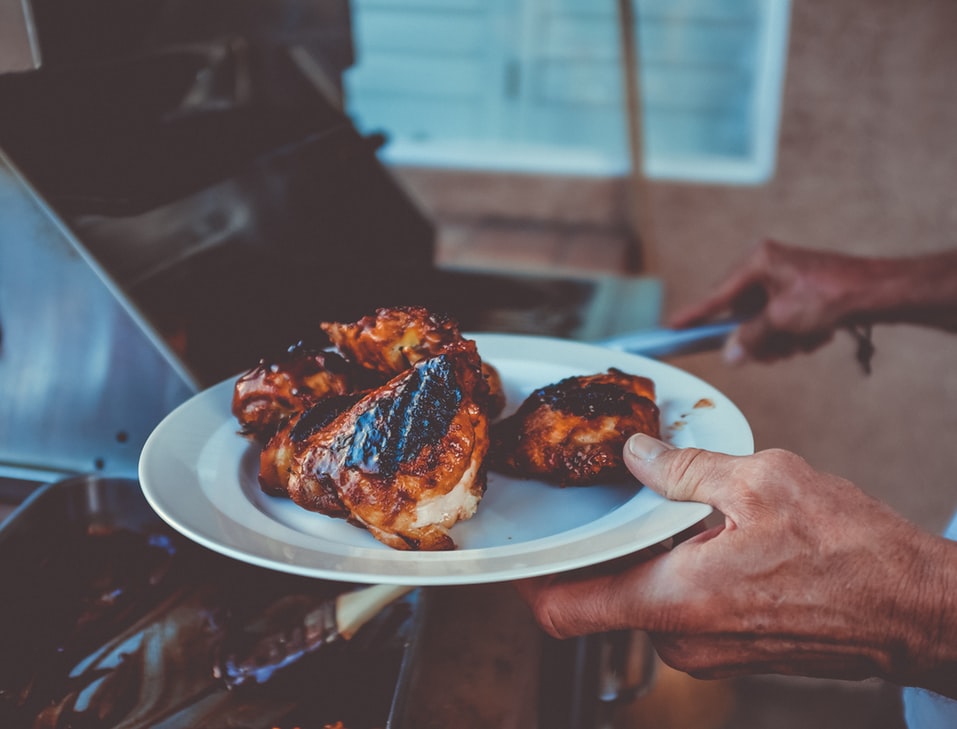 BACALHAU
Portuguese salt cod (though Bacalhau just means 'cod', in context it usually refers to the salted kind) is a joy, and many view it as the national dish. As such, you'll find it everywhere in Lisbon. Though it comes in myriad forms across the city, salt cod here remains refreshingly, resolutely unpretentious in its serving; the flavours allowed to speak for themself.
At A Casa do Bacalhau (the 'House of Cod'), the fish appears in nearly 30 dishes. And you'll want to try the Bacalhau a Bras – shredded salt cod with eggs and olives – somewhere in the Barrio Alto neighbourhood where it originated; try As Salgadeiras or Sabor do Bacalhau for some of the finest. Oh, and to finish your trip (and you) off, head to the Time Out Market for salt cod croquettes at the market's Croqueteria.
And with that, we wish you a happy trip and even happier eating! Just remember to renew that gym membership when you get home.