When one thinks of safaris, the vast plains of Africa and their abundant wildlife are no doubt the first locations that come to mind. But to remain mono-continental would miss out on the unique and memorable safari experiences on offer in some of the world's other far-flung corners.
Whilst luxury Kenyan safaris and trips to Tanzania still regularly rank as the most popular wildlife holidays in the world, such animal-spotting sojourns shouldn't only be confined to the world's second largest continent.
Today, we're taking readers on a journey to discover some of the best safari destinations outside of Africa. Care to join us?
The Pantanal, Brazil
Nestled in the heart of South America and with limbs in Bolivia, Paraguay and, most prominently, Brazil, The Pantanal is the world's largest tropical wetland area, spanning over 70,000 square miles. This UNESCO World Heritage site is home to an impressive array of flora and fauna, including jaguars (the biggest cat in the Americas), capybaras, and the biggest parrot on the planet, the hyacinth macaw alongside hundreds of other bird species.
It's not only vast wetlands and wildlife, though; there's also plenty of luxury accommodation on offer here. Our favourite is perhaps The Araras Eco Lodge, which offers eco-conscious travellers a luxurious retreat amidst the natural beauty of the Pantanal. With its comfortable accommodation, guided tours, and a commitment to sustainability, this lodge provides an unforgettable safari experience.
While exploring the Pantanal, visitors can also immerse themselves in the rich culture of Brazil. A trip to the nearby city of Cuiabá offers opportunities to savour traditional cuisine, visit local markets, and learn about the indigenous peoples of the region. Nearby there is also the Bioparque Pantanal, the largest fresh water aquarium from the whole Latin America. It has 5 million litres of water and more than 200 species of animals from the Pantanal and other regions.
All in all, this is not only one of the world's best safaris, but also one of its most unique and educational holidays, period.
---
Tiger Safaris, India
India's diverse landscapes provide the perfect backdrop for thrilling tiger safaris. The country is home to more than 70% of the world's wild tiger population, making it an ideal destination for wildlife enthusiasts who love their mammals to boast black and orange strips. Ranthambore National Park, Bandhavgarh National Park, and Kanha National Park are among the most popular spots for tiger sightings.

At Ranthambore National Park, you can catch a glimpse of the elusive Bengal Tiger alongside opportunities to encounter leopards, crocodiles, sloth bears, and numerous bird species.
A stay at the Aman-i-Khas, a luxury tented camp situated on the edge of Ranthambore National Park, ensures a remarkable experience. Guests can enjoy lavish tents with all the modern amenities, as well as guided safaris, spa treatments, and fine dining.
Even if you're not lucky enough to spot any animals on your safari, visitors to Rajasthan can explore the vibrant culture and history of India. The state is known for its majestic palaces, ancient forts, and colourful festivals.
Jaipur, the capital city of Rajasthan, is a must-visit destination for travellers seeking to immerse themselves in Northern Indian culture. Visitors can explore the stunning Amber Fort, marvel at the intricate architecture of the Hawa Mahal, and shop for traditional handicrafts at local markets.
---
The Great Bear Rainforest, Canada
For those seeking a safari adventure with a difference, the Great Bear Rainforest in British Columbia, Canada, offers an unparalleled experience. This vast wilderness is home to the elusive spirit bear, a rare subspecies of black bear with a white coat (nope, that is not a polar bear you see shimmying up a Canadian tree). Other inhabitants of this magnificent reserve include grizzly bears, wolves, and humpback whales. That's not real heavy-hitters right there.

Looking for somewhere to stay? Of course you are; you wouldn't leave yourself prone to all those bears, would you? Anyway, The Nimmo Bay Wilderness Resort provides an exclusive and luxurious base for exploring the Great Bear Rainforest. Guests can stay in elegant cabins, enjoy gourmet meals prepared with locally-sourced ingredients, and partake in activities such as heli-hiking and kayaking.
Beyond the rainforest, visitors to British Columbia can explore the dynamic cities of Vancouver and Victoria, both of which offer a fusion of urban and outdoor experiences. In Downtown Vancouver, visitors can stroll through Stanley Park, shop in its hip and happening neighbourhoods, and enjoy world-class dining experiences. Meanwhile, Victoria's charming streets are lined with historic buildings, boutique shops, and quaint cafes. A visit to the famous Butchart Gardens is a must-see for any nature lover.

For those looking for even more adventure, British Columbia offers a range of outdoor activities such as skiing, hiking, and whale watching, the best of which occurs between May and October.
Conveniently, Victoria and Vancouver Island offer some of the best whale watching opportunities, where you can spot orcas, humpback whales, and grey whales in their natural habitats. Other popular spots are Tofino, Telegraph Cove, and the Johnstone Strait, which are known for their abundant marine life and stunning scenery. Talk about a sea safari
---
The Galapagos Islands, Ecuador
The Galapagos Islands, located off the coast of Ecuador, offer a unique safari experience unlike any other. This remote archipelago is renowned for its incredible biodiversity and is home to many species found nowhere else on earth. Visitors can witness giant tortoises, marine iguanas, and blue-footed boobies in their natural habitats while exploring this remarkable destination, with the Galapagos islands throwing up some of the finest wildlife photography opportunities on the planet.

In terms of accommodation options that fall on the more luxurious side of things, The Pikaia Lodge, situated amid the rugged landscape of Santa Cruz Island, offers guests an oasis in the heart of the Galapagos. With its eco-friendly design, infinity pool, and gourmet cuisine, this lodge provides the perfect base for exploring the islands.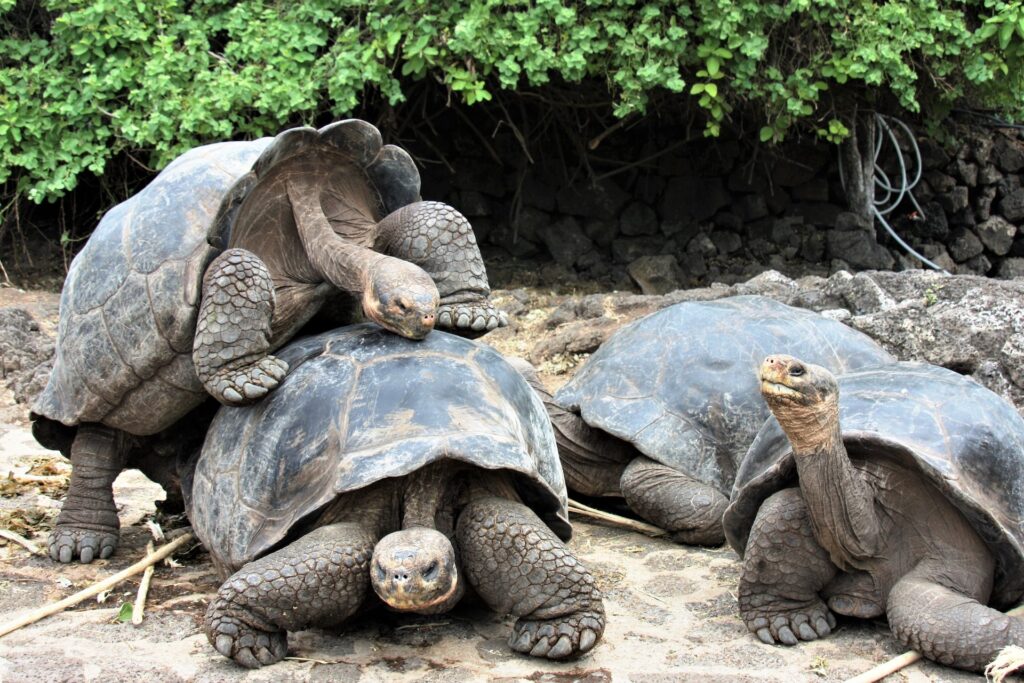 Or how about The Ecoventura MV Origin? A luxurious yacht, this lodging offers a one-of-a-kind safari experience in the Galapagos. With its spacious suites, gourmet dining, and expert naturalist guides, this vessel ensures that guests have a comfortable and unforgettable adventure.

In addition to close encounters of the wildlife kind, visitors to the Galapagos can also enjoy snorkelling among sea turtles and tropical fish (can we say 'talk about sea safari!' again?), hiking volcanic peaks, and learning about the conservation efforts that are helping to preserve this unique ecosystem. The historic, high-altitude capital city of Quito, just a short flight away, offers a fascinating glimpse into both ancient and contemporary Ecuadorian culture and history, too, with its well-preserved colonial architecture and vibrant arts scene.
---
Yellowstone National Park, USA
The USA's Yellowstone National Park is a true wilderness wonderland that offers visitors a chance to experience the great outdoors in all its glory. This park, located primarily in Wyoming, is home to an incredible array of wildlife, including grizzly bears, wolves, and bison.
Travellers can explore the park's stunning natural features such as Old Faithful, a geyser that erupts regularly, and the Grand Canyon of the Yellowstone, a breathtaking canyon carved by the Yellowstone River. Staying at the luxurious Amangani resort, located just a short, wonderfully scenic drive from the park, allows guests to be close to nature while also enjoying world-class amenities such as a spa, infinity pool, and fine dining at The Grill, who use locally foraged ingredients, seasonal farm produce and sustainable ranch meats to great effect.

For those who want to get up close and personal with Yellowstone's wildlife, guided tours are available that offer a chance to spot animals in their natural habitats. Hiking and fishing are also popular activities in the park, with miles of trails and rivers to explore. In the winter months, visitors can even go snowmobiling or cross-country skiing in the park's snowy landscapes. The mammoth hot springs are a sight to behold too, however no swimming is allowed.

In addition to Yellowstone, the American West is full of other stunning natural wonders such as the Grand Canyon, Yosemite National Park, and Zion National Park. Each of these destinations offers its own unique blend of outdoor adventure and natural beauty, making them must-visit destinations for any nature lover.
---
Borneo, Malaysia/Indonesia
The island of Borneo hosts a remarkable diversity of wildlife, including the endangered orangutan, pygmy elephants, and proboscis monkeys.
Visitors to Borneo can stay at the luxurious Shangri-La Rasa Ria Resort, which offers a breathtaking view of the South China Sea and a private nature reserve where guests can see orangutans in their natural habitat. The resort also features a world-class golf course, a spa, and multiple dining options that serve delicious local cuisine. And trust us; you want to try the local cuisine in Borneo.
Beyond the resort, visitors can explore the rainforests of Borneo and discover the incredible flora and fauna that call it home. Guided tours are available that take visitors to see the orangutans up close, as well as other wildlife such as pygmy elephants, macaques, and hornbills. For those who love adventure, Borneo offers activities such as white-water rafting, jungle trekking, and diving in some of the world's most pristine coral reefs.
Intrepid travellers can also learn about the culture and traditions of the indigenous people of Borneo, such as the Iban and Dayak tribes. These communities have lived in harmony with the rainforest for centuries and offer a unique insight into a way of life that is rapidly disappearing in the modern world. Borneo truly is a destination that has something for everyone, from luxury resorts to unforgettable wildlife encounters and cultural experiences.
---
The Bottom Line
While Africa still retains the bulk of the world's most classic safari destinations, these remarkable locations outside the continent offer unique and unforgettable wildlife experiences. By combining luxury accommodations, incredible animal encounters, and enriching cultural activities, travellers can embark on a safari adventure that transcends expectations. And that's what exploring the world is all about, right?