Known for its rich contributions to art, architecture, music, sport, film, and television, Leeds, England, has long been a cornerstone of Yorkshire's contemporary culture. The city's cultural scene is deeply rooted in its history, dating back to its development as a prominent market town during the Middle Ages. 
As the Industrial Revolution swept across England, Leeds transformed into a major mill town, with industries such as wool, flax, engineering, iron foundries, and printing playing significant roles in its growth.
The city's cultural prowess extends beyond industry and commerce, of course. Leeds has been home to many notable artists and sculptors in its history, including Kenneth Armitage, John Atkinson Grimshaw, Jacob Kramer, Barbara Hepworth, Henry Moore, Edward Wadsworth, and Joash Woodrow.
The city's art scene was further enriched by The Leeds Arts Club, a radical modernist arts organisation that existed from 1903 to 1923. This club was instrumental in promoting German Expressionist ideas about art and culture, staging early British exhibitions of work by European expressionist artists.
Leeds' cultural landscape also includes a thriving music scene, with bands like Gang of Four, Chumbawamba, The Cribs, and Soft Cell hailing from the region. It is home to Opera North, Northern Ballet, and The Northern School of Contemporary Dance, and hosts the Leeds International Pianoforte Competition annually.
In a city of such cultural prowess, a lively and innovative food scene only naturally follows suit, and the culinary landscape of Leeds is equally impressive, with a strong emphasis on both locally produced ingredients and multicultural influences.
Today, we're exploring the very best the city has to offer; here are our favourite places to eat in Leeds, the Capital of the North.
The Man Behind The Curtain
Leeds' only Michelin-starred restaurant, helmed by the super-talented, super-stylish Michael O'Hare, offers an artistic and culinary experience like no other. With a tasting menu that changes regularly and challenges ever more often, the restaurant is known for its innovative dishes and bold presentation. The name of the restaurant is a nod to The Wizard of Oz, reflecting the chef's playful approach to cuisine.
Expect to see the chef's signature 'Emancipation' dish, made famous as a winner on BBC's Great British Menu, featuring on the menu. This visually stunning monochrome number takes the idea of fish and chips and pulls it apart before reconfiguring the flavours in a thrilling, surprising way. Just delicious!
Closed on Sundays and Mondays, TMBTC is open for dinners Tuesday through Saturday, and also for lunch on Thursdays, Fridays and Saturdays. The current dinner tasting menu is £145.
Read: The best things to do on a girl's weekend in Leeds
Prashad
A family-run establishment, Prashad has been serving superbly spiced Gujarati vegetarian dishes since 1992 (in its original venue) and now in its third decade, the restaurant has never felt more vital. 
In a converted Drighlington pub (roughly equidistant between Bradford and Leeds), spread over two floors, you'll find some of the finest food from the Indian subcontinent anywhere in the UK, with flavours precise yet vivacious, and portions properly generous.
Prashad's prowess hasn't exactly gone unnoticed; the restaurant was featured on this year's BBC's 'The Hidden World of Hospitality with Tom Kerridge', as well as listing in the Good Food Guide. Perhaps even more prestigiously, Prasha holds both 2 AA Rosettes and a Michelin Bib Gourmand award.
Prashad is closed on Mondays, open for dinner Tuesdays to Fridays, and open for both lunch and dinner on Saturdays and Sundays.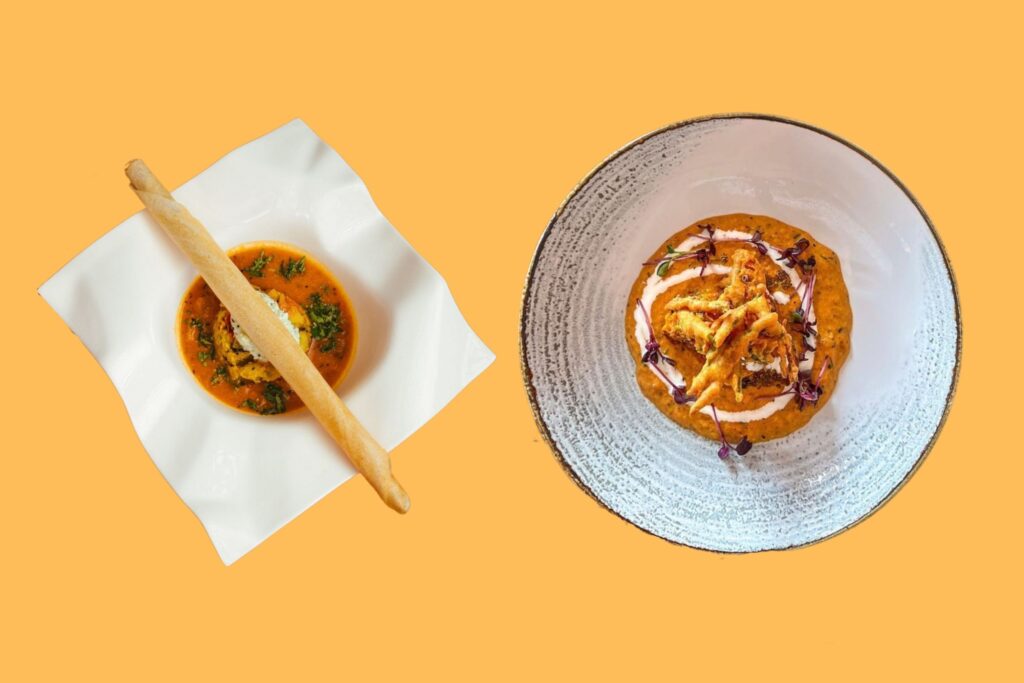 Bundobust
Should you be seeking your fix of vegetarian Indian street food a little closer to Leeds City Centre, then Bundobust is your guy. A collaboration between Mayur Patel (whose parents own the aforementioned Prashad) and craft beer entrepreneur Marko Husak, Bundobust offers a modern take on vegetarian Indian street food paired with a selection of craft beers.
Testament to the success of the concept, the restaurant now boasts five locations across the North and Midlands, but it's at the original here on Mill Hill, just a three minute walk from Leeds Station, that we're dining in today.
Don't miss out on the classic Mumbai snack bhel puri. Studded with pomegranate jewels and piquant from tamarind chutney, it's a textural delight, with broken samosa pastry and puffed rice bringing plenty of crunch. For something heartier and more fulfilling, the chole saag (a chickpea curry of sorts) is knockout, too. Clocking in at just £7.50 and coming with a side of freshly puffed puri, it's one of the best value plates in the city. 
Even better value is the express lunch here, with a snack and main available for just £9.95, Monday to Friday from midday until 4pm.
Wash it all down with a pint of Bundobust's Peela pale ale, and you've got yourself a superb meal for under £20. God it's great up north.
Bundobust is open daily from midday until late, with slightly shorter operating hours on Sundays.
OX Club
Just one wing of the multifunctional events space Headrow House, OX Club specialises in high-quality cooking over flames using the best of Yorkshire produce. What more could you want?
The restaurant is known for its wood-fired dishes, with a menu that balances robust flavours with delicate touches. On a recent visit, a grilled sardine dish, paired with local rhubarb and pickled radish, was as pretty as a picture. For the carnivores, a whopping 600g Dexter beef wing rib chop sits proudly alongside roasted bone marrow and beef fat bearnaise. Sure, you'll need to be stretchered out after taking it down, but as you stare at the ceiling from your pallet, you'll feel very satisfied indeed.
Don't forget to save room for their exquisite desserts – the now ubiquitous burnt Basque cheesecake is done very capably here, and is accompanied by more rhubarb (well, we are in Yorkshire after all!).
OX Club is closed on Mondays and Tuesdays. From Wednesday to Friday, the restaurant is open for dinner only. On Saturday, you can dine from midday until 10pm and on Sundays, OX Club is just open for lunch.
Three's A Crowd
When it was announced that popular gastropub The Reliance was to close earlier this year, Leeds residents were devastated. 
Fortunately, the buyers of the site know a thing or two about running a cosy, welcoming pub that does confidently cooked plates, having run acclaimed Harrogate establishment Three's A Crowd since 2019.
And so, the second iteration of Three's A Crowd has already fallen on its feet and hit its stride, with a relaxed dining room serving up the likes of pheasant and guinea fowl terrine, sloe gin cured salmon, pig cheek ragu over pappardelle.
With prime position just off Lovell Park and a couple of minute's walk from the Grand Theatre and Opera House and the Leeds Playhouse, this one's ideal for a pre (or post) show meal.
Three's A Crowd is open daily from midday until late.
Home
Home cooking this ain't. This fine dining establishment, led by chef Elizabeth Cottam, offers an elegant and innovative tasting menu that uses the best local and seasonal ingredients. Recommended by the Michelin Guide, it's certainly not cheap here, but the quality really shines through. On a recent visit, we went for the Autumn Feast taster, which clocked in at £120 per person for nine courses plus snacks and sweets.
If you love mushrooms, this one's for you, with the four standout courses of the night all centered around locally foraged fungi. The highlight of the lot? Grilled hen of the woods mushrooms brushed with beef fat and dressed with an umami-rich mushroom caramel. Later in the evening, a porcini ice cream continued to underline the auburn, woodsy season we're in.
Home also offers a choice of excellent wine pairings with their set menus – choose from Signature, Premium or Prestige, and for five, seven or twelve (!) pairings, and settle in for an evening where you don't have to do much thinking at all. A real treat.
Home is closed on Mondays and Tuesdays. On Wednesdays and Thursdays, the restaurant is open for dinner only. Fridays and Saturdays see a lunch and a dinner service, whilst on Sundays, it's a lunchtime only affair.
Tharavadu
You've probably guessed by now that some of the country's best regional Indian cuisine is found in Leeds, owing to the city's well-established and diverse South Asian community.
One of the very best Keralan restaurants in the city – and conveniently located near Leeds train station – Tharavadu offers a wide variety of southern Indian dishes. Look out for their crab cooked in coconut sauce, fluffy lentil-fried doughnuts, and smooth vermicelli pudding with cardamom and saffron, in particular.
Closed on Sundays, Tharavadu is open for the rest of the week for both lunch and dinner.
The Swine That Dines
What started as a humble greasy spoon has transformed into a laid back but refined dining experience under the guidance of owners Stu and Jo. The Swine That Dines focuses on small-plate dining, with a regularly changing menu featuring unusual cuts of meat and crisp, concise combinations.
Naturally, there's plenty of piggy bits on the menu, from pork terrine to a hearty main course of belly, chicory and a marsala sauce, but vegetarians can dine well here, too. The goat's cheese souffle with confit fennel and hazelnuts that currently sits on the evening menu is perhaps the star of the whole show.
The Swine also does a popular Sunday lunch set menu of four courses for £37.
The Swine That Dines is closed on Monday through Wednesday before opening for dinner only on Thursday and Friday. On Saturday, it's open from midday through to 10:30pm (with a short break between 4pm and 5:30pm) and on Sundays, you can swing by for lunch between midday and 5pm.
Friends Of Ham
Somewhat surprisingly bearing no relation to The Swine That Dines, since opening in 2012 Friends Of Ham has become a must-visit for Leeds-based food lovers. Known for its wide range of charcuterie and local cheeses, this craft beer and wine bar also boasts an impressive list of craft beers and wines. Their platters are perfect for sharing and are best enjoyed with a cold beer in hand, which, incidentally, we're off for now…
Friends of Ham is open from 11am daily.
And what a feed that was…
But we're not done yet. In fact, we're catching the train an hour or so east, and heading over to Leeds's noisy neighbour Manchester. When we alight, it's to one of the great places to eat near Manchester Piccadilly. Care to join us?