With a shiny new stop on the Elizabeth Line cementing its status as a TFL headlining act, Tottenham Court Road is now the eminent focal point for those wanting easy access to Soho, Covent Garden and Fitzrovia.
But heavy is the head that wears the crown. Peckish passengers, starving shoppers and hungry day-trippers (yep, alliteration has failed us there) might just find that Tottenham Court Road station is a victim of its own success in terms of decent options of where to eat nearby.
Instead, leave the station blinking into the light, and you'll be met with a string of Burger Kings, itsus, Le Pain Quotidiens and LEONs. At least if you're after a big bag of American Candy with a side of tax fraud, you'll be more than adequately served.
That's not to say there aren't fantastic places to eat within a rock's throw of Tottenham Court Road Station; you just have to know where to look. We've done that looking for you; here's where to eat near Tottenham Court Road and the best restaurants near its station.
Noble Rot Soho
Ideal for unfussy dishes of seasonal British fare and arguably the best wine list in the country…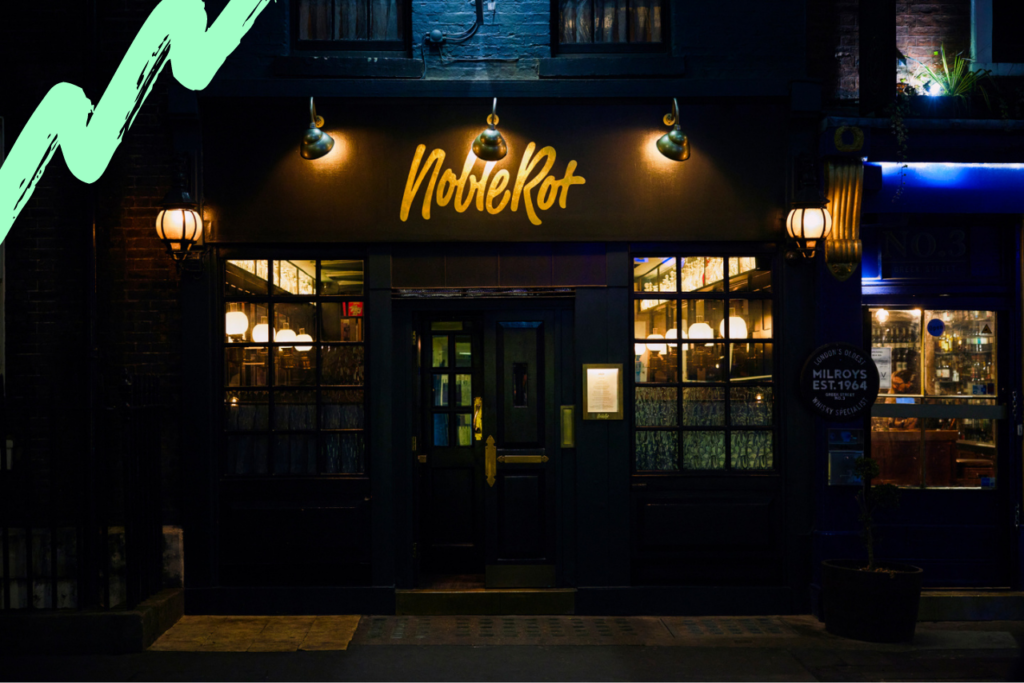 If you're looking for where to eat near Tottenham Court Road, then you'll find one of it just a three minute walk from the station.
A proper 'restaurant' follow-up to the fantastic Noble Rot wine bar on Lamb's Conduit Street, where its older sibling was focused on small plates to complement big drops, Noble Rot Soho is a proudly three course affair, with a superb set lunch menu costing just £22. You won't find better value anywhere in Central London.
Of course, you can veer off-piste and into the a la carte menu proper if you don't want to be confined to the set menu. Start with the pork, rabbit and prune terrine – as good as it sounds – and follow with the restaurant's sharing roast chicken with morels and vin jaune, which has already earnt iconic status with London's culinary cognoscenti, and serves three generously for £70.
Combine those hearty, satisfying dishes with arguably the best wine list in the country, and Noble Rot Soho is without doubt one of the best restaurants close to Tottenham Court Road station.
Address: 2 Greek St, London W1D 4NB
Website: noblerot.co.uk
---
Carousel
Ideal for an ever-changing line-up of the best and brightest chefs from across the globe…
If you've already eaten the length and breadth of Tottenham Court Road and are feeling somewhat uninspired, then perhaps the ever rotating cast of chefs and cuisines at Carousel will have you returning to dine in Central London again?
A unique dining concept on the eastern outskirts of Marylebone, Carousel is part restaurant, part creative hub. Each week, from Tuesday to Saturday, a new guest chef takes over the kitchen, with the restaurant introducing some of the brightest young talents from across the world to the hungry punters of Charlotte Street.
Coming up this month, the restaurant cum wine bar is playing host to Venezuelan born chef Patxi Andres, whose time working at arguably Chile's best restaurant Boragó as well as London's very own Black Axe Mangal has blessed his cooking with a rebellious, no holds barred sensibility. Later in the month, Mexico City's Hugo Durán brings his celebration of indigenous southeastern Mexican cuisine.
In addition to the main dining area, Carousel also hosts art exhibitions, workshops, and live performances, making it a true cultural destination.
For those wishing to try as wide a variety of cuisines and chef's styles as possible, Carousel is a great option.
Address: 19-23 Charlotte St., London W1T 1RL
Website: carousel-london.com
---
Arcade Food Hall
Ideal for a veritable feast of global cuisines under one roof…
Speaking of trying as much as you can manage all under one roof, it's been pretty impossible to miss the buzz surrounding the JKS-backed Arcade Food Hall since its opening in April of this year.
Housed in the Centre Point building on New Oxford Street, and just a few second's stroll from Tottenham Court Road station, Arcade Food Hall offers a veritable feast of global cuisines, with 8 restaurant concepts currently operating here, and a fully-fledged Southern Thai joint on the mezzanine above the communal dining area.
That Southern Thai restaurant is Plaza Khao Gaeng, which, despite only being two months old, is already doing some of the most faithfully composed, fiery food from The Kingdom anywhere in London.
Though much has been written about the fearsome chilli levels on display here, it's the vivacity of the ingredients that really shine through. The coconut cream in the massaman and chicken curries tastes freshly pressed (a labour intensive process that's rare to find in the capital), the sour curry sparkles with garcinia fruit as opposed to just lime and tamarind, the khua kling's green peppercorns bring rasping heat alongside the undulating presence of various fresh and dried chillies. It's magic. Our only complaint? More elbow room on the tables, please!
Speaking of finding room, if you've somehow managed to save stomach space for seconds, then on the floor below there's sushi, smash burgers, shawarma and more.
Address: 103-105 New Oxford St, London WC1A 1DB
Website: arcadefoodhall.com
---
Laksamania
Ideal for traditional Malaysian eats…
Post-office diners beware; no starched white shirt is safe from the enthusiastic slurping of soup and noodle that Laksamania encourages. Or rather, that Laksamania demands…
Offering one of the best value quick meals in Central London, there's a decent selection of laksa here, none of which top the £15 mark and all of which are a generous size for a pit-stop and a re-fuel near Tottenham Court Road.
Here, the soup is simmered for 8 hours or so, resulting in a decent level of complexity difficult to find in this part of London (though, a little further afield, both Normah's and Bugis Street Brasserie do an arguably superior version).
Our go-to order? The Melaka curry laksa, which in the Nyonya tradition delivers a hot and sour one-two punch, the former asserted by the addition of sambal. A carefully positioned napkin (or bring-your-own bib) is pretty much essential, here.
There are other things than Laksa on the menu. Think generously portioned plates of wonton char siu lo mein and sticks of satay that come with a deep and earthy peanut sauce.
Address: 92 Newman St, London W1T 3EZ
Website: Laksamania.co.uk
---
Lima
Ideal for exciting Peruvian plates of colour and precision…
If you're wondering where to eat close to Tottenham Court Road Station, then a simple five minute stroll will deposit you on Rathbone Place and at Lima, a restaurant doing punchy Peruvian plates without too much fuss or frippery.
Check out our full review of Lima here.
Address: 31 Rathbone Pl, London W1T 1JH
Website: limalondon.com
---
Flat Iron
Ideal for when steak and chips is on the night's agenda…
You'd be hard pressed to find a decent steak for under £30 in the centre of London. Which is what makes Flat Iron (a two minute walk from Tottenham Court Road Station) all the more remarkable; a properly good product, slowly reared and generously marbled, cooked to perfection, for just £13.
Yep, you read that right; £13. You'd pay similar for a smoothie along Oxford Street.
It's the simplicity of the proposition here that's so appealing; there's only one steak (though there are a couple of specials) on the menu – 'The Flat Iron' – alongside chips, green salad, and a selection of sauces. There's no danger of getting gripped by the paradox of choice, which in the hustle and bustle of Central London, is very welcome indeed.
And get this; a bottle of rustic but drinkable Italian Rosso is £22. You could say that their motto ''great steak for everyone'' might even sell Flat Iron short!
Address: 9 Denmark St, London WC2H 8LS
Website: flatironsteak.co.uk
---
The Ninth
Ideal for relaxed Michelin-starred Mediterranean-influenced dining…
Michelin-starred dining doesn't come more laid-back than at The Ninth, just a few minutes' walk from Tottenham Court Road. That's not to say the Mediterranean-inspired plates aren't worthy of a star; chef Jun Tanaka's cooking is as poised and precise as you like, with the restaurant's rabbit lasagna earning cult status soon after opening in 2016.
If it's on, order it, as the chefs at The Ninth have a wicked way with pasta. If not, anything from that section of the menu is guaranteed to wow you. Save room for the restaurant's signature pain perdu, and you're going to leave satisfied. You'll also be grateful that Tottenham Court Road Station is on hand to whisk you home.
Address: 22 Charlotte St., London W1T 2NB
Website: theninthlondon.com
---
BAO Fitzrovia ***Now Closed***
Do the visually arresting Taiwanese street food purveyors at BAO even need an introduction anymore? All we'll say is that BAO Fitzrovia is one of the best places to eat near Tottenham Court Road, which is what you came here to find out, right?
Read: Where to eat the best bao buns in London
Website: baolondon.com
Address: 31 Windmill St, London W1T 2JN
---
Roka, Charlotte Street
Ideal for for contemporary Japanese cuisine that seems to fuse Dubai and Tokyo…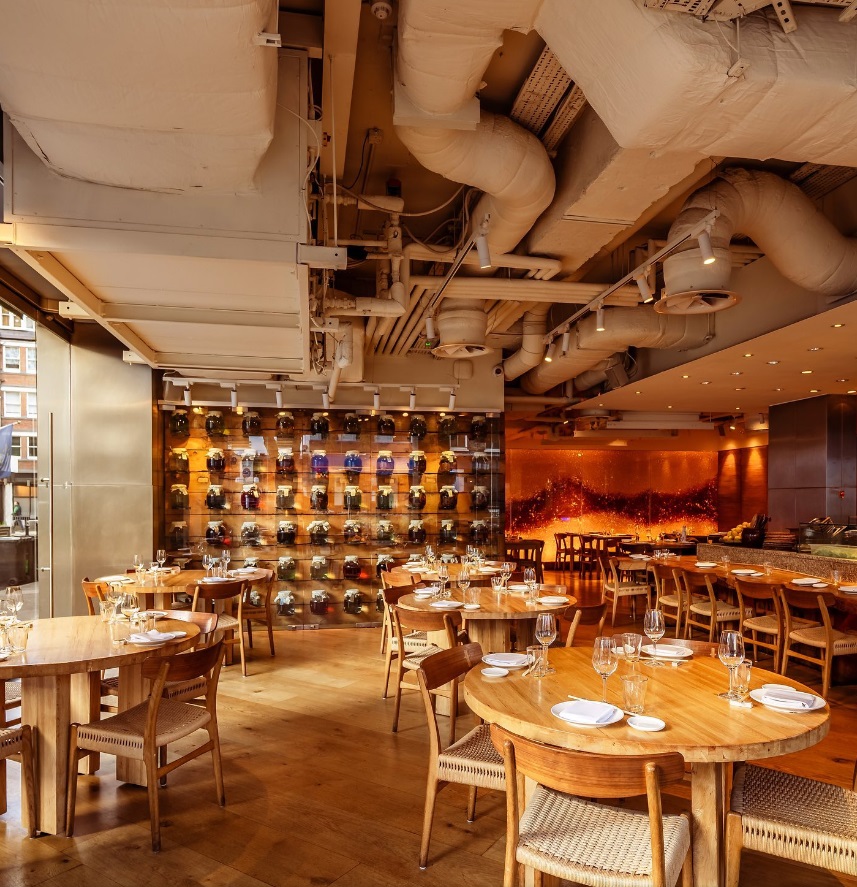 Roka is the place to head if hunger strikes when you're on Tottenham Court Road and you're willing to part with a pretty penny.
Specialising in robatayaki (charcoal-grilled) dishes and featuring a central robata grill, Roka Charlotte Street has been open since 2004, with three subsequent branches following in the two decades since.
Still, it's to the mothership (incidentally the closest to Tottenham Court Road of the four outposts) that we head for premium Japanese and British ingredients grilled with precision, so the smoke and char complements rather than overpowers.
You wouldn't, after all, want to fork out £100 on a portion of tokujou wagyu only for it to arrive decimated by the flame. Fear not; this one hits the table barked but blushing, glazed with a piquant wasabi ponzu and finished with whispers of finely sliced spring onion. The black cod, marinated in yuzu before getting kissed by the coals, is even better, with a properly caramelised crust given way to flakes of pearlescent flesh.
The chefs here don't spend all their time wrestling with errant bricks of bincho-tan, however. There's also an extensive menu of sushi and sashimi, and a tasting menu that combines the raw menu with the grilled. Yours for £105 per person.
Though Roka doesn't feature in London's Michelin Guide, it does boast 3 AA Rosettes, considered to be roughly equivalent to a star.
Address:37 Charlotte St., London W1T 1RR
Website: rokarestaurant.com
---
The Barbary
Ideal for intoxicating Berber-style flavours…
Neal's Yard, just a five minute walk from Tottenham Court Road, has to be one of London's prettiest streets, replete with brightly rendered facades and an independent soul. It's here that you'll find a similarly maverick place to eat, the Barbary.
Boasting intoxicating Berber-style flavours in an atmosphere that, quite frankly, is easy to get carried away in, the Arak flows almost as freely as the house hummus, here enlivened with a piquant tatbila source, all scorched green chilli, garlic and lemon juice. Grab a sesame and nigella seed glazed flatbread and dredge on through.
From the larger plates section of the menu, titled a-la-esh ('on the fire'), you'll find dishes from 'land', 'sea', and 'earth', the bulk of which fall in the latter camp. The jaffa-style cauliflower is a real highlight, arriving as charred golden florets positively bathing in a garlic and lemon sauce.
Try to resist ordering the smoked octopus labneh alongside it – three words that jump out from any menu, that's for sure. Here, a buxom tentacle that's been kissed by the grill hits the counter curled around a tumble of chickpeas and herbs, their bed a particularly perky, bright white labneh (the strained yoghurt that rarely isn't part of the Levantine table). A class dish, this one.
All of this is served up around horseshoe-style seating with plenty of on-the-house shots being poured for patrons, whether long loyal or uninitiated. Those who haven't been before are certain to return, we think.
Address: 16 Neal's Yard, London WC2H 9DP
Website: thebarbary.co.uk
---
Paradise Soho
Ideal for a contemporary take on the food of Sri Lanka…
Sure, we could veer off Tottenham Court Road in search of Sri Lankan food and find ourselves within a few short, erm, hops of Hoppers. Here, we'd be confident of a fine feed indeed.
But in our view, Central London's best spot for gorgeously spiced, contemporary takes on the food of Sri Lanka is within the brutalist confines of Paradise Soho. Open since 2019 and with a menu that makes no concessions to keeping its classics on the menu longer than their natural lifespan (those mutton rolls are now an intriguing mutton roll tartare), the food here has a self-proclaimed fiery accent, with brooding dried and deep fried chillies, as well as pounded and thinly sliced fresh ones appearing in just about every dish.
That's fine by us; try resisting the mustard butter glazed tranche of Cornish turbot, served swimming in a copper-coloured lobster curry, given extra heft (and kick!) with a coconut and chilli sambol. Oof.
If that hasn't satisfied you (firstly, perhaps it's time to talk to someone), then pull through the final licks of that sauce with Paradise's lamb-fat paratha roti.
They do a mean cocktail here, too, all stripped back and elegant much like the space. The restaurant's Seeni Banana Old Fashioned, made simply with Buffalo Trace bourbon, imported Ceylon arrack and prized Sri Lankan ambul bananas, is a case in point; it's somehow both complex and uncomplicated, all at once.
Address: 61 Rupert St, London W1D 7PW
Website: paradisesoho.com
---
Koya Soho
Ideal for a nourishing bowl of udon noodles…
We end, conversely, with perhaps our favourite place to eat breakfast in the whole of London, and certainly the best breakfast close to Tottenham Court Road; at Koya.
Opening at 10am, seven days a week, the restaurant specialises in udon noodle and rice dishes, with austere menu descriptions belying the masterful preparation and technique involved in these nourishing dishes. This is soul food, make no mistake, and ideal for kicking off a day's shopping along Oxford Street.
The must-order for breakfast? It's got to be Koya's version of kedgeree, which is simply divine. Or, how about the divinely simple kama tama; udon noodles with egg, soy sauce and spring onion? That will set you up for whatever the day brings.
Address: 50 Frith St, London W1D 4SQ
Website: koya.co.uk