In the heart of London's West End – a broad term that encompasses Westminster and Kensington and Chelsea – lies a glittering gem renowned globally for its dazzling drama and sparkling performances.
No, we're not talking about the London Coliseum or Palladium, striking as they may be. Rather, we're referring to the West End's other great centres of showmanship; its restaurants.
Indeed, both the culinary and the theatrical roots of the West End run deep, the latter stretching back to the dawning of the Restoration period in the 17th century, when the reopening of theatres marked an era of unbridled creativity, innovation and artistic expression.
Over the centuries, this district has evolved into a theatrical powerhouse, featuring remarkable venues from the grand and ornate, like the Royal Opera House, to the more intimate, such as the Ambassadors Theatre. Today, this legendary locale is synonymous with the best that theatre has to offer – a place where dreams take centre stage, where heartache and euphoria intermingle in tales of love, loss, and ambition.
Yet, the allure of the West End extends beyond its stunning performances. There is an intrinsic romance surrounding the tradition of attending theatre in this magical corner of London. Part of this allure comes from the cherished ritual of dining before the curtain rises – the pre-theatre meal.
The concept of a pre-theatre meal is as time-honoured as the West End itself, rooted in the practicality of dining early enough to ensure no late arrivals to the auditorium (and the disruption of rustling crisp packets once the show has begun).
However, it's the convivial charm of these meals that has truly made them an enduring tradition. A moment of anticipation, where palate-pleasing cuisine gives way to the excitement of the impending performance – it's a match made in heaven.
Today, we're exploring that delicious opening act with an eye on our pockets, seeking out the best dinner deals, price fixes and set menus in the heart of London's theatre district.
So, with that in mind, here's where to find the best value pre-theatre menus in London's West End.
Wild Honey, St. James
Ideal for effortless Modern European cuisine with an eminently reasonable price tag…
Chef Anthony Demetre is one of the most unassumingly influential chefs in the UK, and a man whose first restaurant Arbutus was credited with bringing the Modern European, small plates vibe to Central London long before pretty much every other restaurant in the UK was doing the same.
We'd go as far as to say that his Michelin-starred restaurant Wild Honey does the flagship pre-theatre menu in London. Running from Tuesdays through Saturdays from 5pm to 6:30pm, and packed out for each of those five early evenings, the proposition here is refreshingly simple; 3 courses of effortlessly faultless, always generous cooking for an eminently reasonable £40.
On right now, the crisp ox tongue with a properly piquant, mustard-heavy celeriac remoulade is a joy. Follow with a puck of pearlescent Cornish cod paired with the just in-season sweetcorn and impeccably prepared girolles, and end with a gently wobbling slice of custard tart, and you've got one of London's best set menus, full stop. The fact that it's light, bright and at times effervescent in its delivery feels just right before settling into the performance proper.
And if Demetre's signature crispy chicken with hand-cut macaroni 'Cacio e Pepe' is on the menu, pre-theatre or not, order it. The dish is divine.
Website: wildhoneystjames.co.uk
Address: 8 Pall Mall, St. James's, London SW1Y 4AN
---
Bocca Di Lupo, Soho
Ideal for regional Italian food in the heart of Soho…
Here at IDEAL, our love of Soho restaurant Bocca di Luppo is no secret; it's a place we come back to time and time again, never getting tired of chef Jacob Kennedy's ode to regional Italian cuisine.
Whether it's the Laziale salt-baked bream or the melting mangalitsa coppa from Emilia Romagna that's served over bang-in-season slices of melon, there's no restaurant in London more adept at transporting you to Bel Paese than this one.
Before your next bout of escapism in the nearby Apollo Theatre, you can first immerse yourself in Bocca di Luppo's 'Workers Lunch' set menu, which, despite the name, runs until 6:30pm, Monday to Friday. For just £15 (!), it's a three course, pasta or risotto-focused feast plus a salad, which has got to be the best value meal you'll find in all of Central.
Right now, the main course is an open-handed bowl of the Sicilian classic rigatoni all norma, all fudgy from deep-fried aubergines and umami-rich from tomatoes and salted ricotta. It's joyous. Add a scoop of sorbet and an espresso for a fiver; the latter of which you'll be thankful for as you take your seat for a two-hour play.
Website: boccadilupo.com
Address: 12 Archer St, London W1D 7BB
---
Read: The very best restaurants in Soho
---
Social Eating House, Soho
Ideal for laid back fine dining with a similarly leisurely bill to finish…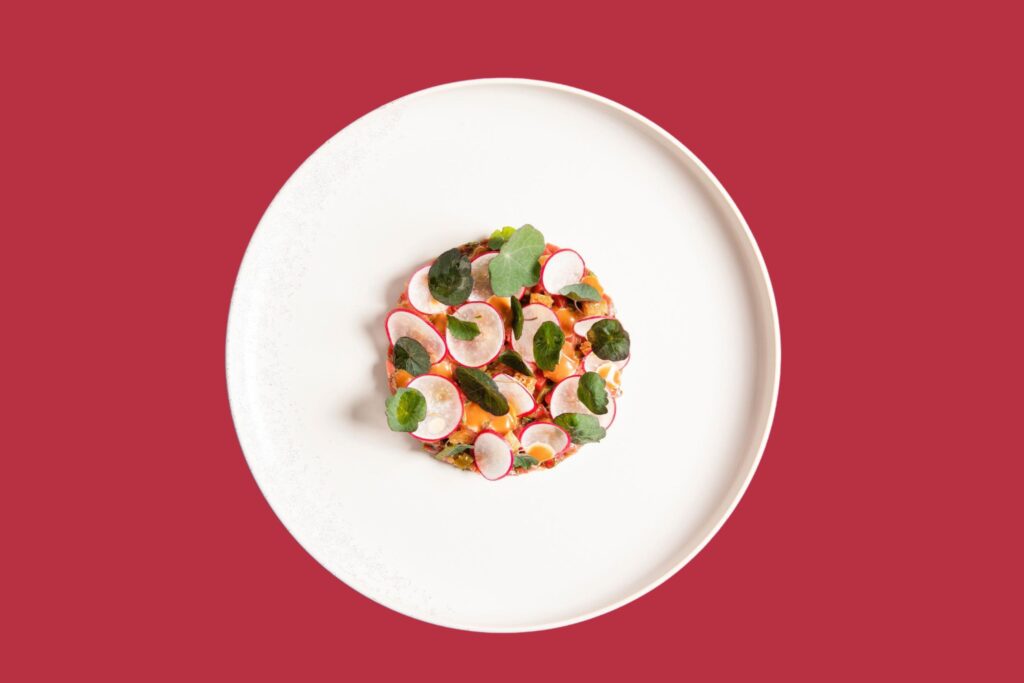 Though it might feel a little perverse to settle into a moodily lit, speakeasy-style joint before your fellow Londoners have even clocked off – let alone contemplated their first post-work pint – if you're after exceptional value pre-theatre menus, then Social Eating House offers one of the best deals in the city.
Chef Jason Atherton's set of acclaimed restaurants can sometimes feel a little intimidating – overwrought, even – but the vibe at Social Eating House is anything but; it's a loose and leisurely affair, but with the usual refined, technique-driven Atherton dishes that the chef is known for.
For £29.50 or £35 for two or three courses respectively you'll find some real class on the plate, whether that's in a pleasing hunk of barbecued, blackened celeriac served draped in an as-good-as-it-sounds gherkin hollandaise, or in a sharp pistachio and cherry frangipane tart, all clean lines and just the right level of puckering.
This one runs from Tuesday to Friday, 5:45pm to 6:30pm. Slip upstairs for a quick cocktail in the acclaimed Blind Pig bar (which is part of the Social Company group) and don't forget to actually show up for your play!
Website: socialeatinghouse.com
Address: 58 Poland St, London W1F 7NR
---
Nopi, Soho
Ideal for vegetable-led lightness from everyone's favourite chef…
Next up we're taking a short stroll over to Warwick Street, also in Soho, and to Nopi, one of Yotam Ottolenghi's roster of London restaurants. In our minds, it's probably his best.
Here, in a bright and breezy dining room defined by blonde wood and cheery waitstaff, it's a set menu designed for sharing – for £35 a head you won't see the whites of your table for the veritable spread of perky vegetable-led dishes that are laid out in front of you.
Those dishes are unmistakably Ottolenghi, with jewel-like pomegranate seeds, preserved lemon, tahini, za'atar and sumac, as well as plenty of good quality olive oil, defining proceedings here. It's a lovely light way to raise the curtain on an evening of theatre, but if you're keen to loosen up a little before the show, then for an additional £16 you can enjoy several consummate paired glasses of wine to go with your food. Cheers to that!
Website: ottolenghi.co.uk
Address: 21-22 Warwick St, London W1B 5NE
---
Frenchie, Covent Garden
Ideal for classical yet gently experimental French cooking in Covent Garden…
Should you be looking to dine close to the Theatre Royal or the Royal Opera House, then your best bet for a superb value pre-theatre menu is probably the Frenchie in Covent Garden.
A self-styled 'modern French brasserie', there's plenty of counter and bar seating for those looking for dinner and a show before, erm, a show, with the bartenders shaking their thing with controlled extravagance and the chefs moving with an economy and purpose that suggests the tightest of choreography.
We love it here, and the set menu is a steal. Running from Monday to Saturday between 5.30pm and 6.00pm and on Sunday from 5.00pm to 6.00pm, expect to pay £29 for two courses or £34 for 3, which, for the quality of cooking on display here, is fantastic value.
Nope, this menu certainly isn't a set of afterthoughts, or a kitchen keen to use up ingredients on the turn. Instead, it's a hugely enticing procession of hearty French country cooking, the restaurant's grasp of the classics precise and impeccably delivered, See their wicked way with any white fish done in the Grenobloise style; the butter properly browned, the acidic notes of both freshly squeezed citrus and lemon segments perfectly judged, the capers bringing just the right amount of briney bravado. Recently, we had this one served with confit cod and it hit all the right spots.
And if you're here more for the 'pre-theatre' bit rather than the promise of 'good value', then why not get stuck into the Frenchie's stacked wine cellar, of which several are available by the glass or carafe? Whilst it might not ingratiate us with our French cousins, the Sov'ran, a white Ortega produced in Kent, was the perfect pairing for that cod from a paragraph previous.
Well, it would be rude not to…
Address: 16 Henrietta St, London WC2E 8QH
Website: frenchiecoventgarden.com
---
Hawksmoor, Seven Dials
Ideal for an exemplary steak frites…
The all-conquering British steakhouse needs little in the way of an introduction; there are now a dozen in operation, including a recent opening in New York that's been receiving all the plaudits.
Though Hawksmoor isn't necessarily known for its inclusive pricing, at the Seven Dials outpost, just a short hop from several West End theatres, you'll find a commendably priced set menu, with two courses for £27 or three for £31. Steak, of course, features, here in the form of an à la minute sirloin and thin cut chips, and a very good steak frites it is, too. Honestly, you'll be pleased it wasn't one of the restaurant's larger, heavier cuts when you're bright eyed and bushy tailed come theatre time.
This one runs from Monday to Saturday, 5pm to 6.30pm
Website: thehawksmoor.com
Address: 11 Langley St, London WC2H 9JG
---
Read: Where to eat near Covent Garden
---
Joe Allen, Covent Garden
Ideal for celeb spotting with a side of Stateside staples…
There could be nowhere more fitting to end our round-up of the best value pre-theatre menus in the West End than at Joe Allen. Aside from the fantastic New York brasserie-style food and side order of celeb spotting (Dame Judi Dench and Sir Ian Mckellen have both been known to dine here), you'll find excellent value within these hallowed walls. The set menu (which runs until 9pm on Mondays and from midday to 6:45pm Tuesdays to Saturdays) is just £25 for two courses or £30 for three.
For that straightforward sum, you'll get satisfying plates loosely inspired by what's going on Stateside (or rather, what was going on around a century ago), whether that's a refreshingly uncomplicated Caesar salad or a portion of back baby ribs with bread and butter pickles. Sneak in a pre (or even post) show cocktail in Joe's Bar upstairs, and you've well and truly earnt your West End stripes.
Website: joeallen.co.uk
Address: 2 Burleigh St, London WC2E 7PX