Amsterdam, the capital of the Netherlands and a city of great dichotomy. Let's start with colour; a place built on the foundations of the Golden Age, when Dutch art, technology and innovation were at the forefront of global sophisticated thinking; to the modern day red light district, where stags on wild weekends are anything but.
Then there's the food; you can enjoy the finest that molecular European haute cuisine has to offer, with plates elevated to high art; or, you can elevate yourself higher by dining on the city's famous 'cakes'. And then there's Amsterdam's world renowned museums and art galleries, where you can get as high or low brow as you like. Basically, there's something for everyone in this great city. So without further ado, here are 10 essential things to do on a long weekend in Amsterdam.
Visit The Museums
At the Amsterdam Museum you can find out about the rich, rugged history of the capital. Formerly known as the Amsterdam Historisch Museum, you'll be treated to a journey of the evolution of the famous city over the last 8 centuries. You'll find some cool and quirky objects within, such as shoes that are over 700 years old.
Next up, then it's got to be the Van Gogh Museum, a preeminent cultural institution dedicated to the life and work of the famous Dutch painter, Vincent van Gogh. This exceptional museum houses the world's largest collection of Van Gogh's paintings, drawings, and personal letters, providing an intimate and revealing look into his artistic progression and tumultuous life. The museum also features works by his contemporaries, enriching the understanding of Van Gogh's impact on the art world. It's recommended to get Van Gogh Museum tickets in advance of visiting, to negate (some of) the larger queues.
If that doesn't fill your, erm, clogs, then you could consider popping over to the Museum Ons' Lieve Heer op Solder; a restored Church from 17th century that can be found in the infamous Red Light District. You might then want to finish up your day of museum-based-mayhem at the Joods Historisch Museum, housed in the old Jewish quarter and jam packed with paintings, pictures and artefacts that will explore Judaism and its history in the Netherlands.
Have A Picnic
The Vondelpark is the perfect place to have a picnic. The biggest, most spacious green area in Amsterdam and named after their famous poet Joost van den Vondel, it's the perfect place when the food and drink has gotten the better of you and you're in need of a lie down. 8 hectares of public green space play host to sculpture and open air theatre, and there are also restaurants, cafes and skate rental on offer, meaning it's possible to spend the whole day here if you wish.
Enjoy The Scenic Canal Belt
There are a total of 165 canals that circle the city of Amsterdam, providing a natural border to the Pjjp, the Jordaan and the Museum Quarter – making the entire city picturesque and in its own way, peaceful. On any trip around the canals, you'll find an eclectic mix of fantastic cafes, shops and galleries.
The most attractive canal is the Prinsengracht which you will find lined with trees and quirky houseboats; visually stunning and wonderfully quaint for an inner city experience.There are also a whole host of smaller canals that are well worth a visit, such as Brouwersgracht, one of the best residential areas in the city.
Enjoy Some Of Amsterdam's Street Food
Although 'street food' usually calls to mind stools in South East Asia or scooping up delicious curries with freshly baked bread in the Indian subcontinent, it's can be a big deal in Europe, too. Amsterdam has a great variety of popular 'street' dishes for you to get stuck into. A big thing in Amsterdam is the raw herring, and a must try if you are visiting.
If you're not full, consider a longer, more immersive experience at Foodhallen. Set in the old tram depot in Amsterdam's cool Oud-West neighborhood and inspired by Torvehallerne in Copenhagen, Foodhallen is the first indoor food market of it's kind in the Netherlands.
Go On A Bike Ride
Amsterdam is the bike capital of the world and no trip to here would be complete without getting on two wheels and exploring. Small cobbled streets, beautiful bridges and picturesque canals make Amsterdam ideal for bikes.
There are hundreds of places to rent from, so if in doubt, just ask your hotel. A couple of tips: avoid rush hour – Amsterdam's roads are super busy during which commuters getting to work become less forgiving to tourists and novice cyclists.
Next, the city has many unwritten cycling rules, such as not to chain your bike to a stranger's. This will be viewed very unfavourably indeed. And remember, always wear protection.
Read: 6 of Europe's most cycle friendly holiday destinations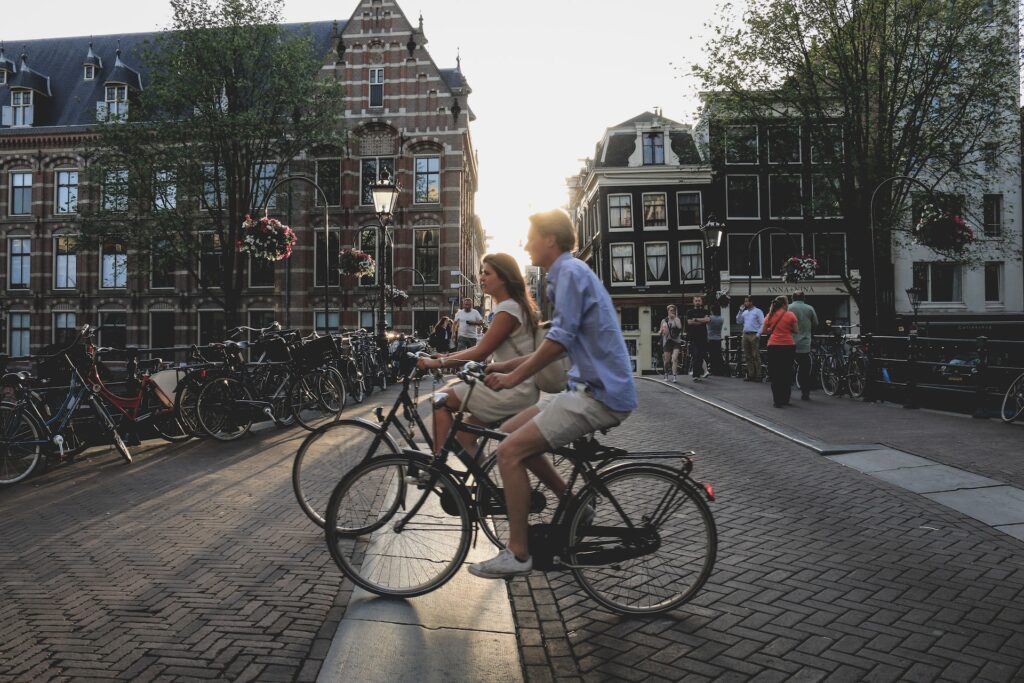 Go To A Gig
There are some great music venues to enjoy in Amsterdam, big and small, debauched and debonair all in equal measures. The Paradiso is world renowned, and you'll find lots of top bands from the pop and rock scene playing there. It's a former church – and there are a few events every day due to its popularity. Another option is the Melkweg which is a converted dairy. Here you will find music of all kinds and there is a theatre, art gallery, cage and cinema to enjoy. If you are ready for a party, super clubs are an integral part of a true Amsterdam night out on the tiles.
Visit The Cafes & Bars
Amsterdam is renowned for its cafes and bars. The majority of these open up in the morning and don't close until often as late as 3am, meaning they are gathering places during the day – and at night the home of night life. The cafes have an extensive menu for drinks and, of course, other arguably more nefarious concerns.
Since there are hundreds of coffee shops in Amsterdam, with many of them selling marijuana related products, it's not hard to find them. However, some places are a little more seedy and touristy than others, and should be avoided. According to our insider, Utopia on Nieuwezijds Voorburgwal, Paradox on Eerste Bloemdwarsstraat and 420Café, Oudebrugsteeg 27 are some of the best in the city.
Oh, and if you get the munchies after your space cake, then a few stroopwafels (a traditional Dutch treat) are ideal.
Stroll Around Jordaan
Jordaan is one of the most picturesque neighbourhoods in Amsterdam. Situated bang in the centre, it's full of trendy shops, luxury boutiques, lovely galleries, lots of cosy cafes, breakfast and brunch spots and great restaurants. You could easily (and should) spend the entire day here, wandering from shop to shop, stopping for some coffee when your legs get weary. Follow it with some brunch, lunch and maybe even dinner for a decadent day.
Every Saturday, the whole of Lindengracht becomes a market, selling everything from handcrafted items to cheese (of course). Westerstraat is another great street market in Jordan that opens on Monday mornings.
Visit The Modern Art Galleries
Jordaan is definitely the place to go if you are looking to enjoy some art whilst you are there, and is home to more than 40 galleries. Yes, 40! There is a fantastic variety to be enjoyed. You can enjoy a hands on art "Playstation" at the Gallery Fons Welters, or you can visit Galerie Diana Stigter, where the owner is said to be the grand dame of the local scene.
Catch A Ferry To North Amsterdam
If you've had enough of the cliched pursuits of the central city, consider catching a ferry to North Amsterdam. Once given the cold shoulder by tourists and residents alike, it's now one of the hippest neighbourhoods in the country. What's more, in summer there's manmade beach next to the river, perfect for catching some rays. And who would've thought that were possible in Amsterdam?