If yacht holidays in Greece or island hopping in the South Pacific Ocean sound like your sort of thing, then rest assured; you're not alone. A warm sea breeze, a sense of unbridled freedom, the wind in your sails and hair, and an unrivalled variety of destination…what's not to love? If this is your idea of a holiday in heaven, then read on; our 7 IDEAL destinations for a yacht holiday.
THE BAHAMAS, CARIBBEAN
From sheltered harbours and beautiful islands to a variety of sailing areas catering to easy-to-complex sailing abilities, the Bahamas are known to have everything to make your yacht holidays perfect and unforgettable. They're also well-known for luxurious cruise ships and commercial resorts, the Bahamas are a popular go-to destination for many high-profile and wealthy visitors. For an alternative experience, why not rent your own private yacht and head to the Caribbean to explore some untouched islands and stunning white-sand beaches. Dive into the ocean with your
scuba gear
and snorkel for a swim around the coral reefs with the incredible aquatic creatures.
THE GREEK ISLANDS
Famed for having one of the longest coastlines in Europe, Greece truly stands out for its enchanting beauty and rich history. The Greek Islands are spread across the four seas around the mainland – Aegean Sea, Ionian Sea, Cretan Sea and Mediterranean Sea. There are numerous unexplored yet open coves and beaches which are accessible only by boat, superb for exploring while on board. Yacht charters in Greece offer both with-skipper and bareboat (without-skipper) options for renting yachts, provided you have an experienced or certified sailor in your group.
SEYCHELLES, INDIAN OCEAN
With 115 breathtaking islands in the Indian Ocean, this island nation of East Africa is now considered one of the top honeymoon destinations by travellers all around the world. Yacht charters mainly focus on the relatively closely located 41 inner islands including Mahe, La Digue and Praslin, and their two coral islands. The pristine white-sand beaches, imposing granite rocks, rare animals and birds, giant palm and coconut trees by the beach as well as the rich variety of red, blue, brown and green coral reefs peeking through the clear, turquoise water, makes this secluded and relatively less-commercialized island nation an exotic paradise.
GALAPAGOS ISLANDS, ECUADOR
Want to experience an amazing nautical trip to an uninhabited wildlife paradise where you get to observe rare animals in their natural habitat? Well, who doesn't? Here's your chance; rent a yacht and sail to the Galapagos Islands in Ecuador. From sea lions, spiky marine iguanas, giant turtles, penguins to blue-footed boobies, frigatebird, flightless cormorant and more, these islands are famed for their rich biodiversity.
The famous Darwin Island is the smallest amongst these islands. Indeed, the Galapagos Islands are where Charles Darwin observed several species of finches that helped him come up with the famous theory of evolution by natural selection. Come up with your own groundbreaking ideas while visiting, perhaps?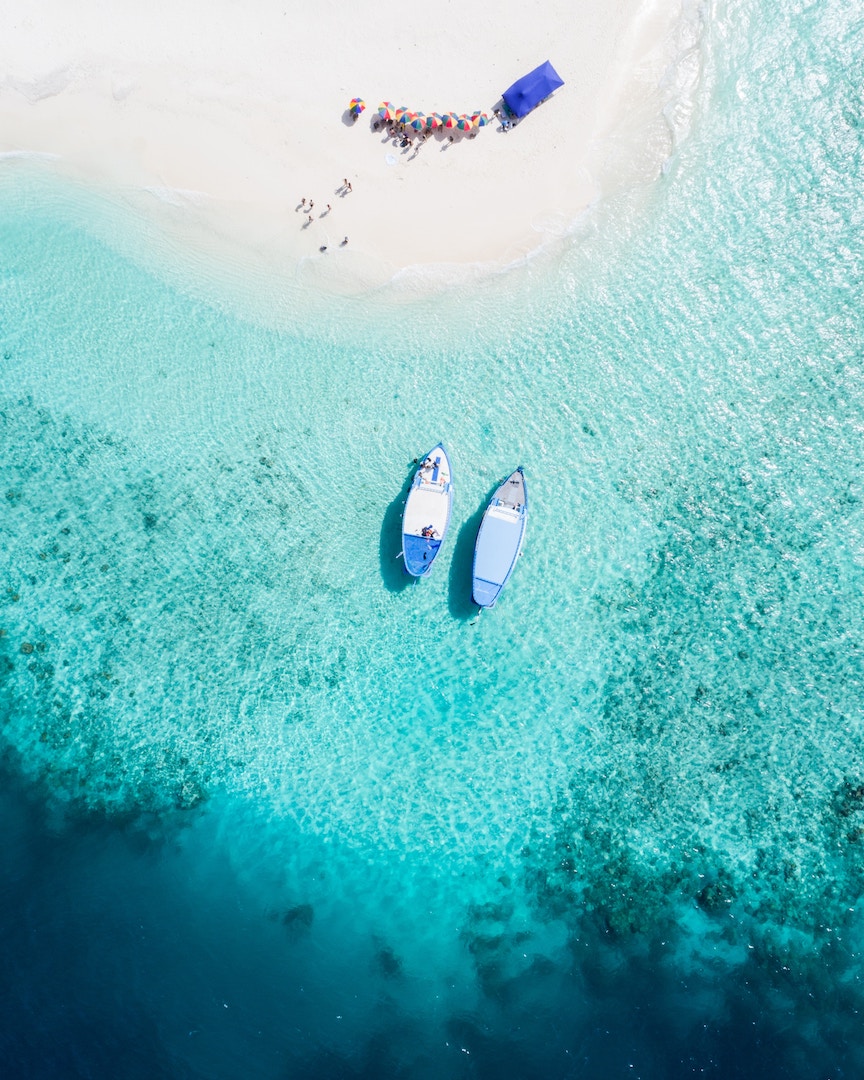 BRITISH VIRGIN ISLANDS
Known as a sailor's paradise owing to the well-sheltered anchorages around the area and the warm, consistent trade winds, the British Virgin Islands are great for a smooth sailing experience. Head to the Anegada Island for some stunning views of crystal-clear turquoise waters and white-powdery beaches crowded with pink flamingos. Among the four main islands, Jost van Dyke is the smallest, and least inhabited. Norman Island is known for its spectacular seascape, and Virgin Gorda Island for The Baths, which comprises of stunning rock formations forming several natural pools, is also spectacular.
MALDIVES, ARABIAN, SEA
It comes as no surprise that Maldives makes it to the top spot in almost all honeymoon destination charts. This small island nation in South Asia is located in the Indian Ocean. It consists of thousands of small coral islands surrounded by a blue lagoon of shallow, clear water. Apart from sailing to these beautiful islands, you can enjoy the grand services of luxurious resorts in private islands as well as indulge in various water sports such as diving, snorkelling, etc.
FIJI ISLANDS, SOUTH PACIFIC
Considered among the safest destinations for yacht holidays, Fiji Islands of the South Pacific are known to be one of the most beautiful islands in the world. Viti Levu and Vanua Levu are the largest islands of Fiji and should be the first stop on your yachting itinerary should you choose this beautiful part of the world. 
WHITSUNDAY ISLANDS, AUSTRALIA
The Whitsunday Islands are a collective of 74 islands located next to the world's largest coral reefs, the Great Barrier Reefs. What's more, it's the only place in the world that allows you to sail a boat without a certified license. As such, you can choose your own bareboat charter or opt for a skippered yacht if you would rather enjoy a relaxed sailing experience while a certified skipper handles the boat. 
Do not forget to sail to the famous, award-winning Whitehaven Beach, known as one of the most beautiful in the world. For a fun partying and sailing experience, plan your holidays in accordance with the Hamilton Island Race Week or Airlie Beach Race Week to get amongst it.
THE CROATIAN ISLANDS, ADRIATIC SEA
The Croatian Adriatic has recently become quite popular as an ideal sailing destination. The beauty of the extraordinary Dalmatian Coast, as well as thousands of stunning islands, attracts many travellers from all over the world each year. Start your cruise from the second largest city of Croatia, Spilt, and head to famous islands Hvar, Brac and Korcula, which are just a short sail away. If you are a fan of the popular television series Game of Thrones, don't forget to sail to Dubrovnik city where the scenes of Kings Landing were filmed.
FRENCH POLYNESIA, SOUTH PACIFIC
French Polynesia includes 118 islands (67 of which are inhabited) that are well-known for their coral-fringed lagoons, towering waterfalls, black and white-sand beaches etc. Tahiti is the largest and most populated of the French Polynesia islands. Other popular sailing destinations in these islands include Bora Bora, Rangiroa, Raiatea, Moorea, Hiva Oa, Fakarava etc. Now that you have the ultimate list of ideal yacht holiday destinations, choose one that fits your budget and duration the best and get set to embark on a once-in-a-lifetime sailing experience.