…IDEAL for your next foodie photography holiday.
So, Big Ben bonged, kinda, and we whimpered out of the EU. Chlorinated chicken, artery clogging fry ups and loads of gammon await. But a reminder to some posting dramatic eulogies to our continental cousins; Europe remains just there, across the channel. She's still alive and serving up some of the world's greatest food. If you're planning a jolly to eat and drink, to make merry and peace with our European friends, then with the help of Holidu, the search engine for holiday rentals here's 10 of Europe's most Instagrammed dishes, IDEAL for your next foodie photography holiday.
CRÊPES FROM BRITTANY, FRANCE
We open our mouths with the most popular traditional European recipe on Instagram, the crêpe. This delicious dish, originally from the French region of Brittany, has accumulated a total of 4,398,170 mentions on the 'gram, distributed among hashtags such as #crepe and #crepes. Made from either wheat or buckwheat flour mixed with milk and eggs, the crepe can be enjoyed as a sweet or savoury dish. Personally, we prefer the latter, galette style, with gruyere cheese and smoked ham. Oh yes.  
Ideal place to try: Louise de Bretagne Crêperie (6 Rue Poncelin, Le Conquet, France) serves some of the country's, and therefore the world's, best crepes.
Or, if you're looking for pancakes closer to home, check out our 10 of the best pancake places in London.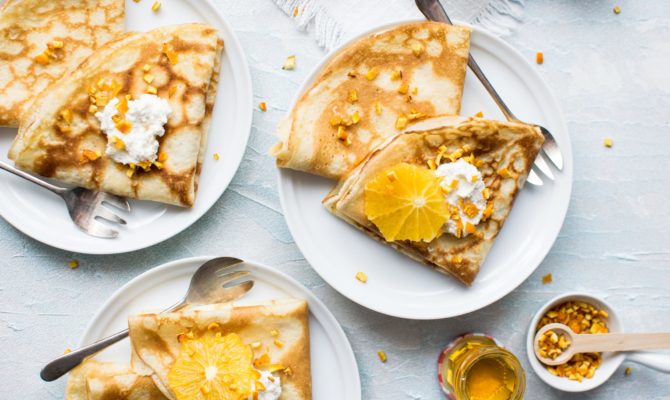 TIRAMISÙ FROM FRIULI-VENEZIA GIULIA, ITALY
In second place is the famous tiramisù, with 3,079,812 posts including the tiramisu and tiramisù hashtags, depending on how adept the typer is at finding accents. Traditionally from the Friuli Venezia Giulia region, it is the Italian coffee-flavoured dessert of dreams. Translating as 'pick me up', the espresso shot alone might not manage that, but all the sugar probably will.
Ideal place to try:: Trevissù (Viale Luzzatti 15, Treviso, Italy) specializes exclusively in this rich Italian sweet.
LASAGNE FROM EMILIA-ROMAGNA, ITALY
Unsurprisingly, Italy is strongly represented on Instagram, and it's lasagne, a traditional dish from Bologna in Emilia-Romagna, that comes in 3rd place. This dish is made up of layers of flat pasta sheets layered in meat, white sauce, and cheese. Traditionalists value a sturdy, 'cakey' texture, and here at IDEAL, we value how it tastes fridge cold the next day. A total of 2,432,927 mentions on Instagram for the household favourite, with two spellings, lasagna and lasagne, both plural and singular, featuring.
Ideal place to try: Trattoria da Me (Via S. Felice, 50, Bologna, Italy), where they serve what is regarded by many as the best lasagne in all of Bologna, served in a homely atmosphere and with excellent service.
PAELLA FROM VALENCIA, SPAIN
Come on, admit it. Who hasn't lusted over a brightly hued, voluptuous pan of paella on Instagram before? Just thinking about it is getting us a little hot under the collar. If you think that paella is eaten everywhere in Spain, you would be right, but it's actually a speciality of the Valencia region – containing rabbit as the focal point – though the fillings differ from region to region. Paella is a delicious sautéed rice with a mixture of either meat or shellfish, and has received a huge 2,396,063 publications on 'gram so far. No trip to Spain is complete without trying a serving of this famous dish.
Ideal place to try: Alquería Del Brosquil (Entrance Casa El Llarc, 1, Castellar, Valencia, Spain). Here you can enjoy a tasty paella and delicious wine in a restaurant that is surrounded by fields of orange groves.
FISH & CHIPS FROM ENGLAND, UNITED KINGDOM
Oh Christ, I thought we'd escaped the island for a continental break here. Must you pull us back in already? But there we have it, our very own mention in a respectable fifth place, fish & chips is the talk of the town on Instagram with 1,341,271 posts to date. An unbeatable fast food dish in the UK, although its origin (likely Jewish) is disputed, a commemorative plaque has been erected in its honour at the entrance to the Tommyfield Market in Oldham, on the outskirts of Manchester. We'll leave you to agree or disagree on just who invented it…
Ideal place to try: The Cod's Scallops in Nottingham last week scooped the title of Best Fish and Chip Shop at the National Fish & Chip Awards for 2020. So really, we couldn't recommend anywhere else.
SCONES FROM ENGLAND, UNITED KINGDOM
Well, now we're here we might as well. It's tea time, and it'd be rude not to. Honestly, who would have thought that England would be featured not once, but twice, on a list of 'European' food? And yes, scones, however you pronounce and layer them, are definitely a highlight of English cuisine, with 1,233,042 posts. Serve up a brew on the side and you're good to go.
Ideal place to try: Tea and Tattle (41 Great Russell Street, London) where the scones and tea are served using delicate porcelain crockery for a quintessential British Experience.
BRIOCHE FROM NORMANDY, FRANCE
Bakers, baby, they just love the 'gram. Over the years the brioche has taken on many different forms, but it was in Normandy in the 16th century that the version we know today was born. Full of butter and all things tasty, it's been a success story on Instagram since the app's inception, with a total of 1,184,494 posts to date. In Vendée, there is even a wedding tradition called the brioche dance, which consists of dancing while carrying a brioche weighing 10 to 15kg. Their ubiquity in the burger bap game certainly isn't doing any harm.
Ideal place to try:  Maison Vatelier (27 Place de la Mairie, Quincampoix, France) where they make a brioche so rich that it's won competitions.
CARBONARA PASTA FROM LAZIO, ITALY
The famous pasta alla carbonara is Instagram's eighth most popular European dish (a weighty accolade, we know) with 1,154,663 posts. Originally from the region of Lazio, the carbonara we know and love is more precisely a Roman speciality. Prepared with egg yolk and "guanciale" cured meat, carbonara is an absolute must-try when in Rome. Just don't ask for cream!
If you're up for making your own, without offending any Italians in the process, check out our 5 steps to the IDEAL spaghetti carbonara.
Ideal place to try: Ristorante Piperno (Via Monte dè Cenci, 9, Rome), a restaurant with over 150 years of history and a long tradition of preparing one of the best carbonaras in Rome.
SWISS FONDUE, DIFFERS ACCORDING TO REGIONS IN SWITZERLAND
The oldest recipe for fondue, an absolute, unashamedly rich classic, was written in Zurich in 1699. Today, the traditional recipe calls for heating a mixture of gruyère and Fribourg vacherin cheese with white wine. Then, you dip your pieces of bread into the melted cheese and soak up the gooey delight. An impressive 1,109,471 posters have done just this on Instagram. Whether they've lived longer to tell the tale, through clogged arteries and food comas, is another story. 
Ideal place to try: Le Dézaley (Römergasse 7/9, Zürich, Switzerland) is a cosy place that offers excellent fondue at a very reasonable price.
GNOCCHI FROM EMILIA-ROMAGNA, ITALY
Securing the tenth and final place, we go back to Italy in the Emilia-Romagna region for the gnocchi, those loveable, doughy balls that you don't know whether to eat or cuddle. Made from flour and potato, these guys are usually accompanied by sauces of various, deep flavours. Of course, proper Parma gnocchi has nothing in common with that plastic-wrapped, anaemic gnocchi you can buy in the supermarket, the former being light-as-a-cloud and oh so delicious. The 1,026,868 photos on Instagram certainly agree. 
Ideal place to try: Ristorante Corale Verdi (Vicolo Asdente, 9, Parma, Italy) you can taste delicious and abundant Gnocchi with Gorgonzola cheese.