Travel is said to broaden the mind and enrich the soul and when your vacation is centred around wellness and yoga, well, you can expect to be broadened physically and mentally.
In fact, the spiritual tourism industry is burgeoning with the emergence of resorts and retreats solely devoted to yoga and wellness programs. Should you be looking to shed some baggage, get in touch with your spiritual side, or even take your fitness game a couple of notches higher, book a spot in one of the renowned wellness and yoga retreats and you may well return feeling like a new person. Or, better still, a happier, healthier version of your trusty ol' self.
With that in mind, it's advisable to consider using a reputable operator like https://vacayou.com, who provide curated spa holidays from destinations across the globe, to bring you these 10 of the best wellness and yoga retreats around the world
EUPEPSIA WELLNESS RESORT, VIRGINIA, USA
A wellness sanctuary located in Virginia, near Jefferson National Forest, Eupepsia Wellness Resort aims to reconnect people with their inner self through Ayurvedic practices. It is a perfect place to plan a trip if you simply want to de-stress and detox, lose weight and get fit, or simply relax and enjoy nature. They have holistic programs coupled with lifestyle medicines, workshops, coaching sessions and health therapies to make lifestyle changes for a happier mind and a fitter body.
AUGUSTINIAN SISTERS MONASTERY, QUEBEC, CANADA
Located in Quebec, Canada, Augustinian Sisters Monastery offers a multitude of activities in health and culture in a beautiful and inspiring setup. All the programs are based on the Augustinian Sisters' mission and work on attaining overall wellness and balance. The monastery has experienced staff teaching the practices and a comfortable set up for lodging. If you are looking for a relaxing vacation to rejuvenate the soul in a serene setup, this could be the retreat for you.
CARIBBEAN NATURE RESERVE, EAST COAST, THE DOMINIC REPUBLIC
Head to the Caribbean Nature Reserve in the Dominic Republic for a complete rehauling of your body, mind and soul. The beautiful setting of the white sandy beaches, swaying palm trees, and turquoise blue waters with the occasional humpback whale swimming in them is enough to lift anyone's spirits, bringing real colour to that morning yoga session with visualisation workshops and breath and mindset work. They also prescribe wholesome, healthy food, as nourishment of the body as well as the mind is a key tenet of the belief system here. We couldn't agree more.
YOGA RETREAT AT FAIRMONT CHATEAU, LAKE LOUISE, CANADA
Enjoy Canadian hospitality and a chance to learn mindfulness with Tracey Delfs of Balance Quest. Set in the peaceful mountains of Lake Louise, this retreat offers two days of complete rejuvenation through mindful eating, mindful walks, yoga sessions and seated meditation. The retreat is one of the best with all luxuries taken care of, from comfortable sleeping arrangements to delectable food. At Fairmont Chateau you are in for complete pampering and holistic upliftment that will leave you recharged and revamped to face any challenge that life chooses to throw at you. And in 2020, that means rather a few.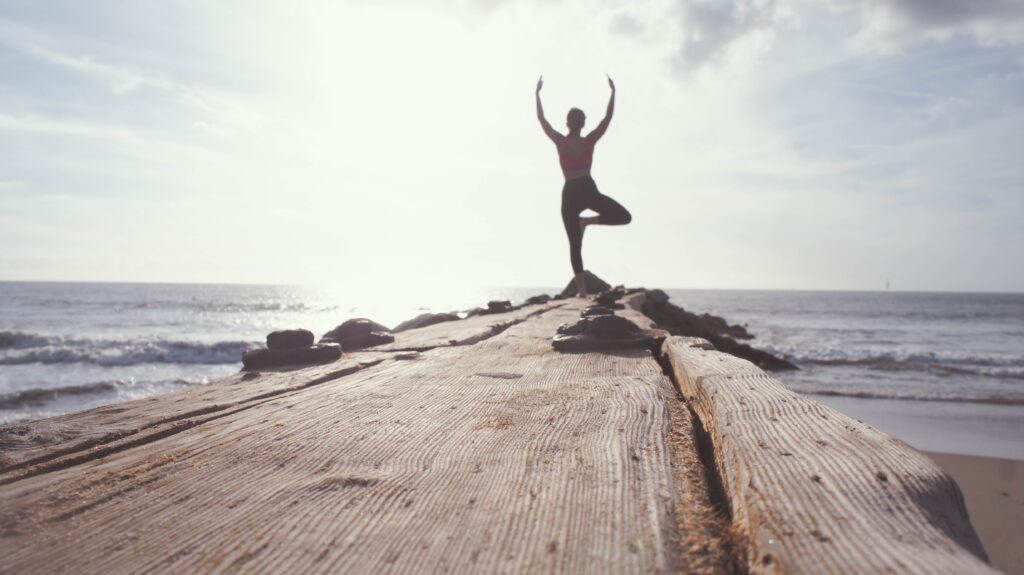 HALEY'S FARM, TENNESSEE, USA
A home away from home is exactly what Haley's Farm aspires to be. Except that here, you don't have to cook, clean and carry out any other chores. Nope, your total relaxation is the focal point here, and rekindling of the body and mind your priority.
Nestled amid green meadows, rolling hills and lakes, this farm is the perfect place to unwind. In this beautiful retreat, there are trained yoga experts who provide individual and group fitness. You'll also be taught different techniques of meditation and wellness coaching. Healthy food plays a vital role in the whole program and each guest is given nutritious food in mindful quantities. This is not only a vacation but a 'well-cation' where the commitment lies in enhancing your health from both the outside and the inside.
KAMALYA, KOH SAMUI, THAILAND
If you want to experience a luxurious holiday that is all about good health and enriching experiences, head to Kamalaya in Koh Samui. This spiritual retreat helps you connect with the universal energies through various programs; it's said that the island of Koh Samui has special energies that can invigorate anyone. We couldn't imagine a more perfect spot.
The retreat offers a range of healing programs for stress, detox, emotional balance, weight and more. It combines holistic medicines and therapies from both Eastern and Western traditions to create a customized plan to amp up your overall sense of wellbeing.
Some of the retreat activities include Yoga, Tai Chi, Qi Gong, Pilates, beach walks and kayaking, along with meditation and personal fitness training, too. To top it all off, the retreat also has some excellent spa facilities and massage treatment. While you're on the island, do make sure you sample some of the world's finest food; the cuisine Southern Thailand is as tasty and healthy as it comes, with cleansing chilli, lemongrass, turmeric and ginger rubbing shoulders with fresh fish, fruit and vegetables in abundance. Just delicious!
NAVUTU DREAMS RESORT & WELLNESS RETREAT, SIEM REAP, CAMBODIA
Located in the mystical setting of Siem Reap, Cambodia, and just a few minutes from the world-renowned Angkor Wat temples, lies this quaint boutique resort – Navutu Dreams. The resort boasts luxurious rooms dolled up with tribal art and textiles, and offers a real sense of being immersed and far removed from life's hustle and bustle, owing to the surrounding jungle and overall sense of peace and quiet the region boasts.
The main aim of the retreat is to offer its guests a holistic stay with different yoga and wellness packages that will revive and reconnect you with yourself. They have yoga sessions, special spa treatments and healing treatments in the form of reiki, pranayama, acupuncture, Kansa Wand, Shiatsu, Pranic Healing or Yoga Nidra. All these therapies and treatments are aimed at re-energizing and rejuvenating you. Don't fight it!
SPARKLING HILL RESORT, BRITISH COLUMBIA, CANADA
There is nothing more enriching than having a healthy lifestyle. If you want to experience a complete transformation of your being, book a room at the famous luxury resort in British Columbia, Canada, The Sparkling Hill Resort.
Nestled in the scenic countryside of Canada, as soon as you enter the resort, you'll experience an out-of-the-world feeling. This is further enhanced by the array of wellness activities planned at the retreat; trained experts provide traditional European wellness spa therapies, along with numerous wellness activities, all of them are aimed at enhancing yourself and your life's outlook.
VITALICA WELLNESS, ISTANBUL, TURKEY
Vitalica Wellness Retreat believes in promoting health, vitality, happiness, and tranquillity. It has a beautiful combination of modern and traditional techniques that revitalise your being and school you in applying new approaches to your everyday life. All the treatments, medicines and food is tailor made for each individual's unique tastes and needs, after an in depth analysis of the anatomy, age, health conditions and expectations of the user. A team of professionals then work on creating a special program that is ideal for you and will be useful for your entire life.
Their programs emphasise a holistic approach to food and diet, yoga and meditation for aligning your body and mind, and other exercises and spa treatments to reinvigorate you.
HILTON HEAD HEALTH, SOUTH CAROLINA, USA
Spiritual, mental and physical wellbeing is what we're all after, right? In its pursuit, there's perhaps no better place than Hilton Head Health, in South Carolina, USA. A recognized name in the industry for the last 40 years, this retreat has carved a niche for itself in the arena of wellness, in particular. It has a variety of fitness sessions, mindful eating demos and wellness lectures that take you slowly and steadily towards leading a healthy life. So, head out to this beautiful retreat tucked away between moss-draped trees and lagoons for a life-changing vacation.
After a vacation at any of these wellness and yoga retreats, you will be ready to embrace daily life with renewed enthusiasm and vigor. All you need is the right attire and accessories to ensure a perfect experience. So get ready to enrich the mind, rejuvenate your soul and find a way to a fitter and healthier you.