Fed-up of what you wear being dictated on by huge corporate brands? Want to forgo fast fashion and the impact it has on our environment? Trying to adopt a more budget conscious approach to your attire? Or are you simply bored of the clothes in your wardrobe and feel that everything you wear has gotten a little humdrum?
Whatever force drove you to this article, with a little time and tons of creativity, you can create a one-of-a kind wardrobe which is exclusive to you, and you alone. Got your attention? Well, whether it's an old piece or one you've just purchased, here are 4 IDEAL ways to customise your clothes and create a one-of-a-kind wardrobe.
CUT, ALTER AND ADD
It's time to get scissor happy. Edward, eat your heart out. With a snip here and a chop there, you can transform a benched piece into a whole new outfit.  Why not turn an old skirt you don't like the length of anymore into a midi or mini skirt? Or create some stylish shorts from an old pair of jeans? Got a top you never wear? Cut the collar to create a sexy off-the-shoulder number or cut off the bottom to create a tank top. Sleeves can be added or removed and hemlines can even been lengthened; the options are limitless. You could even consider cutting up two items of clothing and sewing the opposing parts together to make a third totally unique item.  However, before you make your first cut, learn how to make a proper hemline, unless you're going for the frayed, rough-around-the-edges look.
If the scissor brandishing scares you, then start slowly, by making some small, more gentle alterations. Indeed, you don't have to chop everything up to change the look of garment, some simple modifications can switch up the look of an entire item of clothing. If you have a strapless top, simply add some straps, or if you have a loose fitting dress, sew on some loops to the waist, add a tie and voila, you have slim fitting dress. Creating a collar from a fabric of your choice and adding it to a top is another simple way to repurpose old items without taking to the scissors, which brings us to our next point…
EMBELLISH & EMBROIDER
If you want to add a little flair and flourish to your clothes without too much work, then a little embellishing will be the needle to your thread. High time, then, that you took a trip to your local haberdashery where you're likely to find a treasure trove of ribbons, buttons, sequins, lace and all sorts of items which you can dress your wardrobe up with. The key here is to think about ways in which you can enhance or contrast a feature of the garment you want to embellish.
One of our favourite ways to add a unique, trendy touch is with embroidery. From plain cami tops, cardigans and denim jackets to white canvas espadrilles, this simple technique can completely transform your clothes. If you're new to sewing, you could always sew embroidered patches onto your clothes instead.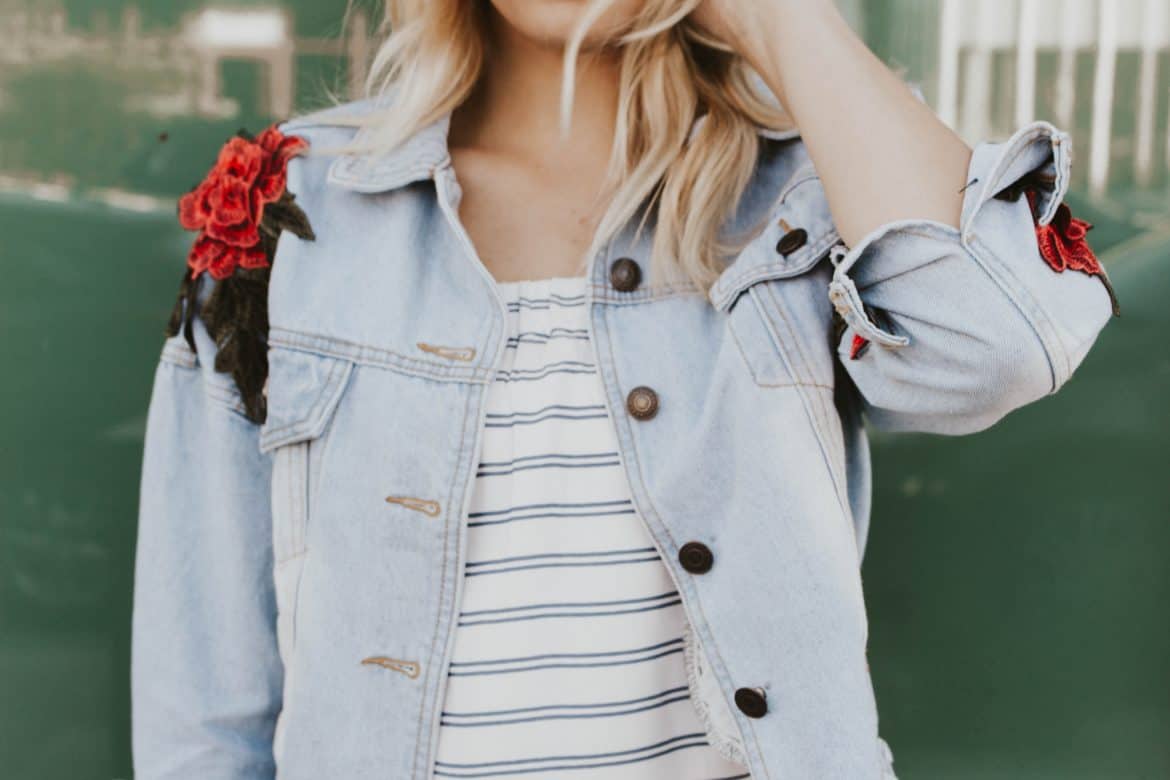 DESIGN YOUR OWN PRINTS
If you want to set yourself apart from the crowd then go a step further and design your own shirt. With the help of cutting edge technology, creating your own customised clothes has never been easier. Online companies like Printful allow you to add any pattern or vibrant design to blank garments, like custom printed hoodies, via their website that are then printed, cut and sewn by expert designers. You can even create a slogan t-shirt with your own personal mantra or a motivational phrase that moves you. A great way to express yourself, indeed. Moreover, if you have always dreamt of becoming a fashion designer here is your chance. With print on demand options available, you can easily sell your own original designs online at the click of a button. 
Another technique you can use to customize your clothes is by screen printing with fabric paint. Although not as easy as sending off your designs to be made via the web, with some practice it's pretty simple and rewarding to do at home; all you need is a screen, a squeegee, some ink, a piece of paper and a craft knife, and you're good to go.  
LEARN HOW TO SEW
Still recoiling with embarrassment from that time you showed up to a wedding wearing the same outfit as your best friend? If you truly want to create a one of a kind wardrobe, then try making your own made-to-measure pieces from scratch. You can sew flattering garments, with exactly the type of neckline, hem length and sleeve shape that you want, from whatever type of fabric you desire. This way, you can rest assured that you'll be the only belle at the ball wearing your dress.