Your wedding is your Big Day, your time to shine, and an occasion which you'll want to live long in the memories of you and your guests forevermore. And if that means incorporating a historical theme into proceedings, to truly stand out, then your wedding day will undoubtedly be extra special, unforgettable and loads fun. 
A costume wedding is an excuse to unleash your playful, inner history buff and be creative. Taking inspiration from days gone by, here are 4 IDEAL ideas for a historical themed wedding.
A MEDIEVAL BANQUET
It's high time to bring back the Middle Ages with a Medieval inspired wedding. Think floor-length, long-sleeved Medieval gowns with flower crowns for the bride and bridesmaids. And for the groom? He just has to be dressed as a knight in shining armour, with the groomsmen dressed in tunics stitched with fine embroidery to match. If you'd like your guests to be succinctly dressed, ask attendees to head to a historical reproductions clothing shop for brightly coloured robes and gowns.  
When it comes to the venue, it was common in the Middle Ages to host wedding ceremonies in a castle and courtyard. If a castle backdrop is a little beyond your budget, consider hosting your big day at a historical hall which you can decorate and embellish for a medieval-like atmosphere. Or, look to the movie 'Robin Hood Prince of Thieves' for inspiration and host a unique, ye olde outdoor wedding in the woods.  
A medieval wedding, it has to be said, is all about the banquet. While we don't recommend four and twenty blackbirds baked in a pie, there are plenty of medieval-esque foods you can include in your wedding feast. When it comes to designing your medieval menu, consider a multi-course feast with venison meat pies, perhaps a whole duck seasoned with medieval spices (cardamon, cinnamon, clove and saffron were particularly popular), freshly baked bread, fruit tarts and a honey cake. Plenty of mead and mulled wine quaffed out of goblets is obligatory. 
Of course, don't neglect to theme the entertainment, too; all the best feasts were once served with a song and a dance, after all. At the reception, you'll need your jugglers, singers and entertainers or even a joke-telling-fool to entertain your guests with tricks, jokes and songs.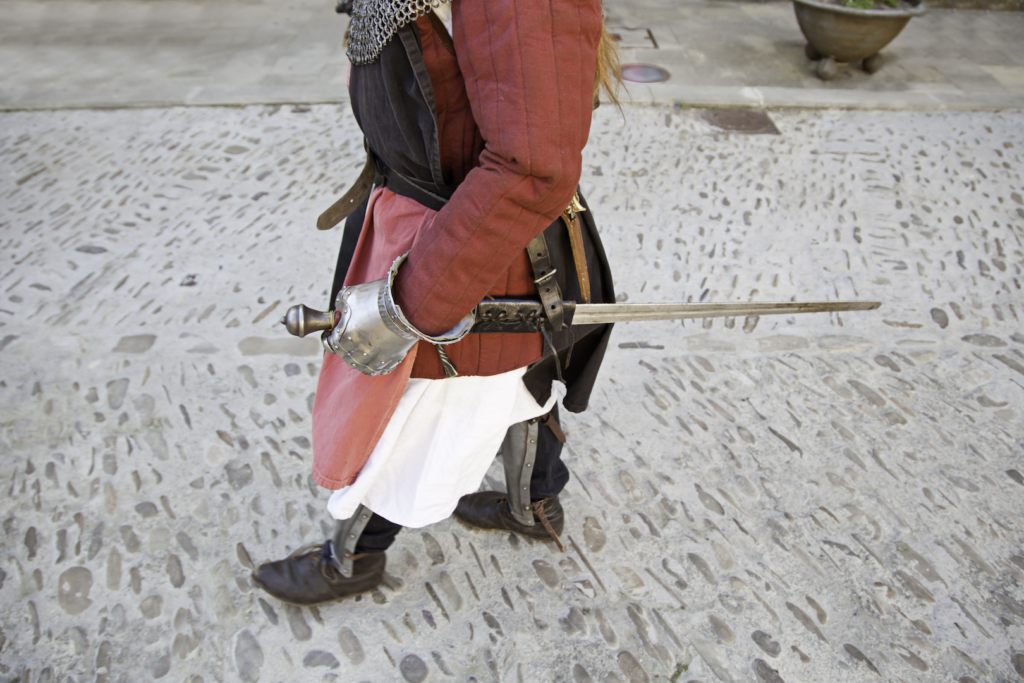 ANCIENT ROME
No one can doubt the impact that Ancient Rome has had on Western civilization, so why not let them influence your wedding day too? To set the scene and define the day, the happy couple could dress as Emperor and Empress with an Ancient Roman inspired wedding of togas and tunics. 
For your wedding dress, the traditional Roman outfit was a plain white woollen tunic with a wooled sash tied in a Hercules knot (wool was chosen as it was considered a blessed fabric that repelled evil). Finish the look with a floral headdress of traditionally made from lucky flowers and herbs such as marjoram and parsley. 
For the grooms, it's all about Roman sandals and red togas. Or, instead of channelling the emperor style of Marcus Aurelius, think more Maximus Decimus Meridius with full Gladiator getup. As for guests, togas were required to be worn by all citizens at public and formal events like weddings and gladiatorial games – you could ask your guests to do the same. 
When it comes to choosing your venue, if you've got a big budget, The Roman Baths in Bath offer the perfect backdrop for a wedding which takes its theme very seriously. Or, simply deck out your venue with laurel leaves, candles, draping fabric and some columns – real or otherwise.
Should you be keen to go the extra mile (and weird out some of your relatives in the process), consider having the entire marriage ceremony read in Roman and incorporating some ancient customs into the formal proceedings, too. Invite a whole ten (!) witnesses to sign the wedding contract and throw nuts instead of confetti. As you leave the hall, make sure a sacred torch is lit, though we might pass on the pig sacrificing. 
When it comes to food, the Roman's were a gluttonous lot; just watch Heston's Roman's feasts for inspiration! It's an opulent, indulgent affair, make no mistake. For entertainment, hire some actors to perform scenes from Shakespeare's Julius Caesar or Antony and Cleopatra (just avoid the tragic scenes, if that's at all possible). 
A DICKENSIAN DREAM
If you're planning to have your wedding in winter, then a Dickensian themed event could be ideal. Take your cue from his books and recreate a classic Victorian wedding, making sure to evoke the theme of A Christmas Carol as opposed to Miss Havisham for a celebration that ends full of 'cheer and goodwill' rather than, well, a life of spinster-ism. 
Decorate your venue with vintage lace cloths and sprigs of holly, as well as a Christmas tree adorned with fruit, just like they did back then. Just as depicted in a Christmas Carol, the season is all about coming together and bringing people around the table. So, for your wedding feast, you might want to lay on a full blown Christmas feast with a goose and all the trimmings, Christmas pudding and mince pies. For drinks, Charles Dickens was known to be fond of sweet alcoholic punches such as the Smoking Bishop, which was mentioned in a Christmas Carol. Oh, and don't forget the Mistletoe for that 'you may kiss the bride' moment. 
GEORGIAN ELEGANCE
If you've always dreamed that your big Big Day will be full of etiquette and elegance, then channel your inner Jane Austin, or one of the famous characters from her books (hello Lizzy Bennett), for a genteel Georgian wedding. Think lace, hand-painted bone china, dancing and your very own Mr Darcy. 
If you've got serious wiggle room in your budget, you could hire Chatsworth House, which was the inspiration for Pemberly in the novel. Or, consider having your wedding in Bath, where Jane Austen lived from 1801- 1806. This Georgian city offers the perfect backdrop for a Regency inspired wedding. To truly channel the Regency era, have your wedding during the Jane Austen Festival, which is held every year in the city. This fantastic event sees hundreds of regency-costumed fans flock to the city and parade around the streets; talk about setting the scene! 
For your first dance, how about a choreographed regency style dance or waltz? You could even hire some professionals to teach your guests to dance a charming country dance of that period like 'Teasing Made Easy' – ideal for any singles looking to mingle at your wedding. 
Don't forget the horse-drawn carriage to whisk (or rather trot you away) to your life as a married couple. And with that, we think we'll be off!