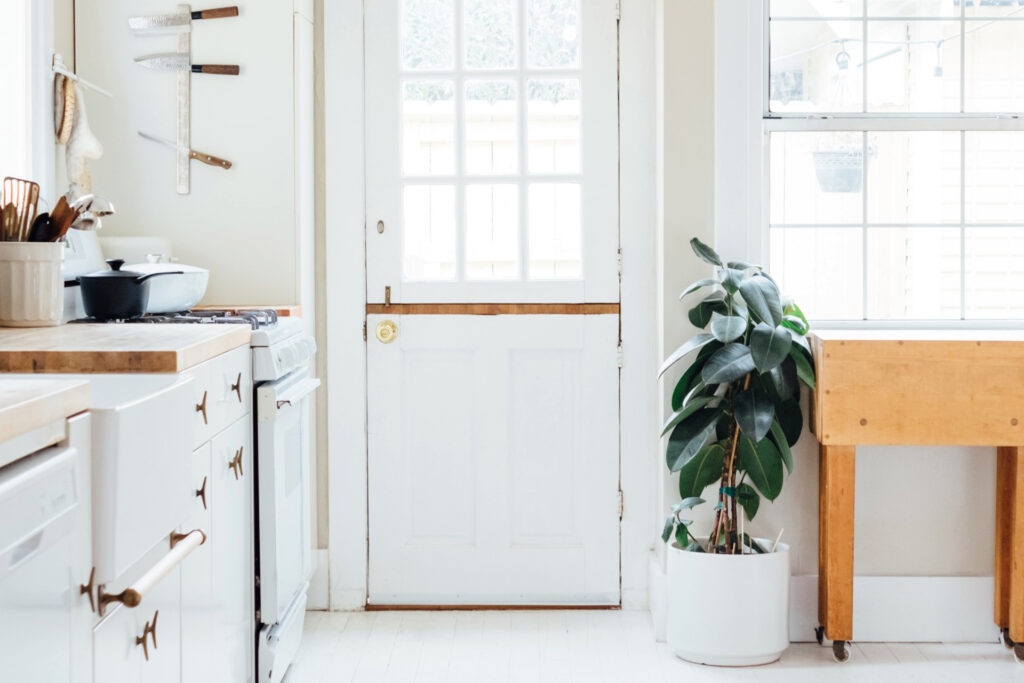 From farmhouse sinks to butcher's block countertops and beyond.
Are you looking to add some rustic charm to your home? Well, the farmhouse style (sometimes referred to as country chic) is the ideal way to do just that. According to kitchen experts from Annieandoak.com who are purveyors of fine farmhouse kitchen sinks, many of their clients choose a farmhouse kitchen because of its timeless look and functionality. 
And we couldn't agree more. Farmhouse-style kitchens are cosy, welcoming places where you can imagine baking a few loaves, pouring a couple of glasses, and enjoying some lovely time as a family together. 
That said, channelling this style isn't something you should do by halves; an incomplete farmhouse-style kitchen, with modern elements still attached, can look disjointed and jarring. Instead, let's commit; here are 5 essential elements of a farmhouse kitchen, from farmhouse sinks to butcher's block countertops and beyond.
THE FARMHOUSE SINK
A constant in cosy country cottages and rustic farmhouses alike is the farmhouse sink. Their exposed front apron adds that distinctive timeless look to a kitchen, and that's what we're channelling here, right? Indeed, farmhouse sinks are much deeper, larger and altogether more spacious than their contemporary cousins and can become the focal point of the room.
Fireclay is the ideal material here if you want a true, original farmhouse sink; however, for reasons of practicality and comfort, you can also find apron front-styled sinks made of stainless steel, granite composite, cast iron and matte stone. Make sure to select the type that will match your home decor most succinctly for best results, making sure you bear in the mind the maintenance requirements of your chosen material.
In general, two-basin sinks are much better if you wash your dishes by hand, but if you have a dishwasher and your kitchen is what estate agents might generously term 'cosy', then a single bowl model would work better.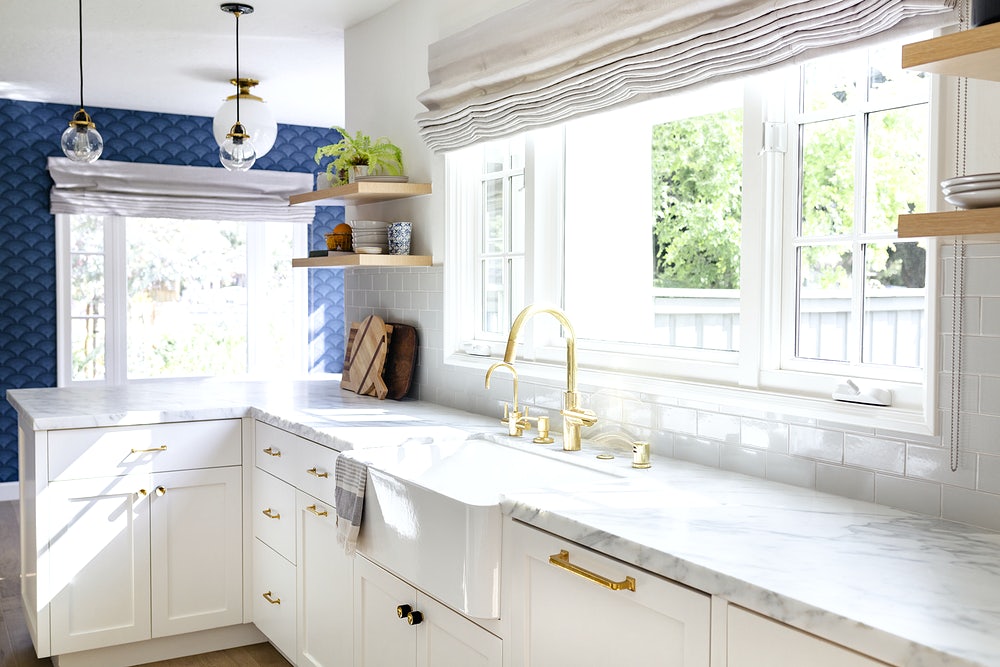 FARMHOUSE FURNITURE
If you have designs on your home channelling that rural aesthetic, then the best way to differentiate from a more 'urban' interior is through the deployment of texture and touch. This is most clearly and elegantly expressed through furniture.
Items which are sturdy and satisfying to touch make a worthy focal point for any farmhouse kitchen. We're thinking a place to eat, drink and socialise here, and we think you're picturing the same thing, too. You know the type – long, rectangular and wooden, with enough room to accommodate seating a large family; just perfect.
A gorgeous country display dresser also channels that country chic so perfectly. We think no farmhouse kitchen is complete without a crock collection on display, which brings us to our next point… 
POTS, POTTERY, CROCKERY AND ANTIQUE TRINKETS
If you're after a simple way to add a farmhouse look which isn't going to break the bank, then consider your pots, crockery and all things antique, and the way you display them.
We said it wouldn't break the bank, but it will take time and effort to accumulate such a collection. Fear not; that cobbled together feel is what we're going for here, so a trip to the local flea or antique market is in order. Display your kitchen finds on that dresser, or mount them on the wall for best results. Alternatively, hanging copper pans above your stovetop also evokes that rustic, farmhouse feel brilliantly. All you need now is some grouse or partridge to roast!
BUTCHER BLOCK COUNTERTOPS
Naturally antibacterial, strong, durable and biodegradable – we could extol the virtues of a butcher's block countertop all day long. Sadly, we expect neither you nor us have the time. 
Coming in various wood species, from walnut to maple, cherry and oak, and even reclaimed countertops, this is the centrepiece you want in your farmhouse kitchen. And yes, while they are susceptible to some scratches and stains, we just think that this adds even more charm to them. Once that bloomin' grouse arrives, we can put the block to good use…
AN AGA
Old-fashioned, inflexible, frighteningly expensive to run – yes, this is perhaps true of the older style agas. However, today you can buy agas that run off electricity, as well as finding dual-fuel combinations of electric ovens with gas hobs…both of which render the old assumptions about agas factually inaccurate. 
That's not to say an aga isn't a massive investment – you'll be looking at a four-figure price tag, not to mention the real estate they demand within the kitchen space. However, for many, agas are the ultimate kitchen centrepiece for a farmhouse kitchen, and we're not arguing. If you're looking for something a little easier to run but still packs a punch in terms of aesthetics, then consider a range cooker. 
Now, where's that grouse?