You know what they say, that home is where the heart is? Don't those same sages suggest that the kitchen is that home's beating heart? Are they trying to say that 'home is where the kitchen is'? Or is the kitchen just one ventricle, pumping out the good stuff – food – to the rest of the body, which is actually the family? Or….we've confused ourselves now.
What we can deduce from that nonsense is that the kitchen is most certainly the soul of the house, where some of the most meaningful family time is spent and shared. That is, if you can entice family in there in the first place, away from their second and third screens, their bedrooms, the pub down the road…Yep, this is one thing we're sure of; 'the family that spends time in the kitchen together, stays together'. With that in mind, here are 5 IDEAL hacks for creating a kitchen you want to spend time in. 
NO KITCHEN IS AN ISLAND
In many ways, it's the kitchen's connection to the rest of the house which defines its role within it. If it's purely a place for cooking, with the dining table placed in another room, then it becomes a very solitary place indeed. But should the kitchen contain a focal point for the whole house, in the form of a statement dining table (we're thinking thick, blond oak), then family members will instantly be drawn there, to converse, to read, to do work, all whilst the dinner is being prepared. 
A kitchen island serves the same purpose, with the added sociability for bar stools. Perched a little higher, elbows lent on the surface, perhaps thumbing through a newspaper…it just encourages chit chat and chill, right? Make sure your kitchen has a sociable surface as its primary point of convergence.
TILER THE CREATOR
Kitchen walls seem to come in fifty shades of beige, perfect for displaying your most recent pasta sauce and your children's felt tip creativity, but not best suited for that conversation stimulating atmosphere we're looking for.
Dedicating part of the room to bespoke, beautiful tiles is the answer here; they add contrast to the single tone used elsewhere on the kitchen walls, they tell a story in their origins, and as a bonus, they're easily wipeable! You could can even consider creating a mosaic kitchen countertop for real visual intrigue.  
If you can't find a style of tile which quite suits the overall aesthetic of your kitchen, then don't be afraid to get imaginative and realise your own composition. Creating different patterns with tiles in a mosaic is eminently possible and the beauty of doing your own design is that it will be totally unique, and not found in any other kitchen on the planet. Now that's a place we'd want to spend some time in.
INVITE THE WORLD ROUND FOR TEA
Kitchen 'decor' is a hard thing to get right; it's not a space which suits art and frames and abstract sculpture, that's for sure. Too much of that stuff just feels a bit silly here, heavy handed and out of place.
Instead, harness the power of functional art to give the room some serious personality and provide some perfectly placed conversation starters, too. Since it's a place where the family's cooking and conversation gets done, the interior design here should support both, as well as looking great in the process.
Cooking tools sourced from far flung places and nostalgic travel adventures certainly straddle the two concerns of art and function perfectly. A tastefully displayed tagine from Morocco, a granite pestle and mortar from Thailand sitting proudly on a work surface, a dusty pasta maker, even some bespoke Japanese knives framed by a magnetic knife block, catching the light just so…if that's not art, we don't know what is.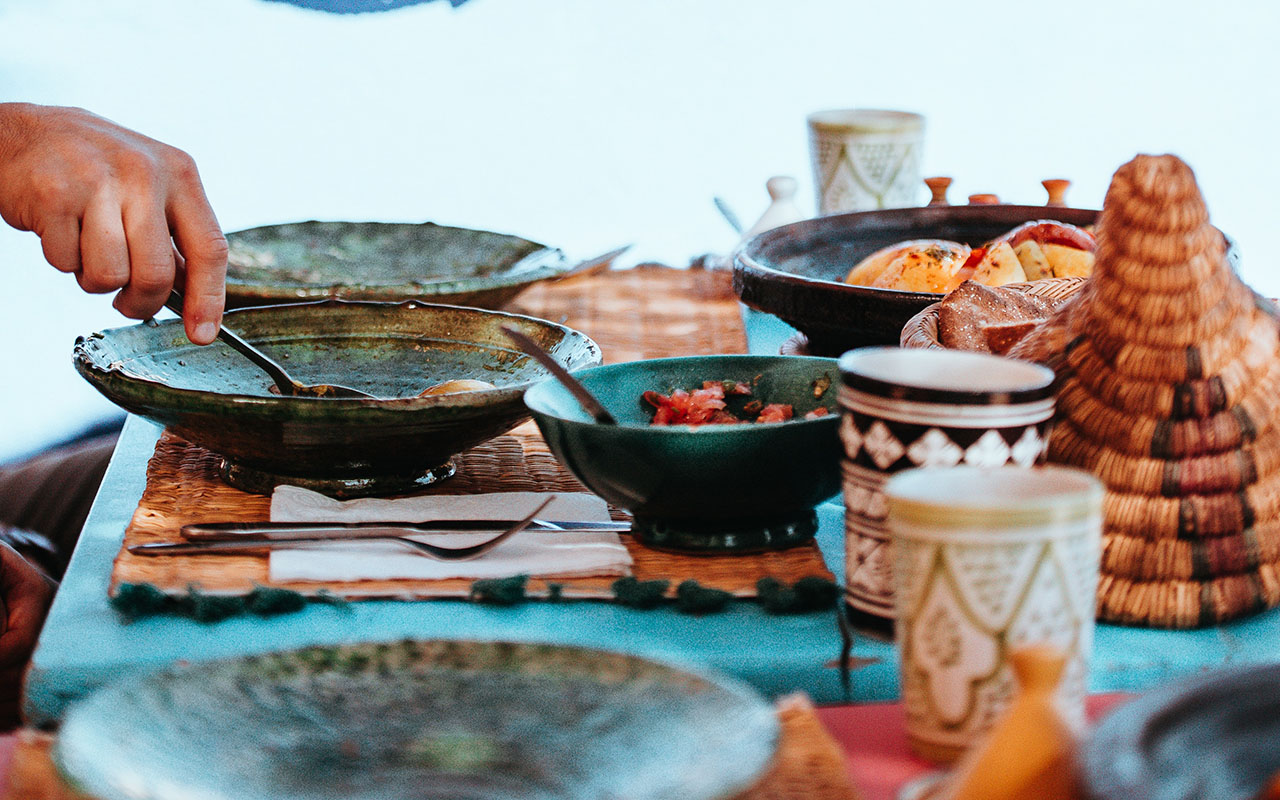 SPEAKER SET UP
Of course, cooking, eating and conversation are the main activities your kitchen will be hosting. But if you want to make it a more sociable place, as well as an enjoyable room to be alone in, 'slaving' over a hot stove, then installing some subtle, portable Bluetooth speakers is a masterstroke in creating ambiance. Preferably positioned fairly high in the room, and not immediately visible to guests, the right soundtrack can completely define the room's atmosphere.
Sonos are looking to lead the field in 2020, and their One and Play:5 models are superb. They do, however, come at a price. JBL do an affordable range of waterproof, unassuming speakers perfect for kitchens, and we're also big fans of Audio Pro Addon range, which boasts brilliant sound for the price.
Or, you could go for a smart speaker; the previously mentioned Sonos One has Alexa activated capabilities, and Apple's Home Pod is also voice controlled. Ideal, we think, for those moments when you're hands are covered in flour and you want to change the track.
IMPROVE FLOW & FUNCTIONALITY
You've improved the aesthetics, honed the atmospherics, now it's time to make your kitchen an easier place to cook in. Because if the chef is a little more serene, and a little less Gordon Ramsay, then the mood of the room is going to be welcoming, rather than hostile. 
Flow and functionality are the buzzwords here. Firstly, you're going to want to kit your kitchen out with the right tools for great everyday cooking. A basic inventory should include a couple of decent heavy bottomed pans, a sharp chef's knife, a thick wooden chopping board, a sturdy sieve, a slotted spoon, a large mixing bowl or two…you get the picture, now paint it. There are also a couple of appliances indispensable to good cooking; a reliable food processor is an absolute must. A standing mixer would do no harm, either.
An easy, breezy kitchen workflow is also essential to making the whole space more enjoyable to cook in. Items should be stored neatly and everything should have a place – check out our tips on storage solutions for your kitchen for the best advice on that – leaving the countertop free for prep. In doing so, keeping things clean will be much easier, too.
Finally, in the spirit of a professional kitchen, consider the positioning of everything in terms of economy of movement; is the seasoning directly next to the hob, the obvious place for your chopping board on the other side of that hob, and the bin close to the sink and easily accessible? It all adds up.
Now that your kitchen is war ready for all the cooking and hosting you can muster, it's time to get dinner on. Check out our 6 IDEAL chef's secrets to lift your home cooking to the next level, and show off those skills!