Home is where the heart is, as they say. And the beating atrium of any home, where nourishment is prepared and stories shared, is of course the kitchen. Where once this was a largely functional space, with the emphasis on performance and purpose, now kitchens are increasingly being seen as a vehicle in which to utilise modern designer materials and show off innovative gadgets which Heston would be proud of. If you'd like to make a statement with your exquisite taste in aesthetics, rather than via your food, then read on; our 5 IDEAL kitchen interior design additions.
TILES WITH A DIFFERENCE 
Tiles are a favoured kitchen material – easily wipeable, heat resistant and the rest – but if in the past, they were valued for their ease and practicality, today, it's all about style and aesthetic effect. 
Let's drill down into the detail with haste. Mirrored tiles, for instance, can be used to lend the illusion of greater space. Wood effect tiles, meanwhile, harness the soothing effects of nature without succumbing to the porous, delicate nature of actual wooden flooring. And we're not just talking about splashbacks here. For flooring, it's all about large, natural stone or wood effect tiles in gentle neutral tones like light grey, cream, or beige. Tiles are also used artistically, with a green natural slate floor married to nine-tile square accents in grey stone to great effect.
ILLUMINATION THAT CONNECTS 
Large homes with an open plan kitchen will often have the dining table adjacent to the central island. Designer lighting can play an important role in marrying these two spaces harmoniously. As such, a central island lends itself to the symmetry of three pendant lights hanging from the ceiling. 
By replacing garish, one tone overhead lighting, you'll be able to see your kitchen in a completely different light – literally. Recent interior design trends dictate that you would be best electing for multiple fixtures scattered in strategic positions in place of just one overbearing light. By angling lights towards the cupboards and walls of the kitchen, the light is reflected back into the room, giving the illusion of space. Equally effective is ensuring your bulbs have a colour rendition index of over 90, culminating in a warm and cosy light.
OPT FOR BRIGHT, BOLD NEW APPLIANCES
If you're completely sold on the idea of re-styling your kitchen, then you might want to go big by investing in some bright, bold new appliances. Not only will they improve your cooking (or at least, make it easier) but they'll also add visual stimulation and intrigue in droves. Should an investment in a new bread maker, Kitchen Aid or fancy combi oven be a stretch of the budget too far, then a simple addition of hanging utensils, a heavy duty, tree trunk chopping board or vintage kettle and toaster will offer the requisite visual appeal. Go get it.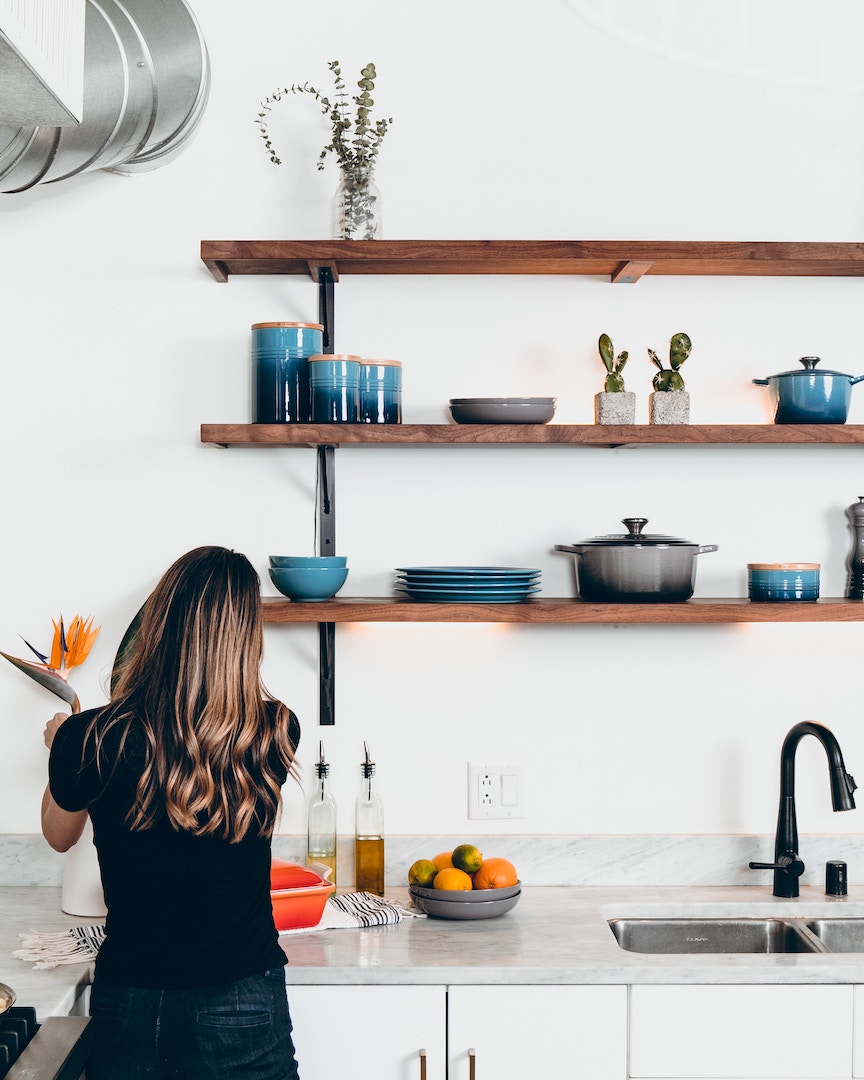 BESPOKE ISLAND STOOLS 
One way to add elegance to a central island – particularly if it's also the kitchen table, is to opt for designer stools. From bespoke leather Chesterfield numbers to delicately netted glass backed stools or linen effect backrests, there are so many styles and hues to choose from. Stylish chairs are now very much part of the modern penchant for 'art islands'. That is, kitchen islands which sport features like two-toned designs (think wood and natural stone), metallic accents, and in-built tech features such as extractors that arise from the island when you are cooking. A statement piece, focal point and functional space, all rolled into one.
KEEP IT CLEAN
What good is the investment in modern materials and funky, Fat Duck worthy gizmos if your food prep space is a mess. Indeed, you're only as good a cook as your kitchen is clean, and keeping things neat and tidy, with clean lines and everything in its right place, is one of the cornerstones of culinary wisdom. It's an ethos, a mentality, to do everything correctly and with care, that the very best chefs cherish. In short, your mise en place can make or break you. If everything is where it should be, and mess isn't causing distractions and impeding movement, then getting things done to the best of the cook's ability is as easy as an expertly cooked pie.
So, make sure your tools are so clean you could do your hair in them (don't do that though – not hygienic) and surfaces are spotless. Organise and equip your space wholely and holistically. Plastic chopping boards, of correct colour, are easier to clean than wood. Granite wipes down more totally than a textured concrete. It's all in the detail.
Should you be looking for kitchen design tips which won't break the bank, we've got you covered. Check out our article here.