Home is where the heart is. A castle, a shelter, a place of protection, of family and love, and one which, for better or for worse, reflects your personality in myriad, magical ways. But conversely, when the time comes to sell up and move on, those rose tinted spectacles you've been wearing need taking off. A more clinical perspective is required to achieve the best results and, without wishing to sound uncouth, make the most money possible. With that in mind, here are 5 IDEAL & pratical investments to improve the value of your home.
BATH TIME
There is no space smaller which packs such a punch in terms of potential value. After all, where else do we sit, without distraction, and stare ahead of us, contemplating imperfections? So, to improve your house's immediate, cosmetic appeal and convey a sense of 'worth', it's a good idea to scrutinise every nook and cranny of your bathroom to check for any blemishes, and at the very least invest in a deep clean, but more likely, a new coating of paint. 
In doing so, the bathroom will look brighter, more roomy, and simply, fresher. Because after all, as the old adage goes, if the bathroom isn't clean, what does that say about the rest of the house? On the flip side, if things here do look shipshape, the home as a whole will look rosier. And if you'd like to spend a little more on making your bathroom really purr, then check out our 5 IDEAL items to add luxury to your bathroom over here.
FINESSE THOSE FITTINGS
Whilst updating the fixtures on your house (those ever presents like the toilet, bath, the boiler, radiators etc.) can represent a large scale investment, giving the fittings some extra attention can add value without being such a huge undertaking. Though these fittings are often not included in the sale of your property, having attractive elements on domestic display can really help the potential buyer imagine their new life in your property; and that sense of imagination is something you should really encourage when trying to sell. 
So, make sure your kitchen appliances are sparkling and perhaps even consider investing in some shiny, modern new bits of tech to help present your house's best side. Display some art, make sure flowers are looking perky and fresh, perhaps hang a new full length mirror; all little touches which don't cost much but emphasise the potential, all important 'livability' of your property and make it seem like a comfortable, desirable place to dwell.
RELIABLE, DURABLE FLOORING
The ability to lure in potential buyers so their first look isn't their last is best realised via a  multisensory approach. Sure, it's clear things should look good; clean, in order, bright and beautiful. And yep, with the viewer able to foresee their future domestic bliss in all its glory, a sale of the value you're seeking is much more likely. But first impressions are best made when things also feel, smell and sound good, and a sense of longevity is harnessed. Flooring plays a vital role in achieving this attack on the senses, and can make or break that first impression.  
Of the many options available, wooden flooring can add particular value, as it's durable, sturdy and reliable, and as such gives the impression of being part of a bigger, investment-worthy picture. The fact it sounds so good under foot and smells, well, homely certainly does no harm either.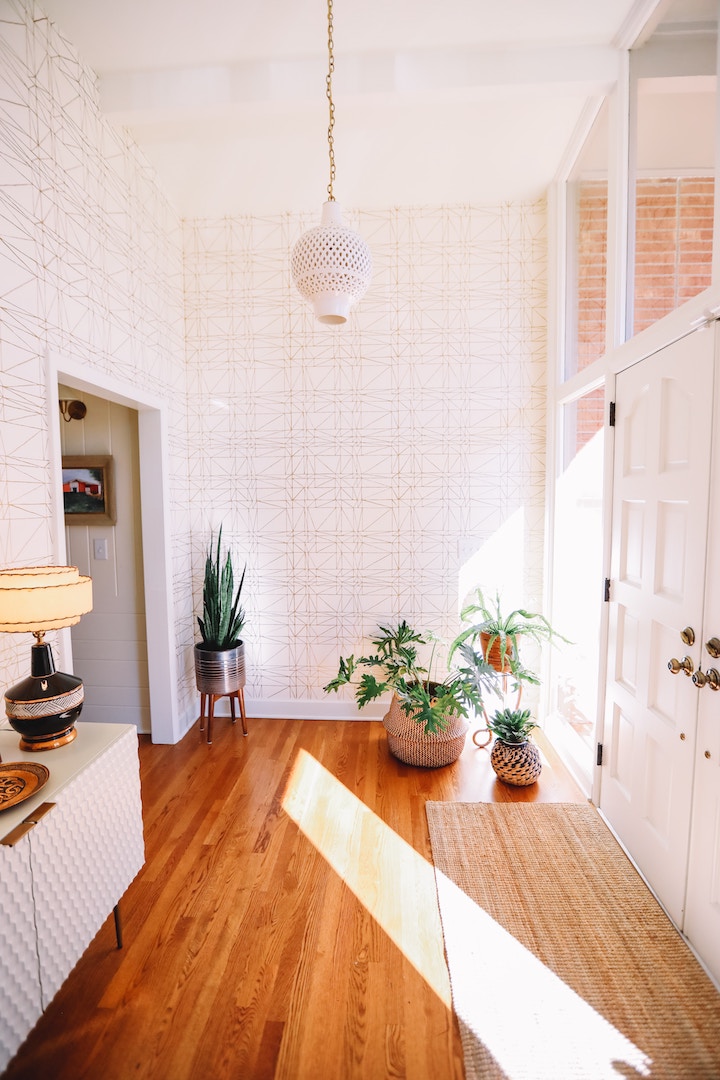 PAY ATTENTION TO KERB APPEAL
We keep banging on about first impressions. What's logically and logistically true is that these occur before a potential buyer has even entered the building. Giving the exterior of your home an update is a simple cosmetic procedure, and one which can cement a positive impression so early on in the process. After that, the viewer is putty in your hands. 
Taking care of that first impression is something called 'kerb appeal' and even the most innocuous elements can play a part in the overall impact of that first once over. An unruly front garden, broken gates, a tatty fence or dirty drive; these can all be a major turn-off. A basic clean-up, with rake, shears and lawnmower at the ready, can go such a long way, but we're here to talk about investments. 
Focus first on your front door, since it's an element which will get a thorough appraisal on first visit. Give the doorknob and knocker a good polish, make sure the key turns with ease, and give the whole door a new coat of paint should that be required. If you're lucky enough to have a front garden, make the most of it! Trim back any shrubbery from your hedge, mulch the flower beds, add hanging baskets, prune old ones, and fill window boxes with eye-catching arrangements. If the outdoor space of your gaff is purely a place for the bins, a wooden bin store could serve to hide any unsightly bags of rubbish. Yep, those first impressions are definitely worth micromanaging.
CONVERT STORAGE INTO LIVING SPACE
A slightly larger undertaking, both in terms of time and money, this, but one which can reap serious benefits if the effort is made. Each and every house has those areas dedicated (perhaps too keenly) to storage, which sometimes become a bit of a dumping ground when the potential is there for so much more. 
Since you're moving out anyway, and the necessity for storage isn't long term, consider clearing out any areas which have accumulated 'stuff', perhaps into a short-term lock up, and devoting a little time into making that room a living space instead. This only requires an investment in a sofa or bed, some furniture, perhaps a couple of shelves and decoration to make it feel more homely, but in doing so, possibilities in the mind of the buyer are opened up. It's all about giving your house a chance at putting its best foot forward. An added living space makes strides in the right direction.