Pumpkins aren't just for carving and hot drinks you know. Indeed, fall's favourite flavour can be found in more than just a pumpkin latte. From pumpkin soup to pumpkin pie, there's so much you can do with this amazing autumnal ingredient. And if you're a fan of the much beloved orange gourd, we've got some great recipes courtesy of our pals at Waitrose. So without further ado, here are 5 IDEAL pumpkin recipes for autumn we hope you'll love as much as us.
BRAISED CHORIZO & CHESTNUTS WITH PUMPKIN & KALE
Vegetarian

Preparation time:20 minutes

Cooking time:1 hour 15 minutes

Total time:1 hour 35 minutes

Serves: 4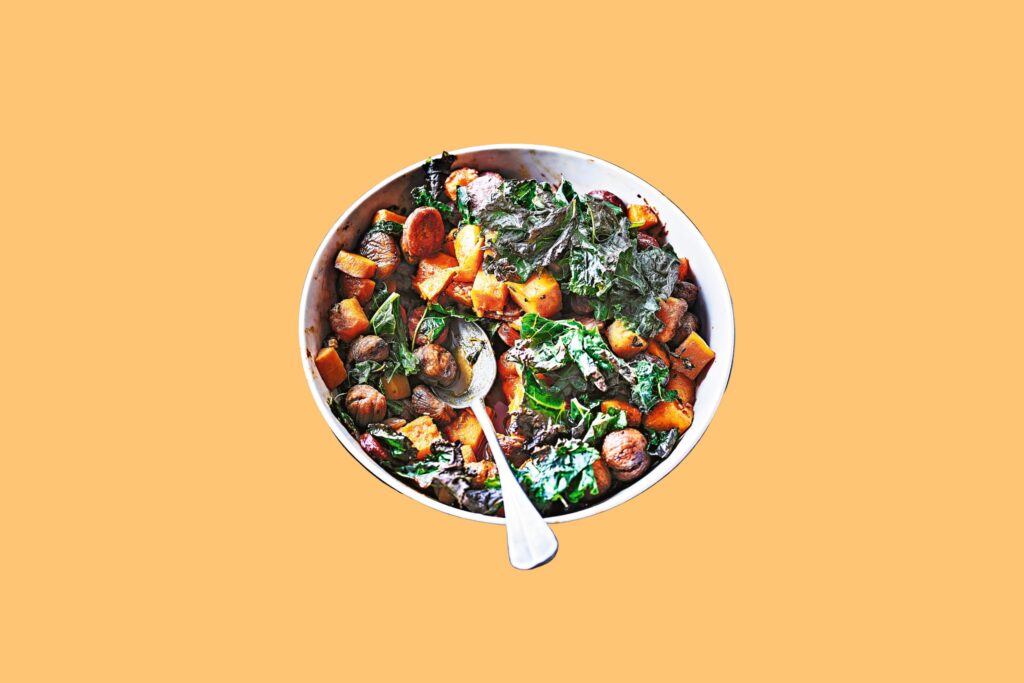 WHAT YOU'LL NEED
300g fresh chestnuts

2 tbsp olive oil

1 clove garlic,

finely chopped

500g onion squash, peeled, deseeded

and cubed

200g pack chorizo, sliced

or diced

4-6 sprigs fresh thyme

1 tsp smoked paprika

4 tbsp Spanish brandy

250g kale

150ml chicken stock

Spanish extra virgin olive oil, to serve



WHAT YOU NEED TO DO
Preheat the oven to 170°C, gas mark 3. Pierce the skin of the chestnuts with a sharp knife then boil in a pan of water for about 15 minutes until just tender. Drain and peel while still warm. Heat the oil in a medium frying pan and add the garlic, squash and chorizo. Stir over a medium heat for 5 minutes until the chorizo and squash are beginning to brown.

Add the chestnuts and stir over a high heat for 1-2 minutes until golden. Add the thyme, paprika and seasoning and cook for another minute then add the brandy and, if you like, flame with a match.

Blanch the kale in boiling water for 1 minute then drain. Arrange two-thirds in the base of an ovenproof dish about 22cm across. Spoon over the ingredients from the pan and arrange the remaining kale on top. Bring the stock to the boil in the pan and pour over the top of the kale.

Bake for an hour or until bubbling and crispy. Drizzle with a little extra virgin olive oil and serve with crusty bread for mopping up the juices.
IDEAL tip: Make this dish ahead, cover and chill for up to 6 hours, then cook it in the oven when needed. Just increase the cooking time by 15 minutes and ensure it is reheated thoroughly.
PUMPKIN & STEM GINGER PIE
Vegetarian

Preparation time:20 minutes

Cooking time:1 hour 45 minutes

Total time: 2 hours 5 minutes

Serves: 6 – 8
WHAT YOU'LL NEED
750g pumpkin, peeled, seeded and cut into large wedges

1 tsp ground cinnamon

½ tsp grated nutmeg

½ tsp ground ginger

100g soft light brown sugar

25g butter

250g pre-made shortcrust pastry

170ml double cream

2 large free range eggs

Grated zest of ½ lemon

2 pieces stem ginger, finely chopped



WHAT YOU NEED TO DO
Preheat the oven to 180°C, gas mark 4. Arrange the pumpkin in a baking dish so that it fits neatly and scatter with the cinnamon, nutmeg and ginger, and half the sugar. Dot with butter and bake in the oven for 50 minutes until the flesh is tender.

While the pumpkin is cooking, roll out the pastry and use to line a 20cm deep loose-bottomed flan tin. Chill for 15 minutes then bake blind for 15 minutes using baking beans or dried pulses.

Purée the pumpkin and any juices from the dish with the cream in a blender or processor. Beat the eggs with the remaining sugar and the lemon zest until pale then fold in the pumpkin purée and stem ginger. Pour into the flan case and bake for 45-50 minutes until just set and golden. Serve warm or chilled with thick cream.
SPICED PUMPKIN & COCONUT CASSEROLE
Preparation time: 30 minutes

Cooking time: 75 minutes

Serves: 6
WHAT YOU'LL NEED
500g shallots

1.5kg pumpkin or squash

3 tbsp vegetable or rapeseed oil

1 large fennel bulb, chopped

3 red peppers, deseeded and roughly chopped

6 cloves garlic, crushed

2 tbsp Cajun seasoning

2 tbsp chopped thyme

1 vegetable stock cube

400ml can coconut milk

400g can chopped tomatoes

100ml single cream
WHAT YOU NEED TO DO
Place the shallots in a heatproof bowl, cover with boiling water and leave to stand for 2 minutes. Drain and rinse in cold water. Peel away the skins, leaving the onions whole. Cut the pumpkin or squash in half, then scoop out and discard the seeds. Cut away the skin and chop the flesh into 2-3cm chunks.

Heat 2 tbsp of the oil in a large saucepan or flameproof casserole and add the fennel and shallots. Fry gently for 6-8 minutes, stirring frequently, until just beginning to colour. Drain to a plate. Add the peppers to the pan with the remaining oil and fry gently for10 minutes, stirring frequently, until softened and lightly browned. (Make sure they colour as this will bring out their sweetness and flavour.) Return the shallots and fennel to the pan, stir in the garlic, then add the Cajun seasoning, pumpkin and thyme.

Crumble in the stock cube and add 150ml water, the coconut milk and tomatoes. Bring to the boil, reduce the heat to its lowest setting, cover and cook very gently for about 45 minutes, stirring occasionally, until the vegetables are very tender.

Stir in the cream and heat through gently. Leave to stand for 10 minutes before serving.
IDEAL Cook's Tip: Like most casseroles, this also tastes good if made ahead and reheated to serve. Stir in the cream when reheating.
CHESTNUT & PUMKIN SPELT RISOTTO
Vegetarian

Total time: 15 minutes

Serves: 2
WHAT YOU'LL NEED
1 tbsp olive oil

200g cooked butternut squash, cubed

1 leek, sliced

100g cooked chestnuts, roughly chopped

250g pouch

Love Life Barley, Wheatberries, Spelt & Rice




200ml vegetable stoc



WHAT YOU NEED TO DO
Heat the oil in a frying pan and add the squash. Fry for 3 minutes then add the leek and cook for a further 5 minutes. Once the squash has softened, cut the bigger chunks into smaller pieces.

Add the other ingredients and cook for 3-5 minutes until the squash is tender.
ROAST PUMPKIN WITH SAGE & ONION
Low Fat

Gluten Free

Preparation time:15 minutes

Cooking time:45 minutes

Serves: 8 as a side
WHAT YOU'LL NEED
2 small culinary pumpkins (or 2 small butternut squashes)

4 red onions

3 tbsp garlic infused olive oil

150ml medium white wine

2 x 20g packs sage

25g Parmigiano Reggiano, finely grated
WHAT YOU NEED TO DO
Preheat the oven to 180°C, gas mark 4. Peel, deseed and cut the pumpkins (or squashes) into wedges and arrange over 2 baking trays. Peel and cut the red onions into thick wedges, retaining some of the root so they hold together. Add the onions to the pumpkins, and toss with 2 tablespoons of the olive oil. Pour over the white wine and season.

Roast in the oven for 30 minutes, then toss the sage leaves in the remaining oil and scatter over the vegetables. Return to the oven, swapping the trays over, and continue to cook for a further 10-15 minutes until the sage is crisp and the vegetables are soft and golden. Sprinkle the cheese over the top and serve.
SPICY PUMPKIN & SWEETCORN SOUP
Vegetarian

Preparation time:15 minutes

Cooking time:30 minutes

Total time:45 minutes

Serves: 4
WHAT YOU'LL NEED
1kg squash or pumpkin, peeled (or 2 x 500g bags frozen essential

Waitrose Butternut Squash, thawed)

25g Waitrose Sunflower Seeds

2 tbsp Filippo Berio Mild & Light Olive Oil

1 large essential organic onion chopped

1 tbsp ground coriander

1 tsp chilli flakes

1 litre vegetable stock

195g can essential Waitrose Sweetcorn, drained

½ x 400ml can Thai Taste Coconut Milk
WHAT YOU NEED TO DO
Preheat the oven to 200°C, gas mark 6. Cut the squash or pumpkin into chunks, place on a baking sheet and bake for 20 minutes or until soft. Meanwhile, place the sunflower seeds on a tray and bake in the oven underneath the squash for 5 minutes or until golden. Set aside.

Heat the olive oil in a large pan and fry the onion until just soft. Add the coriander and chilli and fry for a minute more. Add the squash to the pan, pour in the stock, the drained sweetcorn and the coconut milk.

Bring to the boil, simmer for 5 minutes then remove from the heat and pulse in a blender until smooth. Serve garnished with the toasted sunflower seeds and crusty baguette, if desired.