Butter beans, a storecupboard staple we can't live without. Easy to cook, butter beans make a hearty dinner in no time at all. And we've got some delicious recipes courtesy of Waitrose.com to help you cook up a butter bean feast. Here's 5 IDEAL recipes if you're in the mood for butter beans.
Vegetarian
Vegan
Gluten Free
Preparation time:10 minutes
Cooking time:15 minutes
Total time:25 minutes
Serves: 2
INGREDIENTS
15g pine nuts
1 tbsp olive oil
1 medium aubergine, cut into 2cm chunks
2 small red onions, roughly chopped
1 stick celery, thinly sliced
350g tub essential Waitrose Tomato And Basil Sauce
400g can essential Waitrose Butter Beans
1 tbsp essential Waitrose Balsamic Vinegar
Torn basil or celery leaves, to sprinkle
METHOD
1. Heat a dry frying pan and lightly toast the pine nuts. Tip out onto a plate. Heat the oil in the pan and fry the aubergine, stirring frequently for 5 minutes until it starts to colour. Add the onions and fry for a further 5 minutes. Stir in the celery and tomato and basil sauce and cook gently for 5 minutes more.
2. Drain the beans, reserving 100ml of the liquid. Blend the beans, liquid and seasoning in a processor until smooth. Scrape out into a small saucepan and heat gently for 1-2 minutes until hot.
3. Stir the balsamic vinegar into the tomato sauce and add a dash of boiling water if it has lost its juiciness. Spoon the bean purée onto serving plates, top with the stew and serve scattered with the pine nuts, basil or celery leaves.
Cook's tipThis vegan recipe is great as it is, or for a more substantial tasting bean purée, try whizzing in 1-2 tablespoons of cashew butter before heating through.
GOAT'S CHEESE AUBERGINES WITH PEA & BEAN CRUSH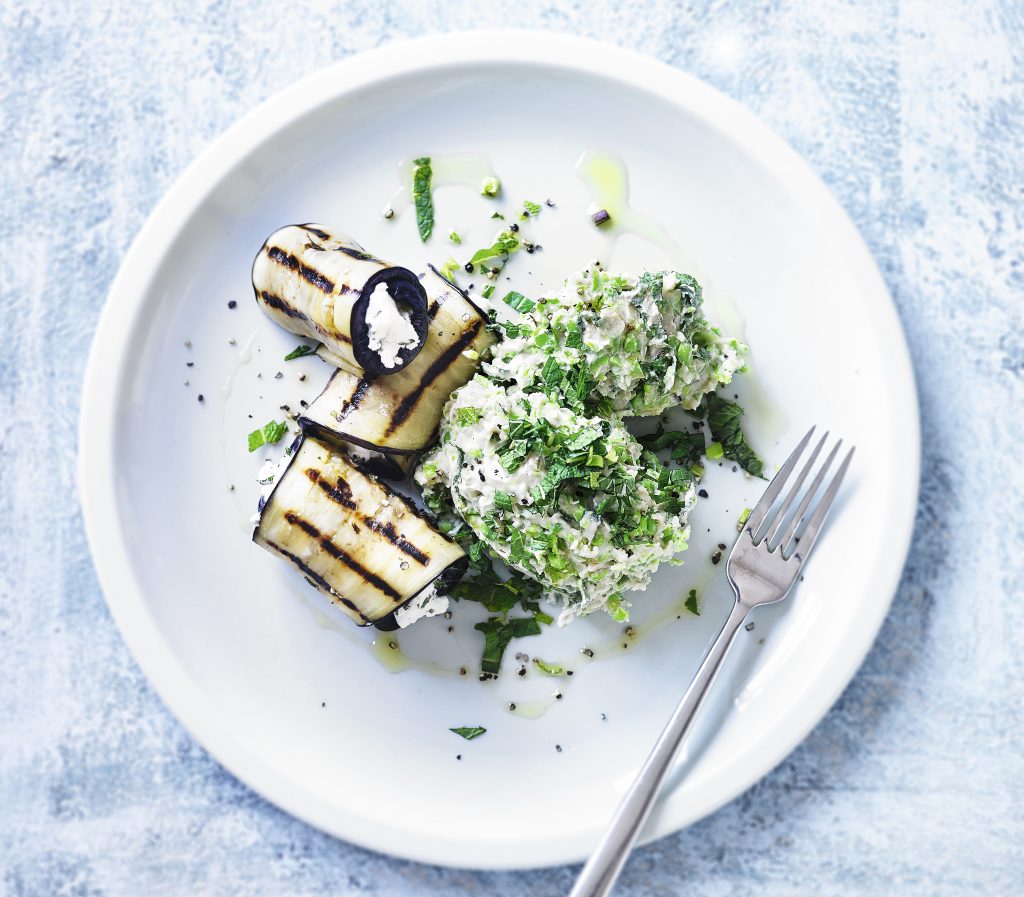 Vegetarian
Preparation time:5 minutes
Cooking time:10 minutes
Total time:15 minutes
Serves: 2
INGREDIENTS
1 aubergine, sliced thinly into 8
2 tbsp olive oil
190g pack fresh Waitrose Popped Garden Peas
400g can butter beans, drained and rinsed
2 tbsp chopped mint
2 tbsp half fat crème fraÎche
125g pack Waitrose British soft Goat's Cheese
METHOD
1. Brush the aubergine slices with oil and season. Griddle in 2 batches for 2-3 minutes each side or until softened and golden. Wrap in foil to keep warm.
2. Meanwhile, cook the peas and butter beans in boiling water for 3 minutes, then drain and coarsely crush with half the mint, the crème fraÎche and seasoning.
3. Mix the remaining mint into the goat's cheese and spread onto the aubergines. Roll up each one up, and serve with the pea and butter bean crush.
WATERCRESS & BUTTERBEAN PASTA
Vegetarian

Total time:15 minutes

Serves: 2

1 of your 5 a day

Source of fibre 
INGREDIENTS 
150g whole wheat penne

100g bag watercress

100g Italian ricotta

200g can butter beans, drained and rinsed

50ml semi skimmed milk

25g toasted pine nuts
METHOD
Cook the pasta in boiling water for 11-13 minutes until tender. Drain and return to the pan.

Meanwhile, place the watercress, ricotta, butter beans and milk in a food processor and blitz until a coarse paste is formed.

Season well and stir into the pasta, along with the pine nuts, and heat through.
CHICKEN & BUTTER BEAN STEW
Total time:45 minutes
Serves: 4
INGREDIENTS
1 tbsp vegetable oil
800g pack essential Waitrose British Chicken Thighs
2 carrots, thickly sliced
2 leeks, thickly sliced
2 sticks celery, thickly sliced
400ml chicken stock
400g can essential Waitrose Butter Beans, drained
4 sprigs fresh thyme
METHOD
1. Preheat the oven to 220˚C, gas mark 7.
2. Heat the oil in a large frying pan and fry the chicken thighs for 5 minutes, turning once, until golden brown on both sides. Transfer to a lidded ovenproof casserole and place in the oven, uncovered, for 5 minutes while you cook the veg.
3. Meanwhile, fry the vegetables in the same frying pan for 5 minutes. Transfer to the casserole dish, then add the stock, beans and thyme. Season, to taste.
4. Cover the casserole and cook in the oven for 30 minutes, until the chicken is cooked through and no pink meat remains. Serve in bowls with crusty bread (optional).