Tuscany; known for its fertile landscape and world renowned terroir, is a foodie's dream. And nowhere is this love of all things culinary more pronounced than the region's capital, Florence. In keeping with Italy's gastronomic heritage, ingredients and honesty are king here; and when the tools to work with are this good, we really wouldn't have it any other way. So with this in mind, here are 5 IDEAL reasons why foodies should flock to Florence.
ANTI PASTI PARADISE
For the Tuscans, a meal is so much more than those four letters. It's an event, a time to break bread (literally and metaphorically) and an opportunity to appreciate the region's slow approach to life in the face of modernity. Most curtains go up on a meal via a sharing platter of antipasti; sociable, convivial and downright delicious. Of course, there's a danger of filling up too early, but those who worry about this sort of thing are only missing out on the true spirit of Italian eating. Indeed, if you don't find yourself only on your starters, belt removed and trouser's top button unfastened, three hours in, then you haven't done it right anyway.
Sharing is a wonderful way to loosen up the mood – conversation, of course, is as integral as the full mouth which is hindering it – and more often than not, the food you're sharing is also the inspiration for that conversation. For foodie travellers, this opener is a chance to sample a good range of preparations and tastes, such as the very popular (and extremely more-ish) lardo di colonnata. This is pork lard cured in marble and it's usually served alongside the crusty bread known as crostini. Also popular and bloody delicious is crostini di fegatini, bread topped with a creamy chicken liver pâté. Bruschetta, too, is ubiquitous, utilising the fantastic tomatoes of summer in the region.
BISTECCA ALLA FIORENTINA
The Chianina breed of cattle is as historic and revered as it gets – references to their characteristic white colour and dazzlingly flavoured meat date back some 2,000 years. For the carnivores amongst us, no trip to Florence would be complete without sampling Bistecca alla Fiorentina, a T-bone steak which packs bags of deep, rich flavour owing to its marbling and even distribution of fat, likely due to their relaxed life on the hills. Slowfood, indeed. The bistecca is best enjoyed cooked over flames, with that immaculate, criss-cross charring of the best beef cooking. Usually shared between two, it's advisable to bring a friend (or hearty appetite). As with most food in Florence, the ingredients are allowed to shine and appreciate relatively unadorned, here simply  with lemon, olive oil and a few flakes of good salt.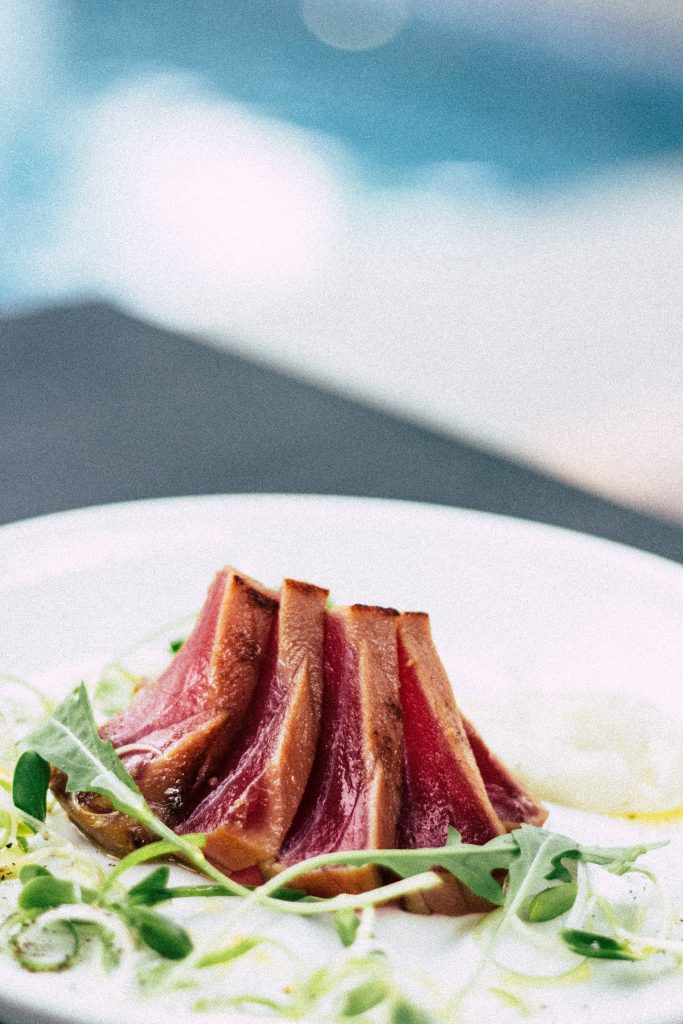 WILD FOOD
The vast splendor of the Tuscan countryside isn't only good for Instagramming. Indeed, it's home to some of the best wild and forageable food in the world; any foodie's dream, without doubt. So get in touch with the world famous truffles, olive oil, wild mushrooms, porcini in particular, and the roaming wild boar and rabbit. You'll find all of these treats served with freshly made pappardelle in any decent trattoria in the city. Of course, not all will be served together or at the same time of year; seasons differ and dishes change accordingly. If you're heading over in November or December, though, make sure you take in one of the local olive tours, where you can join in the olive picking and watch the fruits being pressed. And if you're truly lucky, leave with a bottle of the good stuff at the end.
BREAK BREAD, DRINK WINE
Like we've said, food in Florence is all about a humble, simple appreciation of ingredients. The city is also famed for its many Catholic churches. Put the two together, and in foodie terms, it's no surprise that bread and wine are the heartbeat of the city's culinary anatomy.
It may sound strange at first, off putting even, but Tuscan bread is known as pane sciocco – 'bland bread'. This is due to the lack of salt in the recipe, thought to have originated in a prohibitive tax on salt in the Middle Ages, prevented everyday folk – the cooks – from using it in their cooking. Generally, the bread is Florence is baked in a wood fired oven, giving it a complexity which more than makes up for the lack of salt. The next day's stuff even thickens their soup, ribollita (reboiled soup) and goes in their panzanella salad. Now there's value for money.
And although it might seem like a bit of a cliché, it'd be churlish not to mention the wines. The sun-drenched hills of the Tuscan countryside produce some amazing vintages – the aforementioned Vernaccia di San Gimignano is a white that's well worth a try, and a visit really wouldn't be complete without a glass or two of the rightly-famous Tuscan Chianti.
AFTERS
After all this feasting, you're gonna be feeling pretty full, and the traditional way of dining in Florence seems to acknowledge this. Indeed, you'll generally only need to save a small space for dessert, as because the traditional way to finish a meal here is surprisingly light. Lengthy, leisurely dinners are quite often simply capped off with some cantucci (crisp almond biscuits similar to biscotti) dipped in a glass of smooth, sweet vin santo. Of course, if there is still a space wanting to be filled, you could try a slice of castagnaccio, a traditional local cake made with chestnut flour. Also, no day in the city would be complete without a scoop of gelato. Well, it would be rude not to, right?
Sponsored by: