Chickpeas are one of the cheapest most popular pulses and here at IDEAL we can't get enough of them. We've got some delicious recipes courtesy of Waitrose.com to help you cook up a chickpea feast. Versatile, cheap and delicious, here's 5 IDEAL recipes if you're in the mood for chickpeas.
CHICKPEA & SPINACH CURRY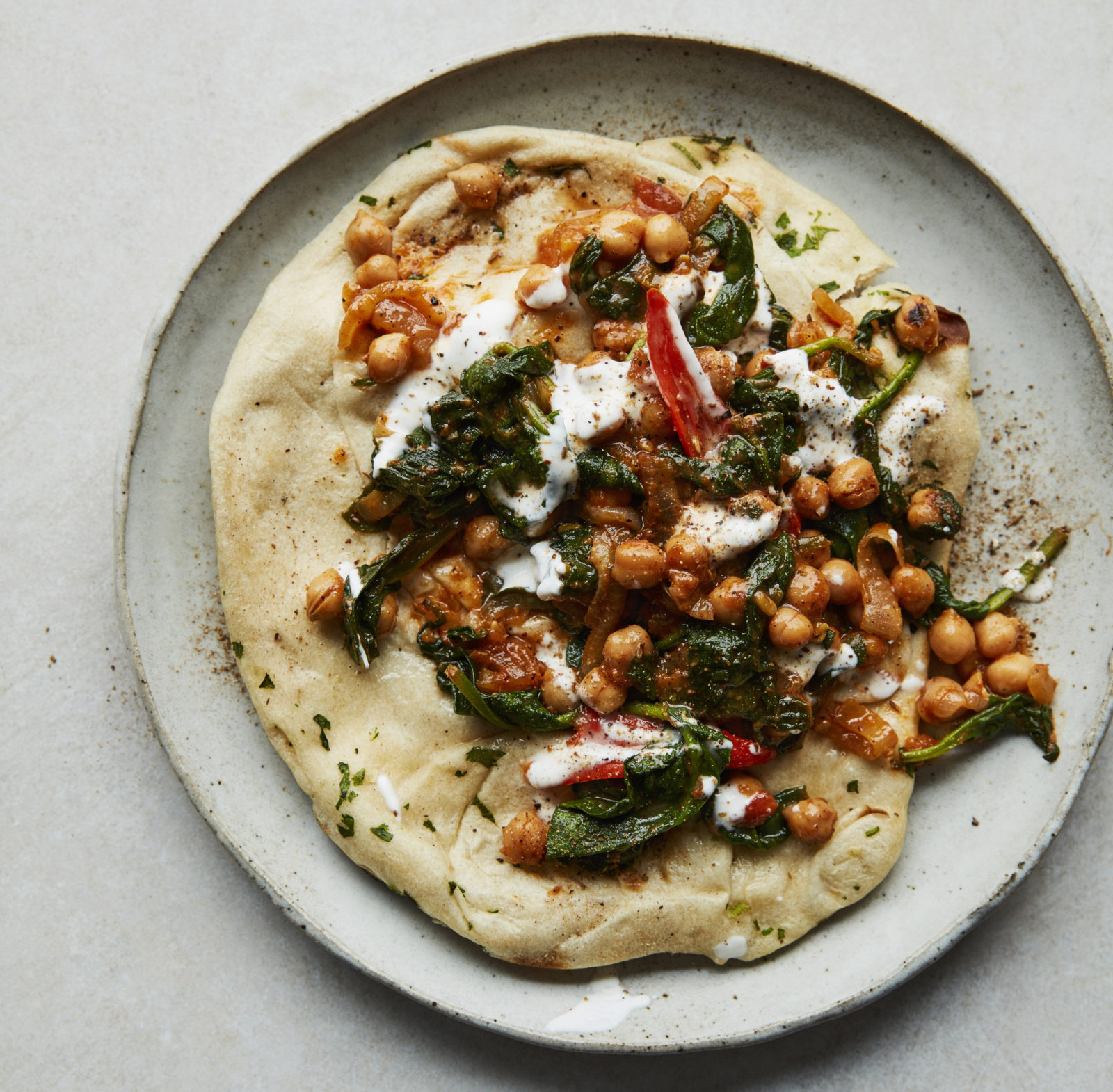 Vegetarian

Total time: 25 minutes

Serves: 2-3
INGREDIENTS
1 tbsp vegetable oil

1 onion, sliced 

2 garlic cloves, crushed 

1 tsp grated fresh root ginger

1 large tomato, roughly chopped 

1 tbsp tomato purée 

1 red chilli, halved 

2 tsp garam masala, plus extra to serve 

1 tsp fenugreek seeds 

400g can chick peas, drained and rinsed 

235g pack ready washed spinach 

Squeeze lemon juice 

3 tbsp natural yogurt, plus extra to serve 

2 garlic and coriander naan bread, to serve
METHOD

1.Heat the oil in a large saucepan over a medium heat. Add the onion and a pinch of salt and fry for 8 minutes until light golden brown. Add the garlic, ginger, tomato, tomato purée, chilli, spices and chick peas, then fry for 2 minutes more. Add 3 tbsp water and cook for another 2 minutes.

2. Stir in the spinach, then cover and leave for 3 minutes to wilt. Uncover, add a squeeze of lemon and stir everything together. Take off the heat then stir in the yogurt, a spoonful at a time, before serving on warm naan bread with extra yogurt and a sprinkle more garam masala.
CARROR, CORIANDER AND CHICK PEA BURGERS
Make these veggie burgers several hours in advance, or even the day before, and chill them so they have a chance to firm up a little before cooking.
Total time: 30-35 minutes

Makes: 6
INGREDIENTS 
400g can chick peas

1 tbsp vegetable oil

2 onions, chopped

75g white or brown breadcrumbs

300g carrots, grated

½ x 28g pack fresh coriander, chopped

2 tsp harissa paste

1 british free range egg

240g pack garlic flatbread

Fragata Spanish hot peppers and soured cream, to serve
METHOD
Drain the chick peas and crush in a food processor until almost paste-like. Tip into a bowl.

Heat the oil in a frying pan and gently fry the onions, stirring frequently, until soft and lightly browned. Add to the bowl with the breadcrumbs, carrots, coriander and a little seasoning.

Mix the harissa paste with the egg and stir well into the carrot mixture. Using your hands, shape the mixture into 6 even-sized pieces. Press each firmly into a ball and flatten into burger shapes. Chill until ready to cook.

Light the barbecue about 30 minutes before cooking to allow the flames to die down. Cook the flatbread according to pack instructions or by heating it on the barbecue. Cook the burgers for about 5 minutes, gently turning once, until golden. Cut the flatbread into wedges and serve with the burgers, peppers and a dollop of soured cream.
TAHINI CHICKEN WITH SPINACH & CHICKPEAS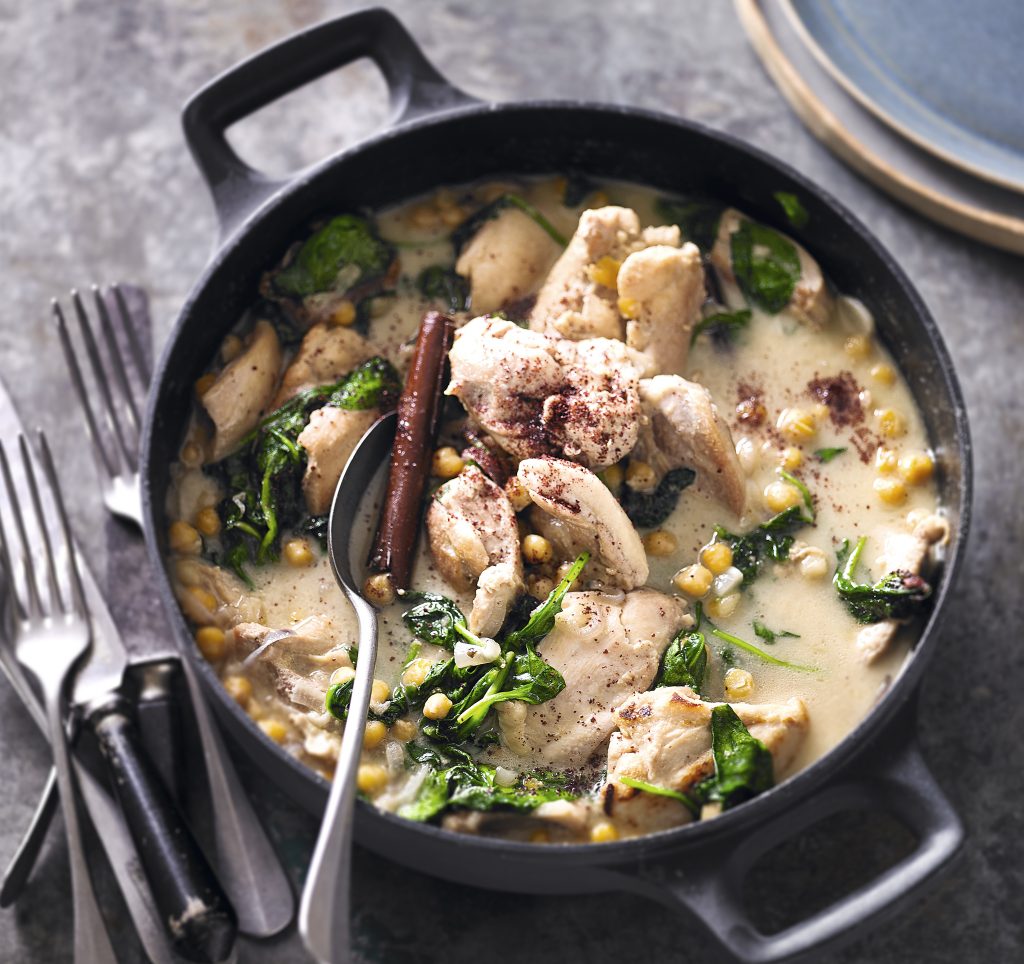 Total time: 1 hour 15 minutes

Serves: 6
INGREDIENTS 
1kg British Chicken Thigh Fillets 

2 tbsp olive oil

2 red onions, sliced 

5 cloves garlic, crushed

2 x 400g cans chickpeas, 

drained and rinsed

2 large green chillies, deseeded and quartered lengthways

2 cinnamon sticks

500ml chicken stock

100g tahini

2 tbsp clear honey

235g pack washed spinach 

Sumac, to sprinkle, optional

Warmed pitta breads, to serve
METHOD
Preheat the oven to 180°C, gas mark 4. Halve each chicken thigh fillet. Heat the oil in a large flameproof and freezerproof casserole, and fry the chicken in batches until golden. Lift out onto a plate and fry the onions for 5 minutes to soften.

Stir in the garlic, chickpeas, chillies, cinnamon and stock, and bring to a gentle simmer. Cover and cook in the oven for 45 minutes until the chicken is tender, the juices run clear and there is no pink meat.

Combine the tahini, honey and 3 tbsp cold water in a small bowl. Tip into the stew and mix into the cooking juices. Add the spinach and stir into the sauce until wilted. Leave to cool.
BAKED CAULIFLOWER WITH CHICKPEAS & GRAINS
Total time: 30 minutes

Serves: 2
INGREDIENTS 
1 small cauliflower, leaves removed
50g fresh breadcrumbs
1 tsp smoked paprika
½ x 25g pack fresh mint, leaves chopped
3 tbsp extra virgin olive oil
250g pouch pre-cooked grains i.e. quinoa, chickpeas, bulgur wheat & rice
50g feta cheese, crumbled
50g pomegranate seeds
½ cucumber portion, diced 
METHOD
Preheat the oven to 200°C, gas mark 6. Place the cauliflower in a pan of water and bring to the boil. Simmer for 5 minutes, drain and transfer to a small roasting tin. Mix the breadcrumbs, paprika, half the mint, seasoning and 2 tbsp oil and press onto the cauliflower. Bake for 15 minutes or until just tender.

Meanwhile, microwave the grains according to pack instructions and mix in the feta, pomegranate, cucumber, the remaining mint, oil and seasoning. Serve the grains with wedges of baked cauliflower.
BEETROOT & CHICKPEA KOFTAS

Vegetarian

Serves 6

Cooking time: 40 minutes + chilling time
INGREDIENTS 
1 small onion, finely chopped
2½ tbsp olive oil
2 cloves garlic, crushed
1 large green chilli, deseeded and finely chopped
½ tsp ground cumin
½ tsp ground coriander
½ tsp cayenne
Large pinch dried mint
400g can chickpeas, drained but not rinsed
300g raw beetroot, peeled and coarsely grated
50g fresh breadcrumbs
50g walnuts, toasted and finely chopped
½ x 28g pack coriander, chopped
TO SERVE (OPTIONAL) 
Pitta breads

Houmous, raita or tzatziki

Sliced tomatoes

Sliced cucumber

Hot pickled green chillies (guindillas)

Lemon wedges

6 wooden skewers
METHOD

Add the onion to a frying pan, add 1 tbsp olive oil and cook for 3-4 minutes until soft but not coloured. Add the garlic, chilli and spices and cook for another minute. Add the mint, chickpeas and beetroot, season and mix to combine. Remove from the heat and leave to cool slightly.

Blitz the mixture in a food processor until nearly smooth. Scoop into a bowl, add the breadcrumbs, walnuts, coriander and seasoning. Divide the mixture into 6 and shape into sausages, then push a skewer through. Chill for at least 1 hour or until ready to use.

Preheat the barbecue or grill. Oil a large piece of foil and place over the barbecue or grill rack. Brush each kofta with olive oil and cook over a medium heat, for 8-10 minutes, turning gently with a fish slice or tongs to lightly brown on all sides. Toast the pittas on the rack at the same time.

Serve the kofta with toasted pitta, houmous, raita or tzatziki, sliced tomatoes, cucumbers and hot pickled chillies, if you like.
Cook's tip: Replace the breadcrumbs with ground almonds to make this recipe gluten free.