The Mekong River is one of the world's great bodies of water. Stretching for over 4000km and crossing the borders of six countries, its cultural and culinary influence over each is huge. For so many, its ebb and flow defines daily life.
It's along the lower Mekong, which forms the border between Myanmar and Laos before flowing beyond, which we'll traverse today. In doing so, you'll glimpse the rich, diverse and distinct life of four South East Asian countries and have the chance to interact with their beautiful communities and culture. Falling in love with this incredible part of the world is all but guaranteed. Check out these 5 IDEAL stops on your Mekong river cruise.
CHIANG RAI, THAILAND
The Upper Mekong River begins in the Jifu Mountains, taking water from the melting snow of the Himalayas before running south and onwards to where the borders of Myanmar, Laos and Thailand meet. Sometimes referred to as the Golden Triangle, this marks the confluence of the Ruak and Mekong rivers, the former of which continues into Myanmar whilst the latter takes us on our Mekong cruise south east.
Chiang Rai is a picturesque, culturally significant town in Thailand's northernmost province (also of the same name), famed for its majestic and ornate Buddhist temples and delicious Northern Thai Lanna food. Make sure you pay a visit to Wat Phra Kaew, one of the country's most stunning temples.
LUANG PRUBANG, LAOS
Onwards and across the border to Luang Prubang, which, although not the country's capital, is arguably Laos' most compelling town. The royal capital until 1975, it still retains a distinct regalness and bundles of charm. The Mekong cuts a swathe right through the heart of the town, with cafes and restaurants lining the south bank. 
And though Laotian food isn't perhaps as internationally recognised as it should be, now is the time to hop off your cruise and get stuck in. Luang Prabang is a great place to start discovering this country's diverse and delicious cuisine as it has a great mix of street food, markets and the emergence of a few fine dining places owing to its recent surge in tourism.
Be sure to order the salt grilled fish which you wrap in lettuce leaves and dip in a variety of fiery dipping sauces; that's 'miang pla pao' to the locals and the famous laap pla (minced catfish salad).
A stroll around the historic centre is a must, too. Comprised of four main roads, the focal point being Sisavangvong Road, there are cute boutiques and markets aplenty for souvenir shopping.
SIEM RIEP, CAMBODIA
Perhaps the most charming aspect of a Mekong River cruise is being able to travel on a traditional long tail boat (pimped out of course and eminently comfortable for a couple of weeks on board) and take in floating markets and rural communities at a canter.
Heading south from Laos to Cambodia will take the best part of a day but is well worth the gentle pace in between, allowing you to appreciate the full scope of the Mekong's powers. Check out the bespoke tours from Rainforest Cruises for arguably the most all encompassing Mekong cruise around.
As you enter Cambodia's north west, the first significant stop will be Siem Reap. Though this town may be compact in size, culturally and culinarily it packs one hell of a punch. It's most famous as the gateway town which serves the world famous religious site Angkor Wat, and if you have time to explore this incredible wonder of the world, don't miss the chance!
The town itself is peaceful and brimming with brilliant food. Our pick of the bunch is Spoons, a celebration of the country's much underrated cuisine and a philanthropic operation to boot. Cuisine Wat Damark is another superb Siem Reap restaurant, doing Khmer fine dining with respect for its heritage at the very highest level. Check out our tips on the IDEAL things to do in Siem Reap, Cambodia if you're looking to spend a day or two here.
TAN CHAU, VIETNAM
Two hours south of Cambodia's capital Phnom Penh and across the border into Vietnam, you'll reach Tan Chau, a charming place famous globally for its silk production. The Mekong defines Tan Chau, with floating villages forming much of the focal point here.
A visit to Tan Chau silk factory, which still uses old school methods and traditional looms, is a must. This is craftsmanship at its most skilled, and the labour intensive production methods lead to premium product, both in quality and price. Budget your souvenir shopping accordingly; it would be a shame if you'd run out of spending money before reaching Tan Chau!
HO CHI MINH CITY, VIETNAM
Your Mekong river cruise will end in Vietnam's largest and most happening city, Ho Chi Minh City (formerly Saigon). Here you can experience the country's dynamism and ambition full throttle. It's a megacity, make no mistake, but one with bags of character and history.
Ben Thanh Market, District 1, is the foodie focal point of the city, with vendors slinging bowls of nourishing soup from early in the morning until closing time at around 7pm. Many of Ho Chi Minh City's best food options are closeby, so head here if you're looking to get fed. The backpacker street Bui Vien is also walking distance away, and is always entertaining for a quick beer and some people watching.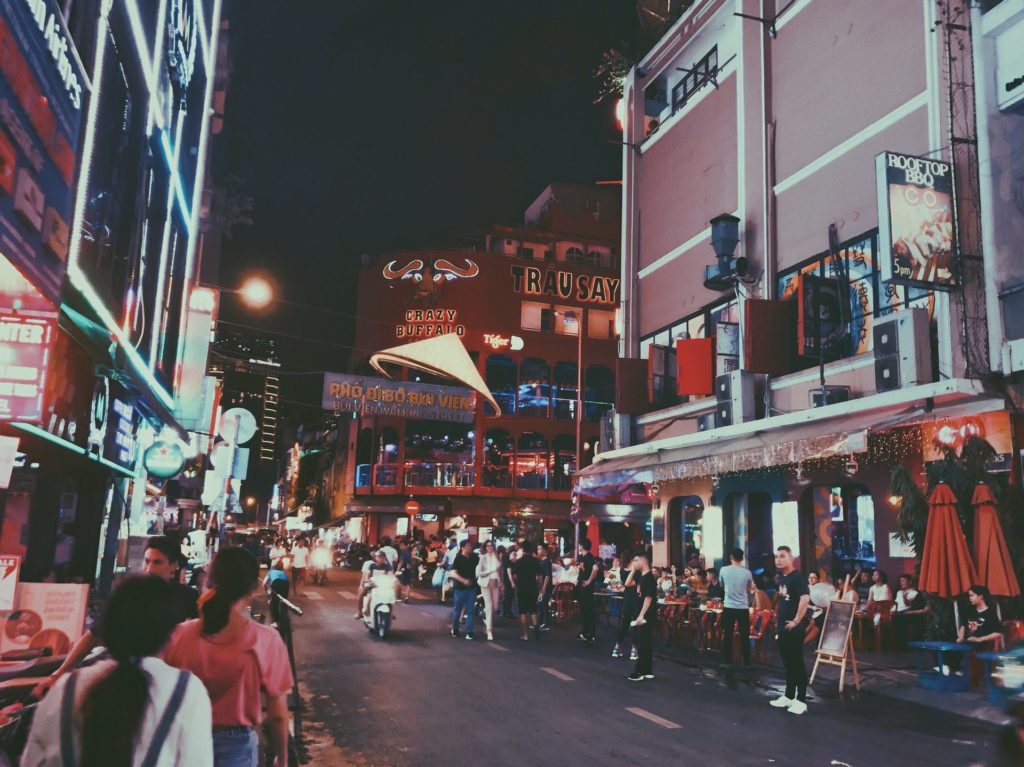 If you're looking for some culture after satisfying your culinary curiosity, then the Reunification Palace, made famous on newsreels during the American/Vietnam War as tanks crashed through the gates, should be your first stop. Just a ten minute walk from there is the War Remnants Museum; a deeply harrowing but vital documenting of the horrors of war.
So there you have it; the ultimate Mekong River Cruise. Do send us a postcard when you're on terra firma again!