Though the leaves haven't yet turned brown, and temperatures remain resolutely above annual average, there is still a sense that the dawn of Autumn is in the air. Nights are getting cooler and darker, dinners heartier and evolution feels imminent.
A change of season inevitably brings with it new trends, and this is certainly appropriate when discussing weddings. If you're planning an autumn one, firstly, get your skates on, and secondly, you need to be ready for what the new season has in store for you. If you're ready to fall (ahem) in love in Autumn, then read on; our 5 IDEAL tips for planning an Autumn wedding.
WEATHER
A change of season means a change in weather, and we're sure you don't need reminding. Raincoats at the ready, then; this means a rewriting of the rulebook on traditional wedding attire. This autumn, we expect wedding outerwear and layers for brides to be trending. Consider wearing fur, silk, or velvet jackets/shawls to keep up with the hip and fashionable.
When choosing your wedding dress, you should, of course, ensure it's weather appropriate. Every bride dreads rain on their big day, but you should be ready for it when planning an autumn wedding; open clouds are simply way more likely than in summer. Shop around online for ideas and inspiration before committing to time in the dressing room and on the shop floor. Check out bridal websites like https://www.azazie.com/ for some ideas on autumnal styling.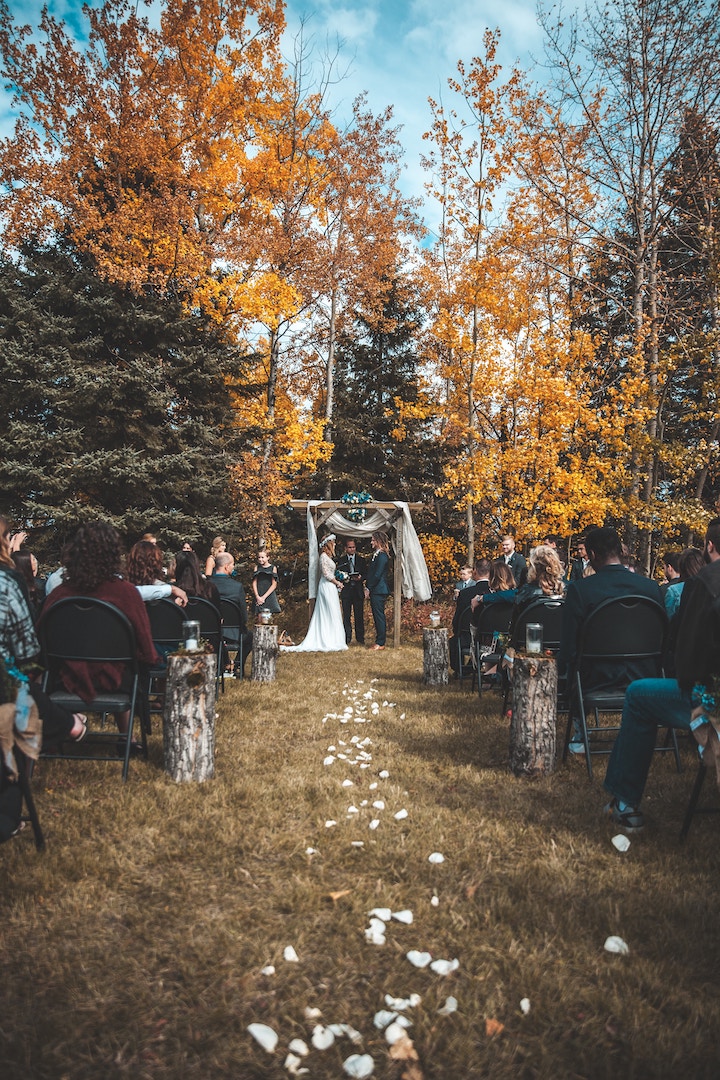 COLOUR SCHEME
During autumn, the change in colour scheme is huge. You could almost praise the season on its clear-as-glass branding, if you were that kind of person. Anyway, when planning your wedding, you should let this shift in hues and tone dictate your theme. Auburn, maroon, dark green…earthy, rich shades take over and we're well and truly here for it.
Allow your wedding colour palette to mimic the leaves during this season, as they're always changing. These will add warmth and a sense of synergy to your décor. If you want to be modern (and dare we say, less 'obvious') with your colour selection, you should consider using hues such as deep plum and slate gray.
A DIFFERENT MENU
As the seasons change, so does the selection of food at its best. Fortunately, autumnal food is glorious, rich and abundant, with many of the UK's most beloved ingredients hit their peak as autumn rolls into view. When choosing food for your fall wedding, you should opt for whole, rustic, and hearty foods. The season's harvest brings squash, beetroot, figs, game and more. Harness the power of this amazing produce.
The fruits of the season should be deployed in your wedding cake, too. Autumn cakes tend of be more rustic than their ostentatious summer compadres, with caramel often featured but rarely icing or buttercream. If you opt for a naked cake, decorate it with seasonal figs and think about seasonal flavors such as gingerbread, pumpkin spice and apple spice. Red velvet cake can be a great choice if your wedding theme is channeling the deep red of certain leaves.
FLORAL FLOURISHES
Speaking of which; when selecting flowers for your floral arrangements and bouquets, you can go with those autumn colours, as well as those in season. While most flowers bloom year-round, you can choose the following fall flowers to keep with the theme; garden roses (a great alternative to peonies during the fall season); marigolds which come in festive autumnal colors of red, orange, and gold; and sunflowers, if you want to add a touch of sunshine to your autumn wedding. You can also use seasonal berries, acorns, and fall foliage in your table décor and floral arrangements to really bring the point home.
BRIDESMAIDS & GROOMSMEN
For your fall wedding, you should choose outfits with a heavy fabric for the bridesmaids and groomsmen. Your bridal entourage can wear pashminas and boleros to keep warm and harness the power of that layering trend once again. Rich autumnal colours for the groomsmen and bridesmaid's attire include glimmering metallic and deep jewel shades. Allow the season to dictate your choices and it writes itself.