Of all UK Boxing Day traditions – of fighting with family for the last of the leftovers, of freezing cold footy ending in a nil nil, of, hair of the dog beaten hangovers – there's one which will be missed more than any this year; the Boxing Day races.
The annual horse racing on the 26th symbolises a huge sigh of relief for so many. With the build up to Christmas and the day itself often fraught with stress and tension, the Boxing Day races never fails to feel like a return to more familiar, self-indulgent fun.
Of course, this year, things look very different indeed. The British Horse Racing Association have announced a much reworked schedule, cautioning that ''the changes, which affect fixtures between 21 and 30 December…will (likely) take place behind closed doors''.
After this topsy turvy year, we'll take what we can get, and fortunately, several races have been rearranged for the 28th and 30th, with the 29th at Southwell still occurring but moved from afternoon flats to under floodlights.
Don't let these new announcements spoil a tradition as cherished as overcooked turkey and a sozzled, unseemly uncle. Indeed, just as we saw people celebrate the Royal Ascot at home earlier this year, so should the Boxing Day races (albeit a couple of days later) still be celebrated.
Should you still be keen to tune in and enjoy the racing's fun and frolics with the family from the comfort of home, then you've come to the right place; here are 5 IDEAL tips for celebrating the Boxing Day races from home.
WHERE TO WATCH
Traditionally, ITV covers the main events live, from Wetherby and Wolverhampton to Surrey's Kempton Park, where the most prestigious race of the season, the King George VI, takes place. Racing TV also covers all of the major races of the period; you'll find it on channel 261 on Freeview, 426 on Sky and 536 on Virgin. Alternatively, you could tune in to the coverage on Radio 5 Live Sports Extra; because let's be honest, the commentary is one of the most exciting parts.
Though you won't be following the action live and trackside, if you're anything like us then you're usually watching the race and highlights on a massive screen at the bar anyway. It's just part and parcel of the fun.
As such, you're going to need to set up a projector outdoors to enhance your at-home race day experience. And don't forget the speakers; a proper surround sound affair will give the immersive experience you're after. You want to hear every hoof bouncing off the turf and Francesca Cumani's cadence, don't you?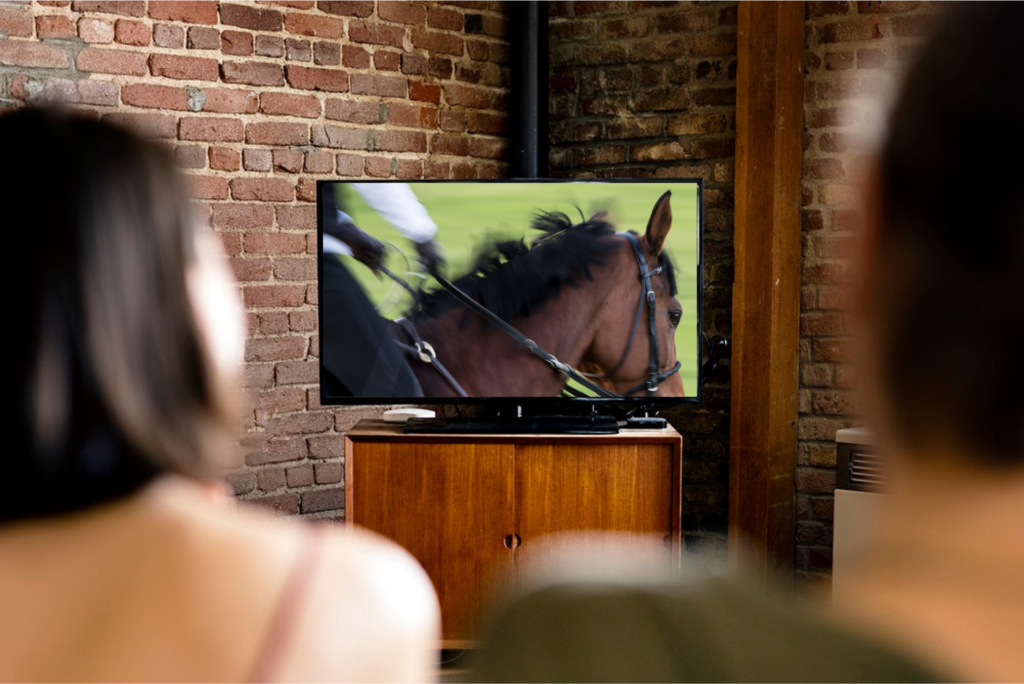 TRANSFORM YOUR GARDEN
As anyone who has attended an outdoors event on Boxing day will attest, with Winter comes rain and blustery weather. As such, creating a sheltered area in your garden, ideally around a garden patio or terrace as a focus, is a wise move. A garden windshield is just the ticket if you're gathering outside to watch an event – acrylic sheets are the ideal material for such a windshield as they are 30 times stronger than glass (and safer, too), much lighter and great for hosting a single day event.
A heavyweight, retractable awning will keep you dry and protect you from the elements. Consider investing in some outdoor heating, too. Though it seems like a big spend for one or two days of filler fun, you may well find yourself at home for the first few months of 2021 too, and grateful for the more hospitable outdoor space.
As rules change and evolve daily, do keep an eye on the latest Government announcements regarding what's permitted in terms of inter-household mixing. You never know…meeting with other households might be allowed in the garden by Christmas time.
BOOZE, FOOD & FANCY DRESS
Dressing up fancy and fancy dress, two similar sounding concepts that couldn't be further apart. Fortunately, both are welcome at the races!
Just as races throughout the year see men in tweed suits and women in frocks and fascinators, the Boxing Day races are no exception – it's an excuse to get dressed up and a welcome change from the Christmas jumpers and elastic waisted trousers of the previous day. Some courses do traditionally permit more wacky fancy dress – an excuse to get another wear out of your Santa or Elf outfit after Christmas Day has passed? – but generally speaking, this is a fine reason to get dressed up to the nines after slobbing around and regressing on the sofa the previous day.
When it comes to refreshments, consider creating an outdoor bar with beer or prosecco on tap (or both, of course!). For a real race day experience – and if you're likely to break things outside – consider recyclable or compostable plastic cups; a defining part of the experience, don't you think?
As picnic hampers are often a part of people's festive day out at the races, consider creating one using the Christma lunch leftovers. Ensemble a hot turkey pie, bubble and squeak, and a sandwich of pigs in blankets – the joy of being at home and having an oven! And just like so many of the Boxing Day racing events, a mulled wine and mince pie on arrival is obligatory. We can't wait.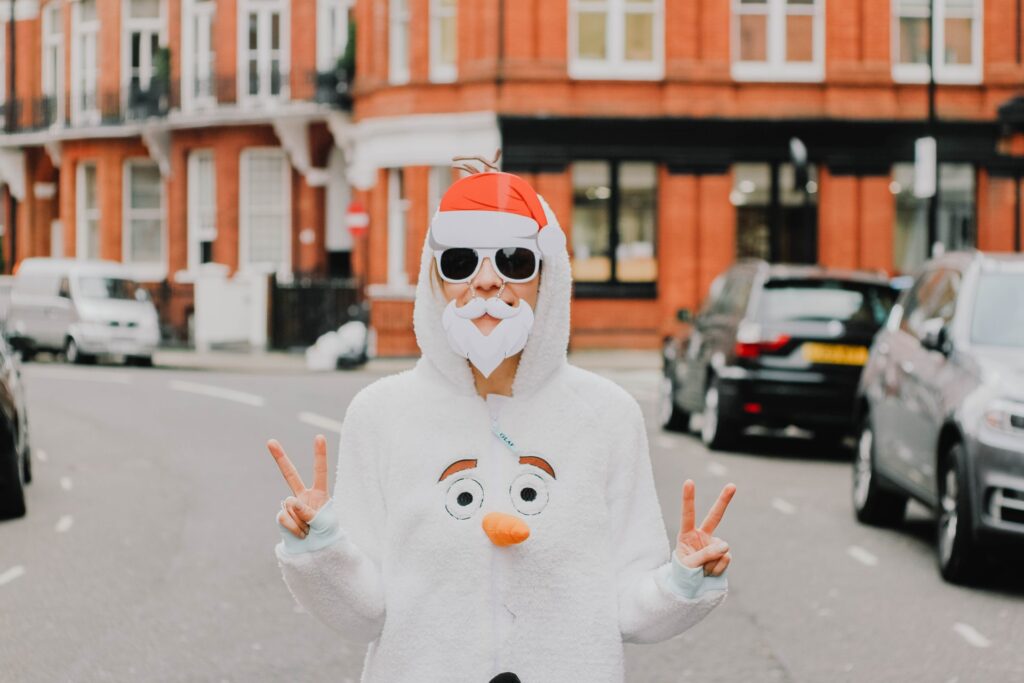 BETTING
Of course, one of the main focuses of the Boxing Day racing fun is the horse betting itself. One of the perks of hosting this occasion at home is that the day itself doesn't have to revolve around money won or lost. Indeed, it needn't be a case of getting carried away, backing a horse whose colours you like, and then losing more than you budgeted for.
Instead, you could allocate a family member to be the 'bookie', and create your own bet slips, using the odds you find online. Then, it's up to the family if they play with imaginary money, a few copper coins, or that fiver your favourite aunt and uncle have sent since you were six. Perhaps you could allocate a festive prize for the winner to keep things interesting!
THROW A VIRTUAL EVENT FOR CHARITY
Should you not be able to gather with any of your family and friends on Boxing Day, but still want to celebrate a British tradition, then consider hosting a 'Race Night' at home to raise money for a cause you care about this Christmas. The season is all about spreading goodwill, cheer and charity, after all.
Race Night Services comes recommended by the Sunday Mirror, featured in their 'Staying In Guide' earlier this year, and here's what they said about it:
"This unique idea enables you to reconnect with friends and family while raising money for an amazing cause…. It's ideal entertainment for a night in lockdown. You need someone who knows spreadsheets and Google hangouts. Then ask up to 10 people to two £20 into a kitty to buy a downloadable Race Night Kit, (they used racenightservices.co.uk)'.
'If you get creative with prices, this will leave you with £150 to donate to a charity of your choice. The fun starts when you make up your own horses names, get everyone to pick a horse each, then play the race videos on your laptop while sharing your screen on a mass Google Hangout. Charity Race Night guidelines are available on the Gambling Commission website."