Us Brits do love a barbie. As soon as the clocks go forward to welcome in British Summer Time and a couple of hopeful rays puncture familiar clouds, that's it; Dad's in the garden clicking his tongs, we're furiously Googling marinades for lamb skewers, and there's a chorus of beers being cracked up and down the street. You know the sound.
But passion doesn't always lead to quality, and in the UK we're often guilty of getting a little overexcited at the smell of charcoal, throwing a family pack of bangers on the barbie, fiddling with them mercilessly until burnt, and hoping for the best. Instead, use the extra time spent at home this summer to hone your skills on the grill, and banish the British barbequing stereotypes for good. Here's how; our 5 IDEAL ways to raise your Summer BBQ game.
A BAD BARBEQUER BLAMES THEIR TOOLS
Heading to the corner shop and picking up a disposable barbie every time you're in the mood for one just isn't a cost effective or environmentally friendly way of doing things. So, if you're settling in for a summer of grilling and want to elevate your summer BBQ experience several notches, let's first look at the ideal tool for the job.
It seems crazy that the piece of kit which gives the food its name, flavour and finish is so often the element most overlooked. But the easiest way to BBQ like a pro and raise your grill game is to invest in a better barbeque. Let's just get this out of the way now; gas, though easier to control, just doesn't bestow the very soul of the grill into your meat. We want to taste smoke, char and unpredictability! It's a touch primitive and that's why it works. Ideally, a mix of charcoal and wood (hickory or oak are great) gives that intriguing, smoky flavour we love.
And if you're going all out, then a ceramic, Kamado style charcoal grill with an attached lid and thermometer is the pro's choice; allowing you to maintain temperature, grill low and slow or hard and fast, and even house smoke meat and fish. Though it's one serious piece of kit, it needn't be a huge investment; we particularly love the Kamodo Joe BBQ, whose junior size clocks in at just £459.
BEFORE YOU COOK, CLEAN
A dirty grill with the previous meal's efforts tacked onto the bars isn't only unhygienic, it's also an obstacle to great barbequing. If you've ever tried to place a pristine whole fish on a dirty grill, only to see half of its skin and flesh left behind when going to turn it, then we're sure you know the drill.
Know your grill. Before any food touches down, make sure your BBQ grill is sparkling clean every time. Though it might sound a little adventurous, it's best to clean your grill when hot, over licking flames, since grease and food scrape off much more easily when warmed. With a long handled fork, simply skewer half an onion or half a lemon dipped in salt (to act as an abrasive) and rub the grill with your improvised cleaning device.
To prevent rusting, if you're cleaning your grill with hot, soapy water after using, make sure you dry it thoroughly and season the bars with a coating of vegetable oil ready for its next outing.
DO MORE WITH MEAT
Yep, there is something deliciously indulgent, liberating even, about a barbeque of sausages, burgers, floury baps and not much else. There's certainly a time and a place for that.
But you've arrived here looking for ways to elevate your Summer BBQ experience, so let's focus on the protein first. Though you can get most ingredients in decent nick all year round in the UK, there are some meats and fishes which are at the height of their powers in the summer months, and cooking with seasonality and locality in mind is never a bad thing.
Celebrate the end of the Spring lamb season in the early Summer months with a whole shoulder grilled low and slow. Or, how about rabbit, which is particularly good from July onwards? If you've got the patience, when game season begins on August 12th, consider a barbeque which focuses on grouse, pheasant, wild boar or wood pigeon. Do bear in mind that the majority of game in the UK is lean, and will require diligent cooking; prioritise a tender cut which only needs the kiss of the flame, such as breast or loin, and don't forget to marinade!
If you're a fan of eating fish, then not much beats a whole one grilled, burnished and smoky from the coals. In summer, mackerel is at its peak and its oily nature responds to the barbeque so well. Alternatively, a butterflied red mullet was just born for the barbie.
SUPPORTING ACTS TO STEAL THE SHOW
Barbeques shouldn't be solely focused on the meat. Oh no. In Summer, the UK has some splendid, spanking fresh fruit and vegetables in season just made for char marks, bar lines and the distinct smoky flavour of the grill.
Some of the vegetables which respond best to being barbequed, we think, are courgette, aubergine, fennel (for all three, simply half or cut into rounds, brush with oil and grill until charred), asparagus, which you can grill whole, and new potatoes, which should be boiled first until nearly cooked, then finished over smoky embers. We're also huge fans of fresh British peas grilled in their pods; just fantastic!
The key here is to pair your sides thoughtfully with the main event, be it a whole fish or a leg of lamb. If you're after a better bbq experience, leave those ubiquitous potato salads, coleslaws and couscous sides for another time.
Get thoughtful with your sauces, too. Though there's nothing wrong with ketchup, mayo and BBQ sauce, we're also huge fans of homemade salsas, mayonnaises given pep with anchovies or herbs, and a salsa verde just seems to suit barbequed meat, fish and vegetables brilliantly.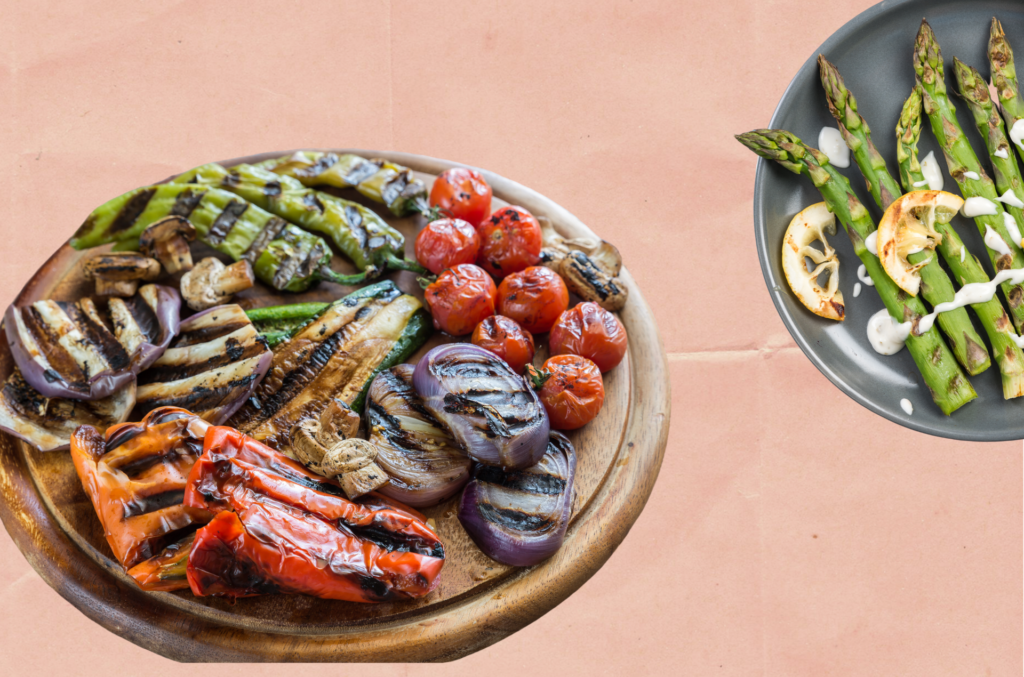 DRINKS TO SUIT THE OCCASION
Phew, we've got this far. Pour yourself a glass. This summer we're supping seasonal fruit cocktails out back and pairing our wine thoughtfully with what's on the grill.
With strawberries at the peak of their powers in early British summer, a jug of Pimms is an obvious choice, but a frozen Strawberry Daiquiri sounds even better. To make a pitcher, simply mix a kilo of hulled strawberries with 500g of ice, 200ml of rum and the juice of a lime and blend. Garnish with a slice of lime and add basil if you want to get fancy.
For grilled meat or seafood, particularly with a spicy, tomato based salsa, we just love a chilled bottle of Pinot Noir – yes, contrary to popular myth, a light red wine served straight from the fridge totally works. Sauvignon Blanc works well here, too.
And with that, we hope you've some fresh ideas on elevating your next Summer barbeque to the next level. Our invite's in the post, right?