Sometimes, you've just got to feel sorry for the bathroom. For a place that spends so much time and effort on replenishing us each day, it's very rare that the favour is reciprocated and the space gets its very own spruce up in return. According to research, UK adults spend 416 days of their life on average in the bathroom. Moreover, the research shows that 30 percent of us are dissatisfied with how our bathrooms work for us, yet the average Brit hasn't given the room an update in five years. 
It shouldn't be this way. The bathroom shouldn't only rely on functionality; it should also be fun. So, if you've been thinking about sprucing up yours but are worried about the cost, here are 5 IDEAL ways to reduce your bathroom renovations costs. 
CONSIDER YOUR PRIORITIES & THEIR COSTS  
Before you start with the bathroom renovation process, sit back and establish your priorities. Take into consideration your needs and what you use most in the bathroom. If you're a fan of a long and languid soak, a proper tub might be top of your priority list. Or perhaps you're unhappy with the water pressure of your shower? If that's the case, installing a power shower or an electric one with a cold water accumulator tank should be your first port of call. 
When planning your priorities, include their costs. Moreover, always compare the prices before committing, doing so will help minimise your expenses, and, as a result, help you maintain tighter control over your budget and will likely drive down the cost of your bathroom renovation. 
DON'T MAKE UNNECESSARY RELOCATIONS & CHANGES  
Changing the layout of all the elements of the bathroom is expensive. Indeed, according to experts, moving your toilet a foot can cost over £800. Relocating the shower, toilet, or sink requires changes such as tearing out walls to access pipes and other plumbing changes which can cost a lot of money.
If you want to make such changes, consult a professional contractor. Your new bathroom cost will ultimately depend on the type of overhaul you want to make; by selecting a company that specialises in this field who are familiar with the process and the cost of the alterations and installations whether they are small or more complex may reduce your bathroom refurbishment costs significantly. They may be able to suggest cheaper fixes that do not require plumbing alterations; an offset toilet flange for example will allow you to shift its location by a couple of inches left, right forward or back.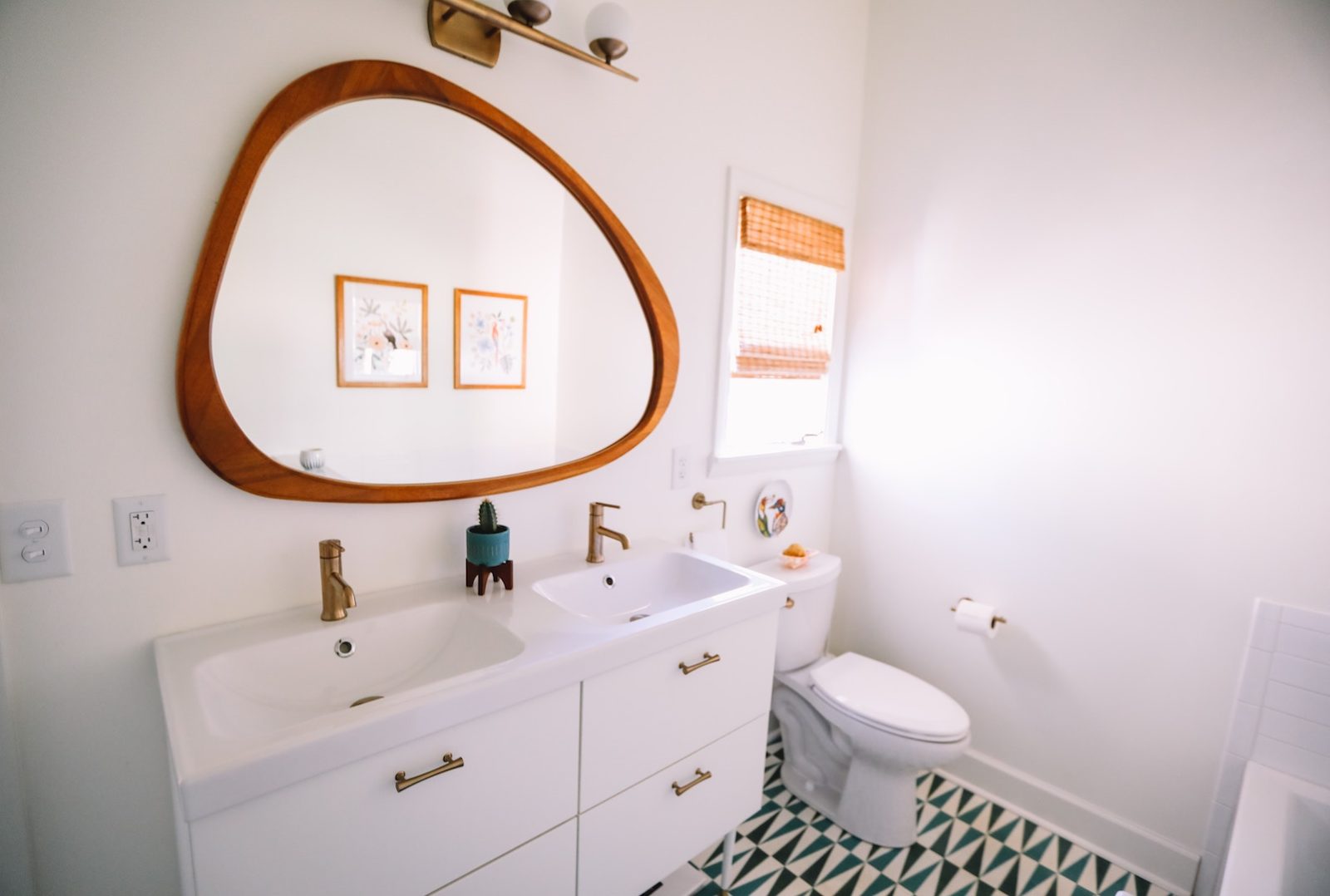 USE VISUAL TRICKS  
Speaking of making unnecessary changes, if your bathroom is small (or, in real estate lingo, 'cosy') and you want to create more space, before trading in your oversized bathtub for something compact but costly, consider some visual tricks to give the illusion of more space. Add a large mirror or consider creating a mirrored splashback wall which is safer than real glass and more affordable too. Mirrors will not only make your bathroom feel bigger, they will improve the lighting, too. 
TILE ONLY WHERE NEEDED 
When it comes to bathroom design, tiles can give the whole room a new modern and sleek look, but they can be very expensive. For that reason, what you can do is reduce the number of tiles you're going to use and put them only in highly visual places. Another cheaper alternative is to put tiles on half of the wall and paint the rest of the wall within the same color scheme. There are more types of tiles that vary from color to design which can be placed in different ways according to your budget.   
You can also reuse the room's old tiles if they're in good condition; all they might need is a little bit of polish to have them looking as good as new. 
UPCYCLE & USE OLD PARTS 
When it comes to remodeling for less money, a great option is to resurface old items within the room things, such as your shower or your tub, instead of buying new ones. This will save both on the cost of the actual fixture, and its installation.
In the same manner, instead of completely replacing the toilet or the shower, given there are parts of them that still work, consider fixing them by just replacing the parts that are not working properly. Keep in mind that some fixtures cost more than buying a new one, so make sure that they will not exceed your planned budget.